'It's Heartbreaking': Boston Parents Ask Why Their Wealthy Neighbors Are Fighting Charter Schools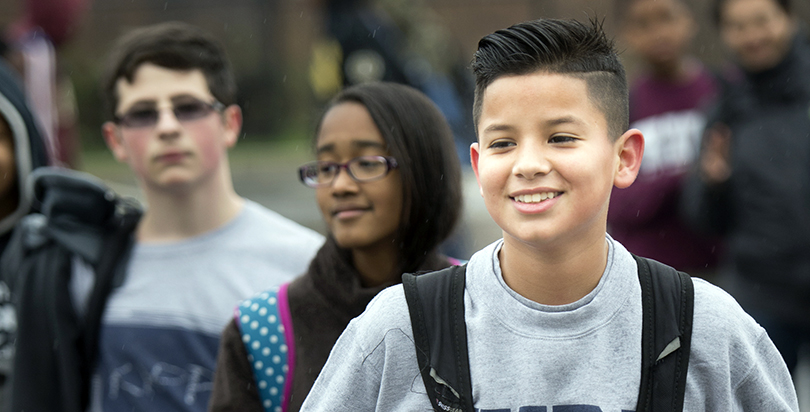 Boston, Massachusetts
What's the matter with Newton?
That's what Dawn Tillman wants to know. Why would her neighbors in the hyper-upscale Boston suburb of Newton, located just eight miles to the west, deny a KIPP charter high school to a kid in hyper-downscale Roxbury, where she lives?
Not just any kid. Tillman is thinking of her son, Brandon, who currently attends a KIPP middle school but faces dicey prospects for high school. KIPP could quickly expand its current middle school into a high school, but the current cap on charter schools prevents that.
Oddly, the question on the Massachusetts November 8 ballot to raise the current cap on charter schools —
Should charter schools be allowed to expand by 12 a year
? — will be decided by white suburban voters in places such as Newton, which lacks a single charter school "threatening" its budget.
At first, it appeared logical that suburbs such as Newton would support lifting the charter cap. This is where Boston's business class lives, historically wary of unions and always hopeful for a better-educated state. Many of the top business leaders in Boston, those funding the lift-the-cap ads running on TV, live in suburbs like Newton.
However,
recent polls
, along with unexpectedly intense anti-charter activity in places like Newton, suggest that support may be soft. Just before school opened in Newton this year, the union staffed a table outside its ($200 million) high school to encourage teachers to oppose the cap lift. Recently, Tillman attended a meeting in Newton where she said she heard plenty of talk against lifting the cap.
All of which makes her ask: Why would Newton teachers and parents, who are unaffected by charters, vote to deny better schools for the low-income neighborhoods of Boston?
"It's heartbreaking," said Tillman. "This does not affect their budget. Why don't they want to help their brethren in our ZIP code? A lot of these schools here are just pipelines to prison. This is our life we are talking about."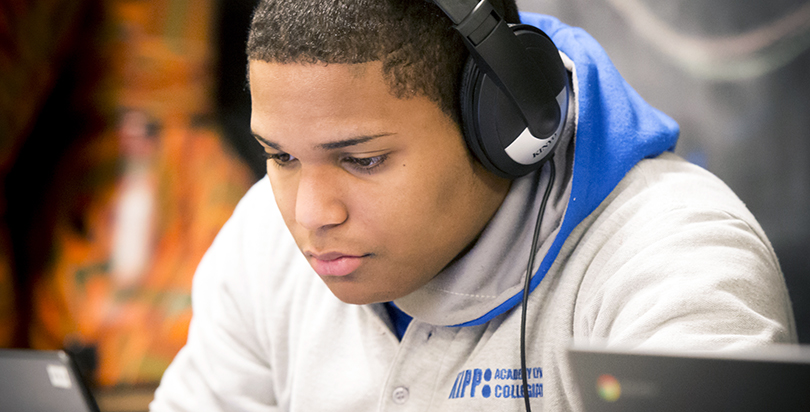 Tillman has personal reasons to be upset. Brandon, who is autistic, started out attending a neighborhood school in Roxbury. It didn't go well. She didn't think Brandon was making any progress, and school officials appeared uninterested in working with her. "It was a sad situation, and I felt like I needed help."
In 2015, she applied to 13 charter schools and heard back from only one, KIPP. When Tillman enrolled Brandon at KIPP Academy Boston Elementary School, their worlds changed.
"It was totally different. He got individual help, and they put together a comprehensive plan, as opposed to my trying to figure out everything from home. I could see changes in Brandon. It was a 180-degree difference."
KIPP has a middle school, which Brandon can attend, but what about high school? Currently, the cap on charters prevents KIPP from opening another school. Tillman grew up in Roxbury and attended public schools there, but for high school she successfully tested into Boston Latin, which changed her life.
So she knows a lot about the bullet she dodged. "Quite frankly, I would not want Brandon going to those high schools." It's that worry that propels Tillman out into the neighborhoods to door-knock every Thursday on behalf of the raise-the-cap campaign.
Will Newton vote against expanding charters?
To date, no polling has produced results that focus on just one locality, so that answer remains unclear. But it's clear how the Newton teachers feel about it. They have been actively lobbying against raising the cap and take great offense when confronted with the privilege argument.
Although the leadership of the Newton Teachers Association declined to respond to requests for an interview, the union's website makes its position clear, as President Michael Zilles responded to blogger Erika Sanzi, who questioned its anti-charter campaign.
In the blog posting
, Sanzi attempted to shame them for enjoying lavish school funding while denying better schools to low-income minorities in the city. "I have to wonder if any of them has ever spent a day inside the schools that low income parents are trying, in droves, to escape."
In his response, Zilles agreed that there are "appalling inequities" between wealthy districts such as Newton and poor areas of Boston such as Roxbury. But there's no proof, argued Zilles, that charters can make a difference. "On the contrary, currently, even with the cap, charters undermine the public schools most poor kids attend. If this ballot initiative passes, over time they might well destroy them."
A recent
Brookings Institution study
concluded that not only do Boston charter students see big boosts in their math and reading scores, compared with their peers, but they are twice as likely to take an Advanced Placement exam — and are far more like to pass the exam (10 percent of charter students pass the AP calculus test, compared with 1 percent of students in regular Boston schools).
The gains are just as dramatic in higher education: 59 percent of the charter school graduates attend a four-year college, compared with 41 percent of their counterparts.
The very best charter schools have managed to level the achievement gap. At Brooke charters, for example, the students there, entirely low-income and minority, topped the state on the 2015 PARCC exams. (Newton students, by comparison, ranked 14th.)
The Brooke parents — and the 4,000 families on Brooke's wait list — appear to believe that charters can, in fact, "make a difference."
So the question comes down to this: Will voters in Newton (median house listing price: $1.2 million) vote to help out voters in Roxbury (median list price: $479,000) looking for better school options?
Unclear.
Could a new KIPP high school actually help?
Here's the thing. KIPP has both a building and a school leader ready to go. If voters this November approve raising the cap on charter schools, Caleb Dolan, who oversees all the KIPP schools in Massachusetts, can add a ninth grade to the existing middle school, KIPP Academy Boston. The assistant principal there, Zachary Meisner, would become the high school principal and KIPP would instantly have a high school — with a new high school building to be built in the future.
Launching a new high school on short notice may sound risky, but KIPP already operates a high school in Lynn, a working-class city trying to make a comeback, located 16 miles north of Roxbury.
KIPP Academy Lynn Collegiate has 468 students (with a waiting list of 400), 90 percent of them African-American or Hispanic and 83 percent of them qualifying as low-income. Special education students make up 16 percent of its student body, which makes it comparable to Lynn English High School, the traditional public school.
And yet 88 percent of KIPP graduates attend four-year colleges, compared with less than half of Lynn's students. (KIPP's figures are confirmed; Lynn's are self-reported, which may make them high.)
During a recent visit, I listened as both Dolan and Principal Andrea DeAngelo discussed their campaign to boost the six-year college graduation rates of their students. Pushing up that college completion rate has been a steep climb, they said.
Part of the solution has been ramping up the rigor. "We definitely upped the bar in terms of what kids are grappling with and what they're doing," said DeAngelo. One example offered by Dolan:
Of Mice and Men
was once a high school book; now it's a middle school book.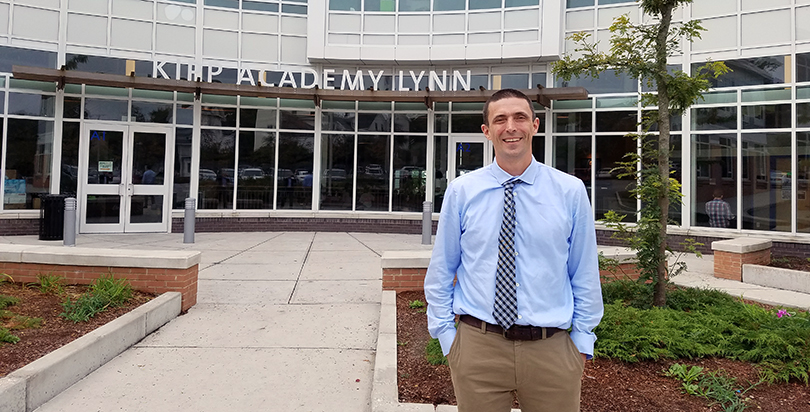 But the teaching approach is what changed the most. A surge in professional development and classroom coaching (teachers are observed weekly and meet with their coach every week) pointed teachers in a new direction: Now students, not the teachers, do the "lifting."
In previous years, a visitor to a KIPP Lynn classroom, especially during a math class, might have seen a teacher pass out classroom "notes" brimming with to-be-learned material, with blanks left for students to fill in during class. In short, not much "lifting" would be expected of the students.
Now, teachers are trained to have the students do the learning. "It's flipping the game," said DeAngelo, "where the kids are the ones doing the investigative work and applying transferable skills. It's more about understanding content. We want our kids to look at a situation and then be able to figure out: 'OK, what do I have to do here?'"
That shift was apparent during a school tour. In an Advanced Placement literature class I observed, the students took near-total control of the discussion, and stayed on point.
Why is this important? Because research suggests that self-motivated learners are the learners most likely to earn college degrees.
The success at KIPP Lynn has started to draw national attention, making it part of a
PBS Nova series
on schools of the future.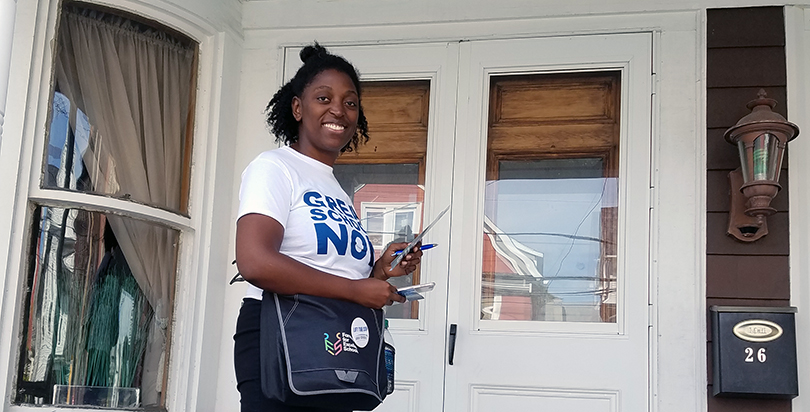 At KIPP Lynn, overseen by the same KIPP leaders who would be starting a new high school in Boston, it appears that everyone has been asking and answering the right questions.
So yes, it should be possible to open a second high school just 16 miles to the south, apply those hard-won solutions from Lynn in Boston and succeed from the get-go.
Back to Roxbury, Dorchester and Mattapan
Dawn Tillman is hardly the only mom from inner-city Boston asking: What's the matter with Newton?
After visiting KIPP Lynn, I joined Shellina Mathurin as she door-knocked in Dorchester on behalf of the campaign to lift the cap on charters. It was an interesting afternoon. Mathurin, born in St. Croix, has been a Boston resident since 1989. Ironically, her current job is as a substitute teacher for Boston Public Schools.
On this day we door-knocked in a white section of Dorchester, mostly retirees, working-class, and plenty of unemployed, as seen in the number of young white males, many sporting tattoos and hovering around cars midday. Her own Dorchester neighborhood, just a short drive from where we were, is entirely African-American.
In both neighborhoods, Mathurin generally has positive experiences, except when she comes across a union household, which we did several times. When that happens in union-friendly Boston, the answer is always: I'm voting against.
For Mathurin, this is not an academic exercise. Her younger children, Joshua, 7, and Jianna, 5, are in a KIPP school. But her oldest, Janae, 9, has been on a charter wait list for four years. The closest she got with Janae was at Brooke charters: No. 28. But roughly only the top 20 get in. No go.
With children in both KIPP and a traditional school, Mathurin sees the difference. The eye-opener came when she realized her son was reading the same chapter books as her older daughter. When she pressed for answers, the teachers and principal told Mathurin that her daughter was two grades behind in reading. But they had no advice for catching her up.
Today, Janae has caught up, thanks to teachers at KIPP who advised Mathurin on corrective actions even though her daughter was not actually enrolled there.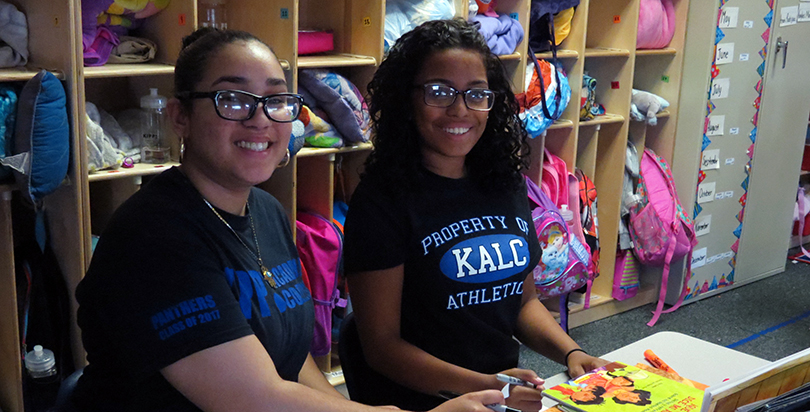 Parents like her in Dorchester, Roxbury and neighboring Mattapan need more open seats in top charters — and also a KIPP high school, she argues, which explains her door-knocking. Like Tillman, Mathurin doesn't understand why parents in places such as Newton would deny better schools in her neighborhood. Referring again to Janae, who has been on a charter school wait list for four years, she asks: "How much longer do we have to wait?"
Or, to put it more bluntly: What's the matter with Newton?
Get stories like these delivered straight to your inbox. Sign up for The 74 Newsletter