Introducing COVID Warriors: How Educators are Saving a Generation from the Pandemic's Lasting Calamity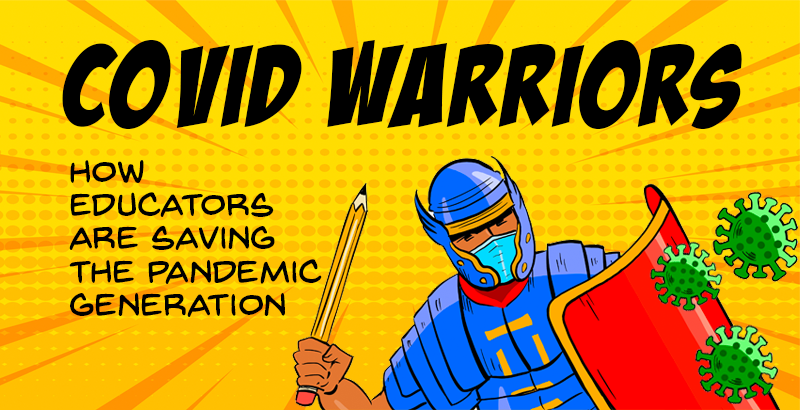 This is the first piece in "COVID Warriors: How Educators Are Saving the Pandemic Generation," a two-week series produced in collaboration with the Solutions Journalism Network that explores what educators, schools, and districts are doing to prevent an entire generation of students from lost learning and its lifetime of consequences. Read the full series here — and also be sure to check out The 74's complete archive of solutions-based coverage.
The battle to save a generation of American children from the pandemic's devastation has required every ounce of intelligence and creativity our nation's educators can muster.
Nationwide school closures as a result of COVID-19 have led to renewed invention and innovation. Educators from kindergarten to college have had to quickly rethink instruction and the school day, and the nation's education leaders now face a prolonged crisis that threatens to disrupt accountability for the near and long term.
From this crisis have come the COVID Warriors — teachers and school staff across the country who face daunting odds every day as they fight to keep educating and supporting our children. These are the people who are doing everything they can to prevent learning loss and its lifetime of consequences — increased dropout rates, truncated social-emotional development and more. Learning loss from COVID-19 alone could result in $61,000 to $82,000 in lost earnings, or the equivalent of one year of work, according to an estimate by McKinsey. The impact is even worse for Black and Hispanic Americans.
While the pandemic has tested and taxed our school systems, it has also become an opportunity to try out solutions to make schools better. Many of these are answers to problems that predate COVID-19 but have grown worse because of the crisis.
To highlight the successes and lessons learned, we dispatched reporters to tell the stories of COVID Warriors around the country. Our reporting shows that educators have discovered solutions in these times that could hold the key to more than just pandemic schooling: They show potential for a permanently stronger education system in the future.
Read more about what we found, and see the full 'COVID Warriors' series, right here.
Our work has uncovered at least three assets educators have tapped into to keep students engaged and on track:
RELATIONSHIPS: In Washington, D.C.; Madison,Wisconsin; and San Antonio, Texas, educators are relying on strong, existing relationships to get students to come to class and do their schoolwork. D.C. Principals Kenneth Branch and Katreena Shelby are bucking the trend and have restored anxious Black parents' trust in returning their kids to the classroom by leading school tours, posting self-filmed video walkthroughs online and providing cell phone numbers for families to call with questions. San Antonio middle school teacher Brandee Brandt pounds relentlessly on the front doors of students' homes to convince them to log on for remote classes, and a Madison church offers a free place for children to learn remotely while receiving support and meals. Many of the program's tutors were already affiliated with the church; others have been sourced from a local college.
ADAPTATION: In Cleveland, Ohio, and at a D.C. charter school, educators have taken long-established programs and adapted them for the current crisis. In Cleveland, Spanish-speaking students with limited English skills have faced extra academic challenges during the pandemic. With schools closed, students couldn't see their bilingual teachers, parents who don't speak English struggle to help with classes and entire families lack computer skills. So the school created a learning pod specifically to help Spanish-speaking children with schoolwork and technology issues. In D.C., the tight-knit community at Two Rivers Public Charter Schools used to hold weekly meetings featuring songs and birthday shout-outs pre-pandemic. The transition to virtual classes left students lonely, so the school launched online after-school clubs ranging from trivia to art club. There's even a cat club for feline fans.
INNOVATION: In two urban school systems, educators have crafted novel solutions to new and existing problems. In San Antonio, parents are confidently sending their children back to school because of a unique once-a-week exercise: Since November, thousands of students and staff at 200 city schools have engaged in rapid COVID-19 universal testing after the district partnered with Community Labs. The size and scope make the $3.5 million startup a first in the nation. At East Cleveland's Shaw High School, students were skipping remote classes in such huge numbers that administrators gave them a choice: Sign a contract agreeing to attend 80 percent of online classes or return in person. Most students chose to show up for in-person classes.
We hope this series can provide a roadmap for schools, districts, families and policymakers across the country — and inspire them to think as creatively and intelligently as these COVID Warriors. Follow and share the series here.
Get stories like these delivered straight to your inbox. Sign up for The 74 Newsletter