Texas's 'Whole Student Agenda': How a Former Teacher Is Using His Legislative Seat to Push 24 New Bills Supporting Sex Ed, Mental Health, Restorative Justice & More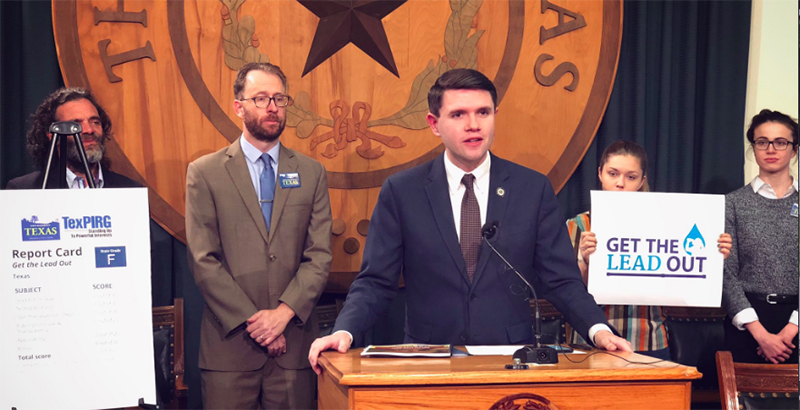 Freshman lawmaker James Talarico doesn't seem to notice that he's the youngest member of the Texas House of Representatives. Nor is he shy about championing legislation mere months into his first term.
The 29-year-old was one of several hundred teachers and former teachers who ran for office in 2018. Many on social media are pointing to his ambitious legislation as inspiration for more to follow suit.
Working with various co-authors and co-sponsors, the Democrat from Round Rock, outside of Austin, compiled a bipartisan 24-bill package he calls the Whole Student Agenda, tackling everything from mental health to recess to sex ed. The bills are inspired by his own stint as a classroom teacher, Talarico said.
"The most important things my students could learn, I didn't have the resources to teach them," said Talarico, who sees the Whole Student Agenda as providing the toolbox he wishes he had.
The Whole Student Agenda increases the number of things schools will be required and equipped to address, Talarico said, but the reality is that those things — trauma and mental illness — are coming in the door whether schools are ready for them or not.
"In some ways, you could see it as the expanding role of the school," Talarico reasoned, "but I see it as making schools more efficient."
In his assessment, schools would only have to pay for the ounce of prevention, rather than the pound of remediation. So far, the fiscal impact on the state of eight of the 24 bills that have gone to a hearing has been calculated at $140.6 million. Two of the bills have not gotten a hearing, so their cost has not been tallied; one, on air quality regulation, would likely have been high; the other, requiring evidence-based sex education, could have carried no cost to the state. Two other bills that have passed the House and are being considered by the Senate, requiring recess and financial literacy classes, have no associated costs to state taxpayers.
Local school districts say much of the cost for compliance would fall to them and have opposed bills, such as the one that requires districts to maintain a certain ratio of police officers to mental health counselors.
Capitol insiders say it's possible that certain bills in the Whole Student Agenda could have a bipartisan appeal — like the financial literacy courses and mandated recess that have already advanced to the Senate — but it's unlikely that any will become law in their original forms. In the best case, they predicted, certain elements could show up in other omnibus bills, and several have already been substituted for similar bills.
Efforts to increase services or regulation, which most of Talarico's bills do, tend to go further when they have co-authors from across the aisle. While most were written and filed by Talarico and other Democrats, Republicans Trent Ashby and James White co-authored three bills in the package, and Republicans were among the co-sponsors on several more.
Talarico has broken his legislative package into three parts, which he sees building logically upon one another. Students need to be first safe and healthy, and, from there, ready — ready to learn, ready for college and ready to take on life challenges.
The agenda champions some concerns that have remained fairly low profile, such as improving air and water quality in schools. It also takes on some of the highest priorities in the 2019 Texas Legislature.
Mental health and suicide prevention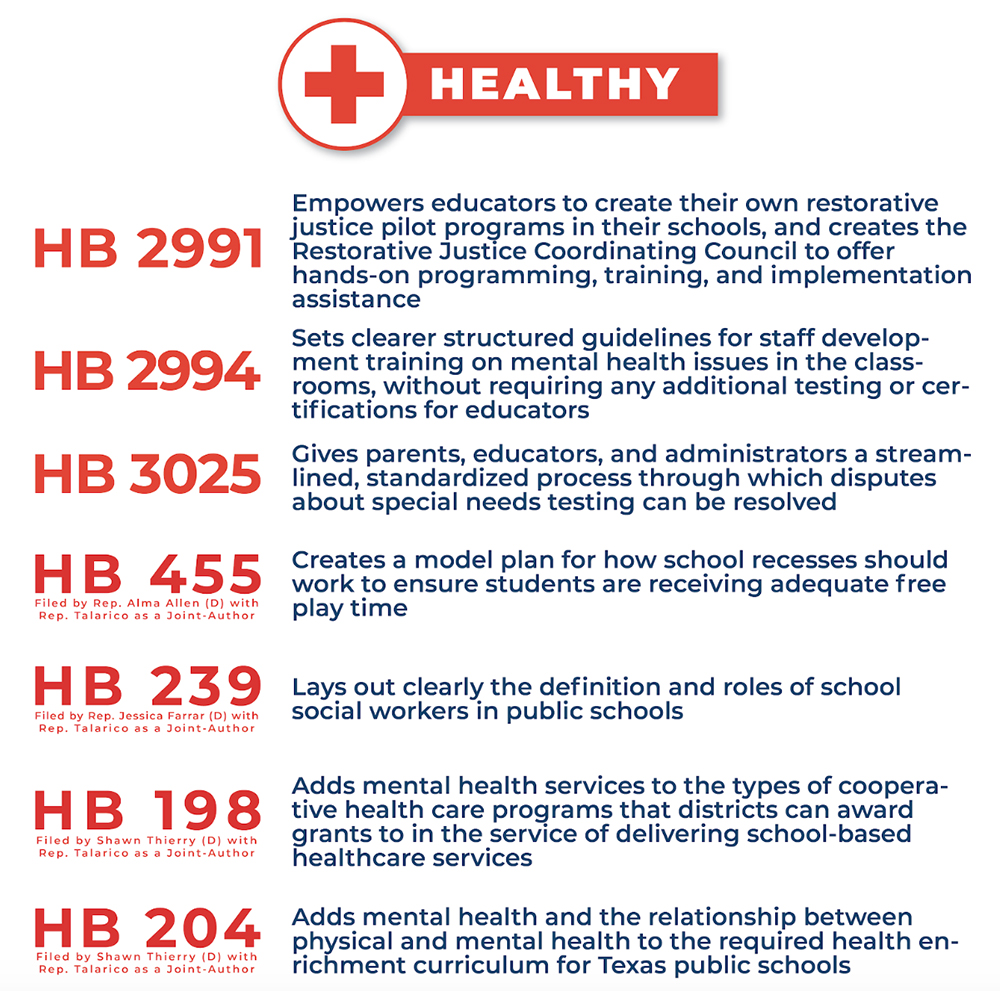 While Talarico sits on the public education committee in the Texas House, he also sits on the juvenile justice and family issues committee. Many of the bills in the Whole Student Agenda, he explained, have a place in both. For instance, one would create a Restorative Justice Coordinating Council to train educators on practices to reduce the number of students who are suspended, expelled and referred to juvenile justice academies.
Others, like the bills addressing air and water quality in schools, and those requiring recess and sex education, could also be presented as public health bills. One filed by Houston Democrat Shawn Thierry, with Talarico as co-author, would allow districts to include mental health services in school-based clinics or health centers.
Testifying in support of two Whole Student Agenda bills on March 26, Dr. Amy Grosso of Round Rock ISD referred to the rising suicide rates among teens. Together, the bills would expand suicide awareness training for school staff, including bus drivers, and extend training regulations to charter schools.
"By educating all staff in schools, we are not only making sure staff know what to look for in students who might be suicidal," Grosso said in her testimony, "but we are also reducing the stigma associated with mental health and suicide."
While more training is often a blessing and a curse for teachers, Talarico's proposed legislation seeks to increase the number of teachers trained without requiring additional certifications, which can be costly.
Grosso used data from the Centers for Disease Control to report that youth homicides and suicides have been on the rise in Texas for the past two biennial Legislatures (2015 and 2017). However, student safety has been front and center in 2019 for a different reason.
School safety post-Santa Fe shooting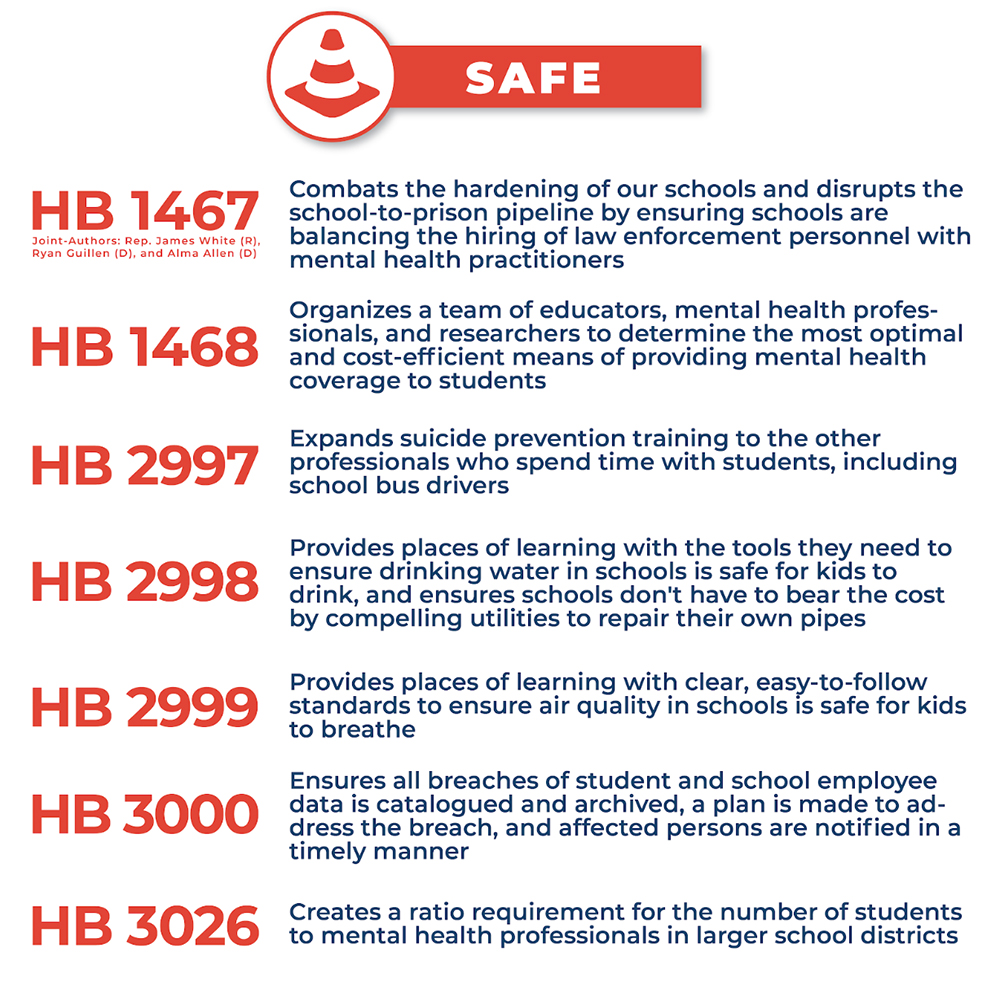 This is the first legislative session since May 18, 2018, when 10 people were killed by a gunman at Santa Fe High School in the Houston area.
Comparing school safety bills filed in 2011 before the Newtown, Parkland and Santa Fe mass shootings to those filed in 2019 presents a contrast. In 2011, Rep. Dennis Bonnen filed a bill that would have eliminated requirements for schools to file triennial reports on campus security infrastructure, violence intervention strategies, lock-down procedures and other school safety resources. Bonnen was elected speaker of the House this year, and he has been vocal about the priority of school safety, proposing an additional $109 million in the state budget. A 2019 bill co-sponsored by his brother and fellow Texas lawmaker seeks to increase the specificity and thoroughness of those same reports Dennis Bonnen wanted to eliminate in 2011.
Advocates differ on whether mental health, gun control or campus security should take legislative priority. Gun control is unlikely to face serious consideration in Texas, but bills filed in both chambers address both mental health and campus security.
All in all, 35 school safety bills went before the House public education committee, and another seven have gone before the Senate.
School safety has been difficult to follow this legislative session, said Deborah Fowler of Texas Appleseed, a nonprofit advocacy group focused on a variety of justice and youth concerns. Advocates have a lot to wade through, she explained, and "everything seems to be on the table."
The legislature is not starting from scratch on the issue. Although he could not create new laws, Gov. Greg Abbott did release a "multidisciplinary" school safety plan immediately following the Santa Fe shooting. It called for increased security, mental health training, rapid response training for law enforcement and more school marshals. Abbott's office issued a report at the end of August 2018 detailing various actions taken by Texas school districts in response to the safety plan. Heading into the 2019 legislature, Abbott declared school safety an emergency item, prompting lawmakers to approach the issue from multiple angles.
One of Talarico's co-authors on two mental health bills, Thierry, the Houston-area Democrat, has also filed a bill that calls for "hardening." One of her school districts is plagued by gang violence. She filed a bill to require metal detectors in every single public school facility. The cost for such a law would be, at minimum, $40 million.
However, metal detectors, armed teachers, and increased police force, in addition to being incredibly expensive, have little compelling evidence that they make schools safer, according to research.
While some may feel comforted believing that precautions have been taken, Campus Safety Magazine reported that in large districts where metal detectors have been used, parent groups feel that it creates more tension in the school climate.
"When you employ those kinds of measures, it tends to alienate students," said Fowler, of Texas Appleseed. It disrupts community and connection with students because "the message that [metal detectors] sends to a kid when they walk in the door is that the school doesn't trust them."
Bipartisan enthusiasm high for public education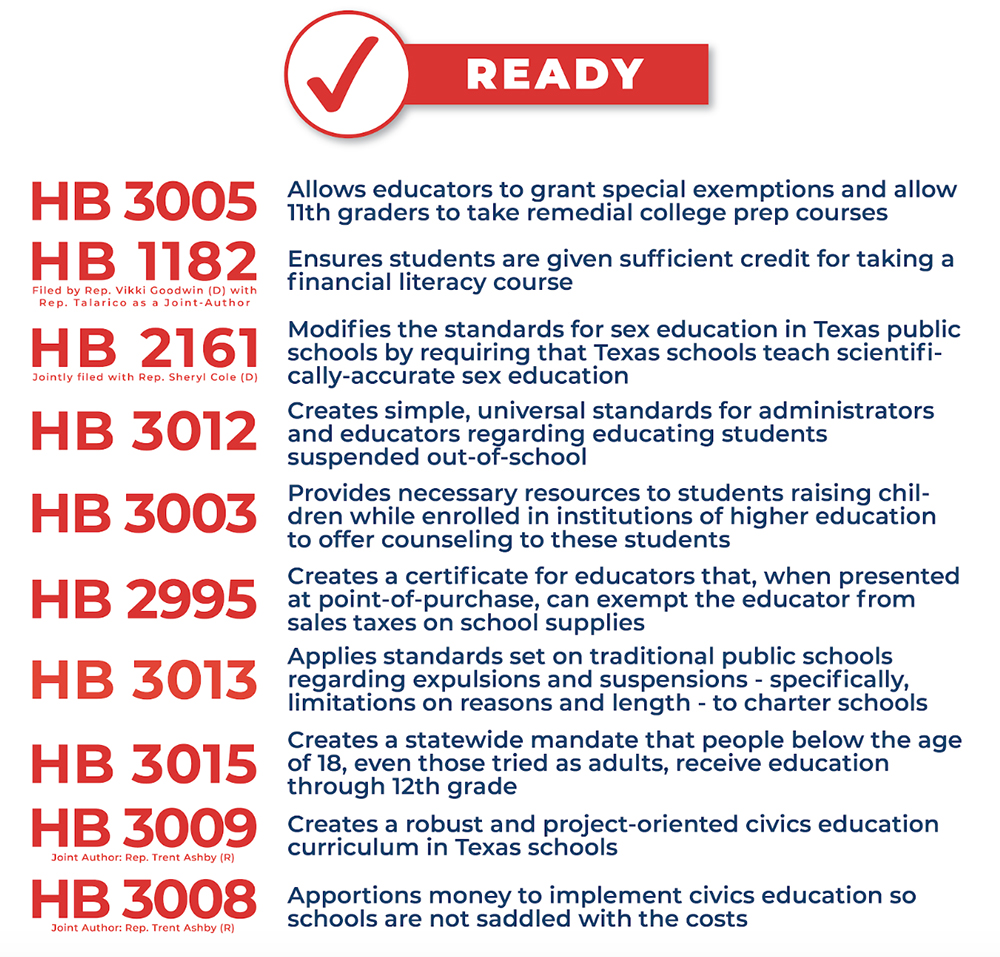 School safety is a bit of a three-ring circus, but Talarico picked a good year to go big on public education. After the January retirement of House Speaker Joe Straus, a Republican public school champion, Bonnen, the new GOP speaker, vowed to take up the cause. He even had Styrofoam cups made and distributed to lawmakers embossed with the message "School Finance Reform: the time is now."
In the House, that message carried. On April 3, the most significant overhaul of the state's school funding formulas in 30 years passed 148-1. The current version adds $6 billion to Texas public schools, but it is now facing a tougher battle in the more conservative Texas Senate, where it's being debated by the Senate education committee.
The school finance bill also contains property tax relief, which improves its chances in the Senate, and before Abbott, who has made property tax reform a priority this session.
It's highly unlikely that Texas's conservative sex education policies would get the huge overhaul called for in a bill Talarico co-authored with Austin Democrat Sheryl Cole. Texas currently does not require sex education, mandating only that any curriculum used by schools emphasize abstinence and be chosen in coordination with a parent-majority Student Health Advisory Council.
Other curricular issues with bipartisan support might have a better chance, including one that would make financial literacy classes a graduation requirement and allow them to count for more credit. Ashby co-authored two bills with Talarico to increase civics instruction.
The Whole Student Agenda also calls for more teen parent support, access to remedial college courses for high school juniors, and a sales tax exemption for teachers purchasing school supplies.
'Way ahead of us'
Getting legislation passed is often a multi-session effort, but supporters say Talarico's big goals confirm why they voted for him. Whether or not many bills pass into law, educators have rallied around the issues raised by the Whole Student Agenda.
Talarico worked with teacher groups, counselors and a variety of advocates to demonstrate the strong connection between safety, health issues and student outcomes.
While Texas Appleseed had the research to support many of the bills, Fowler said, Talarico's experience in the classroom allowed him to set the overall goals. "He was usually way ahead of us," Fowler said.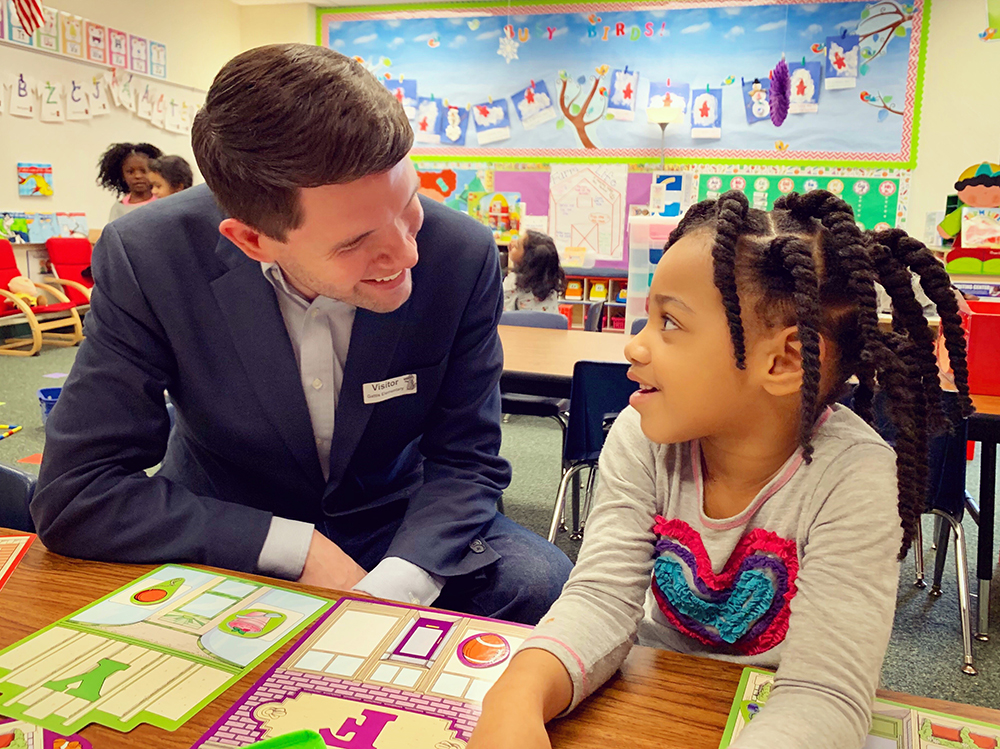 While working in San Antonio through Teach for America, Talarico said, he saw the harm done by a lack of social-emotional and mental health support, as well as inattention to environmental factors like water and air quality. He worked at Rhodes Middle School in San Antonio ISD, deep in the heart of San Antonio's West Side, one of the poorest zip codes in the U.S. In school settings like these, he explained, non-academic liabilities dragged students further and further behind in learning. Once it seemed impossible to make up the lost ground, many disengaged from school and ended up somewhere in the criminal justice system.
From there, a student's future prospects inevitably get worse, he said: "Experts talk about exposure to the [criminal justice] system almost like radiation."
Talarico said his sense of urgency about mental health didn't match the priorities of the schools where he worked as a teacher, and then as part of an education nonprofit, Reasoning Mind. Most of the talk of intervention was limited to addressing lackluster academic outcomes and low test scores. All of those, from his perspective, were symptoms of an underlying issue that has little to do with reading or math.
"Our current education system is currently weighted too much toward pure academics," he said.
But while school districts doubled down on test prep and academic data, he said he felt under-resourced to handle the growing epidemic of trauma and mental health issues. The money never seemed to be there for more counselors. Recess, a proven benefit to physical and mental health, was sacrificed to test prep.
It frustrated Talarico that efforts to plug the school-to-prison pipeline were so flimsy. Many have noted the thoroughness of the Whole Student Agenda.
"Representative Talarico has gone one step further by involving and valuing the disability community's input," Chris Masey, advocacy director for the Coalition of Texans With Disabilities. "To see a freshman address mental health, suicide prevention, reforming school procedures and supporting students in this significant manner is very encouraging and exciting."
Get stories like these delivered straight to your inbox. Sign up for The 74 Newsletter