Inside New Jersey's 'Zillow For Finding Schools': How a New Effort in Newark Aims to Empower Families By Putting More Education Information at Parents' Fingertips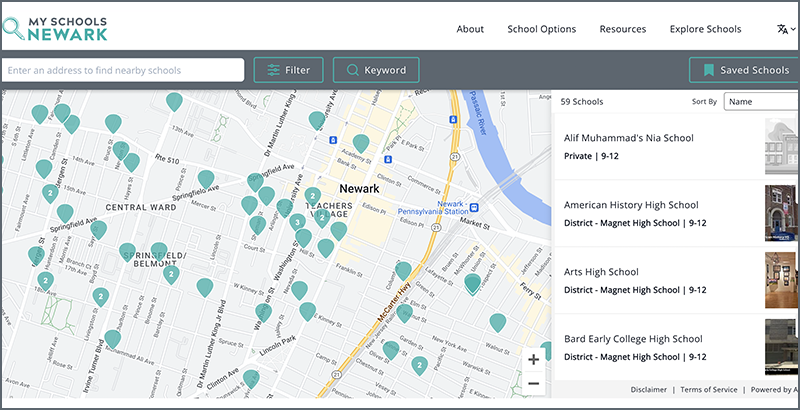 No paywall. No pop-up ads.
Most parents in Newark, New Jersey are aware they have a wide array of choices when it comes to finding the right school for their children.
It's making an informed choice where some say things can get tricky — and overwhelming.
Dane Tomlin is one such parent in the city. The father of two school-aged boys, he still remembers his search a couple years ago, to find the right school to serve his sons' needs. Not sure where to start, and wary of the uphill battle of going school by school with questions about educational approaches and services, he recalls relying almost entirely on the recommendations of prior teachers and what those educators had happened to hear through their networks about schools in the district.
But this year, Tomlin was able to use a new tool available to Newark residents that aims to break down the barriers to school research and empower parents by putting more information at their fingertips.
The tool is dubbed "My Schools Newark," and it's the brainchild of the local non-profit New Jersey Children's Foundation, which set out to build a website that would solve some of the enrollment challenges and problems that parents were surfacing during extensive focus groups and parent engagement sessions throughout the city.
The free site, which is also optimized for mobile devices which many parents say they prefer, offers visitors a one-stop shop of school information across all neighborhoods and school models. This includes a searchable database that gives families direct access to information on every traditional district school in the city, as well as charters, private schools, preschools and vocational campuses. Site users can apply filters by distance, grade, special education, English learner programs and type of application required.
"It gets you started in the right direction," Tomlin says, noting that the information he found during My Schools Network's beta-test helped guide his additional research and subsequent conversations with other parents.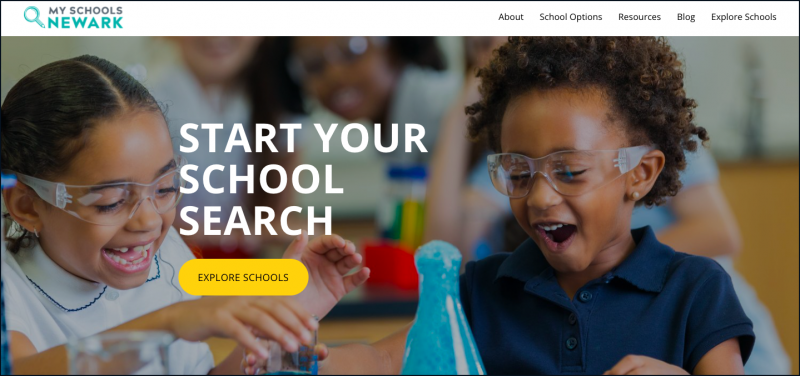 Polling from local focus groups showed that while Newark has many assets when it comes to education, the school selection process could be cumbersome and often difficult for parents to navigate, said Kyle Rosenkrans, NJCF's executive director. "Picking a school that works best for your child and meets your child's learning needs is a tremendous high-stakes decision that parents have to make … What [parents] were asking for, when we listened, was better information. So what we set out to do is to create a kind of Zillow for finding schools."
There are more than 185 schools in Newark, he notes, and there has previously been no tool that allows parents to search and filter across every available school type. In the same way someone might search for properties in a specific area, so, too, can parents now customize their school search.
My Schools Newark began beta-testing in December of last year, reaching out to Newark families through social and digital campaigns and gaining feedback from Newark schools and community groups. The platform received more than 45,000 unique visits during the initial public beta phase.
"We really wanted this to be a community-driven initiative in which we were building this alongside parents," said Sarah Yan, an executive director-in-residence at NJCF. "It's not a resource just for parents, but it's a resource that's built alongside and with parents."
The organization recently announced that Octavia Thompson would lead and oversee the platform. She said community engagement was baked into the DNA of the effort and that the many meetings with parents and community-based organizations that were held during development served as an invaluable two-way dialogue with families.
"It's really important to me, just in that service-oriented mindset, of wanting to make sure we're giving families what they need. We're listening to your concerns, we're listening to what you need," Thompson said.
​​Beyond a plethora of choices, Thompson noted that campus closures during the pandemic may have caused additional strain for families seeking out school and enrollment information. She hopes the new database will help families navigate their way out of the crisis.
The community outreach continued in February, as My Schools Newark hosted a virtual school fair to assist families during the pivotal Newark Enrolls application period. The fair included representatives from over 20 district and charter schools, as well as pre-k locations. Officials say more than 100 parents and family members registered to attend the event.
Enrollment in Newark has shifted because the district is growing, Rosenkrans said. Over the last decade, the size of the school system has increased by 13,000 students; in the last four years alone, 12 new charter schools have opened and 12 district schools have either opened or expanded. Meanwhile, he added, many private schools have closed during the pandemic, leading parents to look for new public options.
Disclosure: The City Fund provides financial support to the New Jersey Children's Foundation and The 74.
Get stories like these delivered straight to your inbox. Sign up for The 74 Newsletter