Infante-Green: Kamala Harris and Rhode Island's Top Female Leaders Are Setting a New Example for Today's Young Women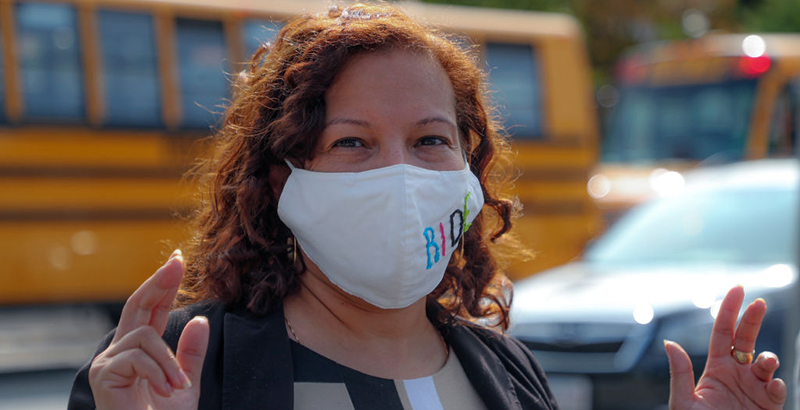 While the nation celebrates Kamala Harris as the first woman elected vice president and early signs of a historically diverse Biden cabinet, mothers and daughters everywhere are reflecting on the role women at the highest levels of government will play in inspiring a new generation of girls to become the leaders this country needs.
I've already seen the impact that even just the image of a woman in charge has had in my home state of Rhode Island. My daughter, and girls like her across the state, have turned on the TV, scrolled the news online or even opened the newspaper — and repeatedly seen a historic new normal.
Three women are leading the state through a once-in-a-century pandemic: Rhode Island's governor, the director of the state's Department of Health and the Department of Education commissioner.
It took Rhode Island 239 years to finally elect a woman as its top executive, and Gov. Gina Raimondo has, in turn, named the first Latina woman to run the K-12 Education Department and the first Black woman to run our Health Department.
These images of leadership are starkly different from those I saw when I was growing up. For generations, we'd been told leadership is a strictly male trait. That message was embedded everywhere from textbooks to TV shows to the portrait walls of government buildings. In many places, it still is. Women who do break into the ranks of public office are frequently advised to conform to stereotypically masculine norms to be strong — or emulate behaviors from the previous generation. Talk tough. Don't show your feelings. Don't let them see your feminine side. Wear a suit. Throughout my career, these "insights" have usually — but not always — come from a man.
But today, the face of leadership in Rhode Island is more diverse, and women are doing it their own way. We are Black, Latina and white moms, representing the diversity of the state and leading like ourselves. And together, we've made the smallest state a major leader in crisis response.
How have we done it? By thinking of our children and being moms first. The governor, Dr. Nicole Alexander-Scott at the Health Department and I are all mothers who fight fiercely for our families, and we haven't shied away from that during this crisis. When we make decisions, we ask ourselves, "Would this be good enough for my own child?" If the answer is no, we find a different decision.
We are demonstrating that our country needs women in charge now more than ever.
In these very challenging times, all of us are forced to dig deep. But you will never meet a stronger advocate than a mother fighting for her child.
Yet, throughout my career, I've faced questions about whether I have the time to be a mom and an executive — examples of the not-so subtle sexism that often keeps women from top education jobs. In fact, according to a report from Chiefs for Change, an organization I am part of, women make up the vast majority of the workforce in schools but fill but fewer than one-third of the very top education jobs. Only 11 percent are held by women of color, like me. But it turns out that a woman of color — a mom — is exactly the right person for this post.
I care deeply, and I connect differently with families as a woman. As a Latina mom, I know education can be the difference between life and death during this pandemic — and I let that show. During one of my early meetings with parents from our capital city, Providence, I listened to stories from parents that moved me to tears. My initial reaction was anger: I'm a fighter, I've never cried in public.
Little did I know it would not be the last time I'd so deeply show the way I felt about the pain of the community. These moments showed I deeply understood the experiences of these students and told their parents that I would fight for their kids the way I fight for my own. I was one of these students, and I came from a similar community. I got it the way only a person who has lived it gets it. I know education changed my life, and I will fight for it for all students because there is no other option. Empathy and understanding are not signs of weakness, they are requirements for a successful plan for our schools — and our education system as a whole.
For decades, women have been told that to be executives, they have to be more like men. But if there's a leadership lesson from the COVID crisis, it might be that women leaders have a few things to teach the boys.
Angélica Infante-Green is Rhode Island's commissioner of elementary and secondary education and a member of Chiefs for Change.
Support The 74's year-end campaign. Make a tax-exempt donation now.