Rafal-Baer: Why Aren't There More Female Superintendents? The Not-So-Subtle Sexism That Keeps Women out of Education Leadership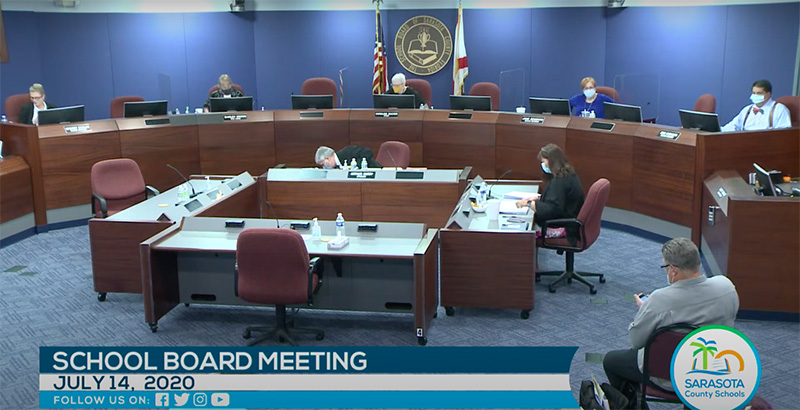 Education is one of America's most female-dominated professions, yet the sweeping majority of school systems are led by white men. Often, the reasons are subtle. Sometimes, they're not.
One not-so-subtle moment happened at the July 14 meeting of the Sarasota County School Board, where several members proceeded to explain why they were eliminating the sole female finalist, Marie Izquierdo, from consideration as superintendent.
"I think she's delightful," one member explained. "I think she's wonderful. She was definitely in my top two until she told me that she would not be bringing her husband or daughter for a couple of years, and that was a non-starter for me. Because I think that we need a committed superintendent that will be here, will be involved in the community, but will have family along with he or she." Another member offered her own understanding that Izquierdo's daughter is a high school junior — but said, "I want somebody who is 100 percent totally committed to our community."
(The comments begin at around the 1:29 mark on the video.)
It's frustrating not only because questions about family responsibilities, stability and emotionality are widely understood as code for denying women jobs they're qualified for. It's frustrating because, as we look at searches across the country and efforts by communities to bring more diversity to the tops of their education systems in seats largely held by men, the double standard is revealed so openly and so often. This is not an issue specific to one school district or region of the country. And while the continued existence of such obvious bias is hardly a novelty — it happens in less public settings every day — it must be examined, especially when it involves a job that has such influence over young people's lives.
My organization supported Izquierdo, along with two of the other five finalists — both of whom were men — and we were disappointed when none of the three got the job. But this isn't about that disappointment, nor is it a knock on the well-qualified Brennan Asplen III, who was selected for the role. It's about patterns of gender bias in the selection of superintendents across the nation.
Our Future Chiefs program prepares promising education leaders — largely people of color and women — to lead state and large-district school systems. Among the leaders we've supported are four men who had to leave family members behind when they took jobs across the country. Not one of them faced questions about their commitment, or whether they could handle the dual responsibilities of chief executive and faraway parent. In fact, the topic was never raised in their interview and selection processes — not even once.
Contrast that with some of the women we've supported: One female top deputy who was a strong contender to replace her male then-boss was questioned during the search about whether she could be a good mother in the top job, and she was told she was "a great No. 2" and "[her male boss] in a skirt." Another female top deputy in our Future Chiefs program was consistently questioned in job interviews about how she could be trusted to stay and invest in a community when she didn't have a husband or kids with her to establish local roots.
Too often, school boards expect women to look, sound and talk like men interviewing for the position — but then hold them to a totally different standard in their decision-making process. We need to make it clear that being a woman is not inconsistent with being a CEO — it's on school boards to change their vision of what leadership looks like and to play by one set of rules in asking: Who is the most qualified leader, best to serve our kids?
Women make up the vast majority of the workforce in schools and in positions from the classroom up to the superintendent's office, but less than one-third of those in the very top role are women, and only 11 percent are women of color — numbers that have barely budged over the past decade. That's a problem, because it means we're passing over an enormous swath of the talent in our field. It's a problem because schools are precisely the place where we tell our children they can be anything they want to be — so we ought to model it. And it's a problem because, as the COVID-19 moment has shown, there's ever more evidence that women are exceptional leaders.
There's a lot we can do to change the odds for women and people of color in our school systems, as we've noted in an important report on the issue. One element is creating networks that help women help each other, building some of the capital that men have long had. In our Future Chiefs program, about half the leaders who've been selected for chief jobs are women.
Districts can do much to create family-friendly policies. And we can name the problem and set goals for progress. Similarly, school boards and selection committees should consider efforts that support an examination of their own gender bias as part of their diversity, equity and inclusion goals. As with any form of bias, the problem is not necessarily with anyone's intentions but in unexamined ideas about what constitutes effective leadership.
And here's one problem we can name and one goal we can set: Asking whether women can parent and lead at the same time is sexist. Ditching those questions would be an excellent start.
Julia Rafal-Baer is the chief operating officer of Chiefs for Change, a bipartisan network of state and district education chiefs. A former assistant commissioner at the New York State Education Department, Rafal-Baer earned a Ph.D. in education policy from the University of Cambridge, where she was a Marshall Scholar. She began her career as a special education teacher in the Bronx.
Support The 74's year-end campaign. Make a tax-exempt donation now.