Indy Summer Program Proves Acceleration, Not Remediation, Is Key for Students
With rigorous academics & daily enrichment, Indy Summer Learning Labs saw a 15-point rise in English, math scores for low-income kids & kids of color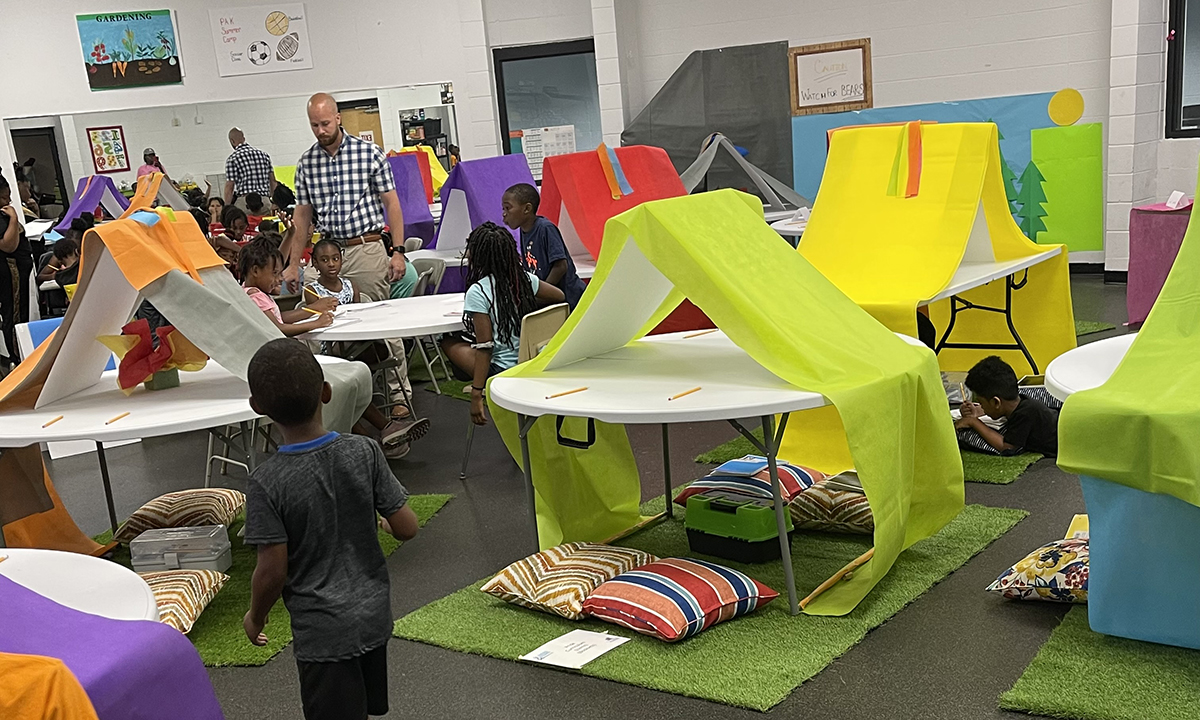 Get stories like these delivered straight to your inbox. Sign up for The 74 Newsletter
There's a reason terms like "summer slide" and "summer melt" have become fixed in the education lexicon. Out-of-school and summer learning are staples in education programming. Unfortunately, those well-intentioned programs have tended to prioritize remediation instead of putting rigor and grade-level learning at the forefront.
The pandemic's devastating impact on student learning provided an opportunity for community leaders in Indianapolis and around the country to think about summer learning differently. Rather than the traditional out-of-school program focus on remediation, students need access to grade-level content in order to truly accelerate their learning.
In 2021, The Mind Trust teamed up with United Way of Central Indiana to launch Indy Summer Learning Labs. For five weeks in summer 2021 and 2022, thousands of Indianapolis students attended rigorous, high-quality summer programming designed to ensure the pandemic did not derail their educational futures.
Sites were located both within schools and community organizations, so students and families could choose the option that worked best for them. The results were remarkable. In summer 2022, the labs served 5,000 students at 39 sites across the city. For a second year running, students dramatically increased their academic proficiency. Here are some examples of the results:
A 25-percentage-point increase in basic and proficient scores for English language arts
A 24-point increase in basic and proficient scores for math
A 15-point increase in overall English and math scores
Perhaps most convincing, the Indiana Department of Education commissioned an external study that found learning lab students achieved statistically significant gains above their pre-pandemic rates of learning and did better than their peers who did not participate in the program
93% of participating families rated their experience as good or great
Importantly, the summer learning labs served a demographically and socioeconomically representative sample of Indianapolis' student population. In 2022, 79% of participating students were children of color, and 68% came from low-income backgrounds. It is clear that the learning labs served the students who most needed rigorous summer programming. And it served them well.
A key factor in the program's success was the Lavinia Group's rigorous RISE curriculum, which was customized to match Indiana's state standards for each grade level.
As a former educator, I understand the impulse to stick with remediation. When you're working with middle schoolers whose average reading ability is at a third grade level, it's tempting to give them third-grade material. But this well-meaning tendency actually does a great disservice to the students, who should be afforded opportunities to gain grade-level mastery by accessing grade-level content.
Students who need the most support are too often given remediation when research is clear that what they need is grade-level material matched with adult support. Two years of data in Indianapolis proves when students get rigorous instruction and the support they need, they rise to the occasion and make significant progress.
The summer learning labs were able to produce such transformative outcomes due to three design decisions that supported the use of a high-quality curriculum: the program at all sites was free or low-cost; we hired over 100 licensed teachers to deliver instruction; and the student experience balanced rigorous academics with daily enrichment, such as fields trips, art projects and outdoor recreation. Feedback from families, teachers and the students themselves was clear: Kids wanted to show up, and they learned a lot in just five weeks as a result.
Inspired in part by Indy Summer Learning Labs, New York City took a similar approach last summer, thanks to the leadership of Bloomberg Philanthropies. Summer Boost NYC served more than 17,000 students last summer, with many schools using the RISE curriculum. That proves that this type of summer learning approach is replicable in other cities and potentially a model for other out-of-school programs, such as during spring break or after school.
As for our work in Indianapolis, our vision is that the learning labs will eventually be an independent nonprofit and serve as the enduring academic acceleration engine for the city's students. To do this, we plan to advocate in the Indiana General Assembly for recognition that continued investments in proven models like Indy Summer Learning Labs are vital for accelerating learning in the wake of the pandemic. Other states and education philanthropists would benefit from pursuing similar strategies. The nation cannot treat efforts to mitigate learning loss as one-off investments and just move on to the next shiny object. It will take a sustained effort over time to achieve the learning gains that students deserve.
Disclosure: The Mind Trust provides financial support to The 74. City Fund provides financial support to The Mind Trust and The 74.
Get stories like these delivered straight to your inbox. Sign up for The 74 Newsletter