Indianapolis' Innovation Network Schools See 42 Percent Jump in Enrollment During Pandemic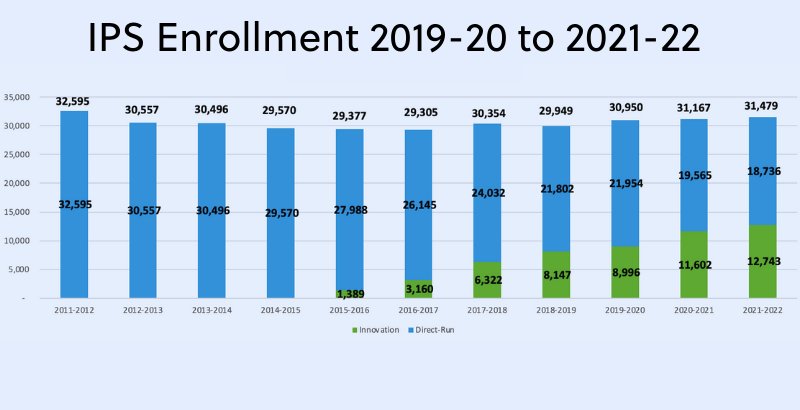 Support The 74's year-end campaign. Make a tax-exempt donation now.
Even as school systems around the country report a second consecutive year of enrollment losses, one large district is not just bucking the trend, but may have reversed a decade-long decline.
The number of students attending Indianapolis Public Schools grew by nearly 2 percent, or more than 500 students, between the 2019-20 school year and the current one. This year's enrollment of 31,479 pupils is the highest the district has seen since 2011, when it had nearly 32,600 students.
Almost all of the increase has taken place in the city's Innovation Network Schools, which saw a two-year enrollment boost of nearly 42 percent. Nearly 13,000 children now attend innovation schools, independent programs that are part of the larger district but operate on performance contracts. Provided they meet academic, financial and operational goals, the schools enjoy broad freedom to decide everything from staffing to their learning models.
At the same time, enrollment in the city's traditional district-run schools continued to fall, with losses of nearly 15 percent during the same time frame. All told, fewer than 19,000 children, or about 60 percent of the total student body, now attend schools operated by the district's central office.
The enrollment shift is a net gain of more than 500 pupils for the city's public schools. From 2019-20 to now, traditional district-run schools have lost 3,218 children, while 3,747 new students are attending innovation schools.
Some 800 of the innovation network's new students this year are enrolled in two virtual schools launched by local charter school networks — Paramount School of Excellence and Phalen Leadership Academy — that have track records of success with low-income children of color. The charter networks were approached about creating high-quality, permanent online programs early in the pandemic by leaders of The Mind Trust, an Indianapolis education nonprofit that has been deeply involved in creating and expanding the innovation schools.
Innovation schools can be charter schools that apply to be part of the district's portfolio of autonomous programs, totally new district schools or district schools that require, or want, rebooting. For the purposes of enrollment counts, funding and state accountability, all the schools show up as part of the district. For purposes of enrollment, the city's charter schools get access to the district's large pool of potential students.
"The fact that the district and the charter sector work so closely here has provided a broader set of really compelling school options," says Brandon Brown, CEO of the Mind Trust, which has been intimately involved in creating the network. "That's really served the system well, and has allowed us to collectively avoid many of the enrollment losses we're currently seeing across the country."
An astounding fact that bucks national trends: Enrollment in @IPSSchools is at its HIGHEST point in a decade. This is driven by an incredible 42% enrollment increase in innovation schools since the start of the pandemic. When districts provide options, families respond.

— Brandon Brown (@BBrownIndy) October 26, 2021
The innovation network was created by Indiana lawmakers hoping to keep families in the district, rather than switching to charter schools — which might or might not be high-performing — or using open enrollment to send their children to schools outside district lines. Students in Indianapolis innovation and charter schools, Stanford University's CREDO education research group reported in 2019, dramatically outperform their peers in traditional district-run schools.
"If you were to look back to, like, 1970, there used to be over 100,000 kids enrolled" in the district, says Brown. "At its low point, it was about 29,000. So huge decreases over time that have now really reversed themselves the last handful of years.
"There is no longer a mass exodus," he adds. "The school district, because they're being more responsive, and they have more really high-quality options, are not only retaining kids; they're now starting to attract new kids in the district. From the perspective of the health of the school district, that's huge."
Disclosure: The Walton Family Foundation and City Fund provide financial support to The Mind Trust and The 74. City Fund partner Kevin Shafer sits on The 74's board of directors
Support The 74's year-end campaign. Make a tax-exempt donation now.