In Texas, School Bus Driver and 'Daddy's Girl' Grieves Father's Death, Finds Solace Serving Her Students Through Crisis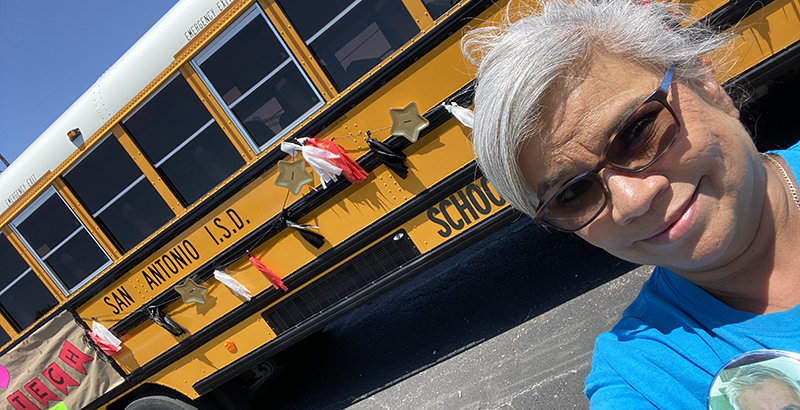 This is one of eight profiles in Displaced: The Faces of American Education, a package from The 74 following the stories of the diverse characters who are a part of the American education system, and how the COVID-19 crisis has upended their lives in a few short weeks. Meet the others, from around the country, here.
Every morning as the sun rose, Rosie Guadarrama walked laps around the parking lot full of yellow school buses at the San Antonio Independent School District transportation hub. In the three weeks since COVID-19 had shuttered schools, she had used that time to pray, listen to worship music and prepare herself for the intense day ahead.
She also prayed for her 80-year-old father, who had developed a persistent cough and low-grade fever in late March. It was now the second week of April, and the cough had grown worse, said Guadarrama, 54. "I thought it was COVID."
With that on her mind, she boarded a bus and began her work day. Only she wasn't shuttling kids to and from school, as she had been for six years. She was delivering food to families at six East Side apartment complexes.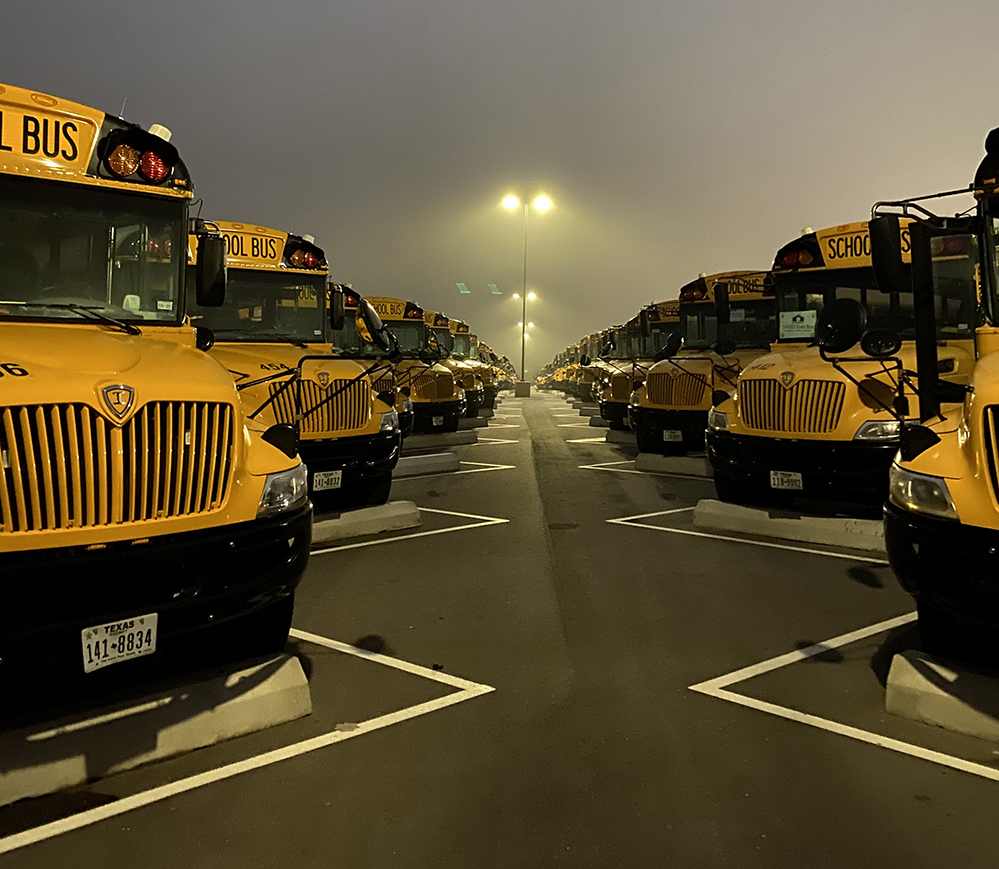 The delivery program, SAISD Eats, had been partially her idea. When the district first started the curbside meal pick-up program for families after schools closed, the local news reported that not every family could get to the sites. The bus drivers, accustomed to being part of the district's transportation solutions, were anxious to help in some way, she said. She proposed the bus delivery idea to the district after her daughter saw something similar on social media.
She didn't think the district would go for it, but her supervisor, Chief Transportation Officer Nathan Graf, loved the idea. He asked Guadarrama if she wanted to be part of the delivery team.
"I'm ready to go, let's go," she told him. "Tell me what to do."
Between March 23 and April 8, Guadarrama delivered 250 meals per day, passing them through the bus windows to families lined up below. She got to know her "regulars," she said: the family with six kids who wore matching outfits every day; the man she called "Red Hat"; and the kids she called "The Fearsome Four."
One day a toddler, accompanied only by his sister, approached the bus and insisted on collecting his own food bundle. The sister tried to help him, Guadarrama said. "He was not having it. He was going to be a big boy."
With interactions limited by social distancing, Guadarrama and her fellow bus drivers began to look for the regulars as a benchmark for the health of the community. They parked their buses, honked their horns and waited to see who showed up, hoping to see increased turnouts full of familiar faces.
People found ways to express appreciation, not only for the meals but for the buses that delivered them as well. One day, a child approached one of the buses holding a poster. It read, in handwritten letters: "Gracias por tomar un poco de tu tiempo, para que yo puedo todos los días tener algo de comida en mi mesa." ("Thank you for taking a little of your time so that I can have some food on my table every day.")
At 2:30 p.m. on April 8, with deliveries completed, Guadarrama did what she did every other day. She raced to her parents' house to check on her dad, help her mom and assess whether it was time to go to the hospital — it was. She could tell her father wasn't getting enough oxygen.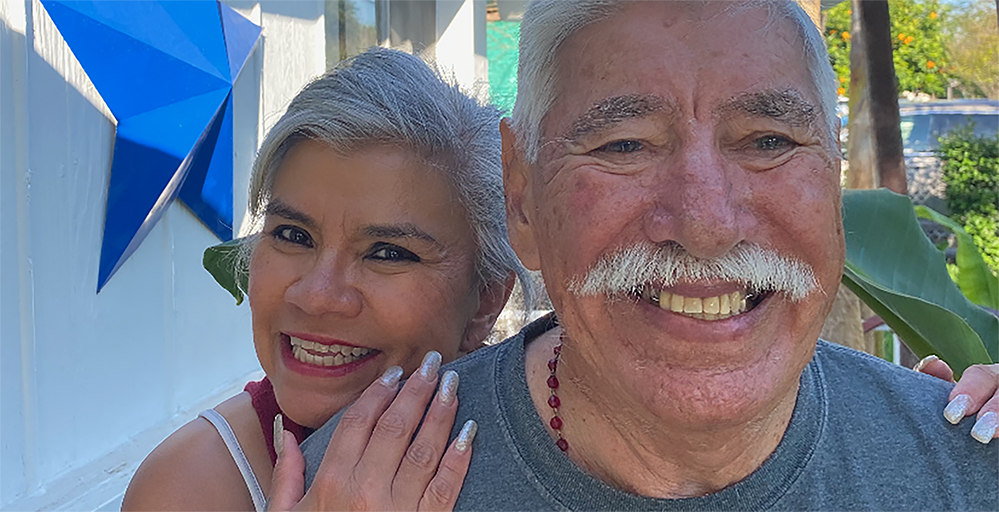 "I practically carried my dad from the car to the wheelchair," she said. "I made the sign of the cross on his forehead and said, 'I'll see you later, Daddy.'" Because of COVID-19 protocols, she was not allowed to go into triage with her father.
After five anxious hours, the hospital called to tell Guadarrama that scans of her father's body revealed not COVID-19 but cancer. Lymphoma had spread throughout, and they would have to begin chemotherapy immediately if there was any hope of effective treatment.
With her father in the hospital, she assumed care of her mother. The next day, Guadarrama called Graf to tell him she would not be able to work. Their conversations were usually upbeat, she said — "I'm one of his crazy bus drivers."
Whenever costumes, decorations or other silly or celebratory extras are called for, Guadarrama is usually among the most enthusiastic. Graf, himself, is a chipper, hopeful person, but that day she could not match his tone. He knew something was wrong.
"I told him, 'I'm not going to go back to work till we get daddy home,'" she said. "That never happened."
The next 21 days were agonizing. Guadarrama brought plastic bags full of cards from well-wishers to the hospital parking lot, where she handed them off to gracious nurses who took them inside to her father. Although hospitals in San Antonio have not been overrun by COVID-19 care, social distancing protocols have limited the number of people who can be inside. And because Guadarrama's father was receiving chemotherapy, he was considered immunocompromised and therefore could not see visitors. One nurse used her phone to help the family FaceTime, a humanitarian bending of hospital rules.
Guadarrama missed her early morning prayer walks around the bus park. She missed interactions with the "regulars" on the meal delivery route. She missed her dad.
"I was a daddy's girl," she said.
His body ultimately could not withstand the chemotherapy treatments. On April 28, the family was allowed to join their husband and father one last time as staff took him off of the ventilator. Guadarrama and her family sat with him through his final hours, and then they turned to the business of grieving, a process made lonelier and more complicated by COVID-19.
Only 10 people, including the priest, could attend the Mass in her father's honor because of coronavirus distancing measures. But Guadarrama could see friends gathered at the church's windows, ears pressed to the panes to hear the family's commemorations inside. At the May 13 burial, attendees stood six feet apart wearing masks.
Guadarrama realized almost immediately that she wanted to get back to work. "I need to be busy," she said.
On Tuesday, May 19, what would have been her parents' 57th anniversary, Guadarrama climbed back onto her bus, now cheerfully decorated in the colors of one San Antonio high school. Her East Side meal route had been covered in her absence, so she wouldn't be seeing Red Hat and The Fearsome Four anymore.
Now she will be serving another group affected by COVID-19: graduating seniors. With most formal festivities stripped from the teens' monumental accomplishment, the district arranged a series of celebratory parades with school buses bedecked in streamers and banners. Wearing a commemorative button with her father's smiling face, Guadarrama is again behind the wheel of her school bus, serving her students the best way she knows how.
Support The 74's year-end campaign. Make a tax-exempt donation now.