In Rewriting the Higher Education Act, Lead Senate Democrat Patty Murray Says Affordability a Top Priority — but Free College Might Be a Step Too Far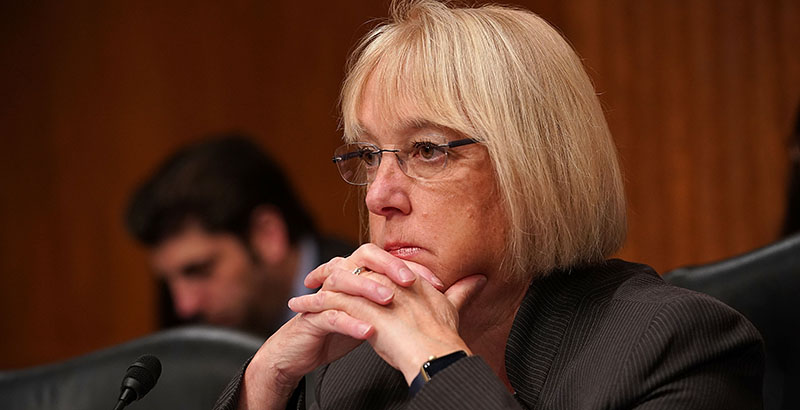 Washington, D.C.
College affordability is a top priority for reauthorization of the Higher Education Act, but the free-college proposals put forward by some Democrats, including those running for president in 2020, might be a step too far, Sen. Patty Murray, the top Democrat on the Senate education committee, said Thursday.
The proposals are "certainly worthy of consideration," but "we may not be able to achieve these bold goals in a bipartisan reauthorization this year," she said at the Center for American Progress, a liberal think tank.
"We still have a significant opportunity to take a big step in the right direction, and to make a significant down payment toward providing real opportunities for future students," she added.
Accountability, access, and campus safety are also among Murray's top priorities for a new higher ed bill.
"The opportunity to reauthorize our nation's landmark higher education law doesn't come around very often, so in order to make a lasting impact on the next generation of students, it's important we get this right," Murray said.
Murray's remarks came a few weeks after her Republican counterpart, Health Education Labor and Pensions Committee Chairman Lamar Alexander, laid out his own priorities at the conservative American Enterprise Institute. He proposed a new accountability system for colleges, simplification of the federal financial aid questionnaire, and an automatic loan repayment system.
Alexander and Murray, who count the Every Student Succeeds Act among their bipartisan legislative victories, have started "good-faith negotiations" on the bill, she said.
The reauthorization work must be comprehensive, she said, rather than just addressing a few piecemeal issues, like financial aid simplification or data transparency, that have bipartisan support. The Senate must work on a measure that can lead to passage in the House, she said; Republicans, of course, have the majority in the Senate while Democrats control the House.
"To work any differently would simply be an exercise that would lead nowhere," she added.
On affordability, Murray said Congress must increase funding for need-based aid programs like work-study and Pell Grants.
She also called for a state-federal partnership "to promote new investments in our students and families and to pave affordable pathways to higher education."
Murray didn't offer any details on such a program, but the general idea of such partnerships is to mitigate state reductions in higher education spending, particularly during economic downturns.
Lower state spending often leads public and community colleges to pass on costs to students through increased tuition. State spending on higher education didn't rebound after the 2008 recession: In 2017, it was $9 billion below the 2008 level when adjusted to inflation, according to a report from the Center for Budget and Policy Priorities.
Regarding accountability, Murray said that all schools must ensure their students are graduating with valuable degrees, but she specifically singled out for-profit college chains that have closed in recent years, such as Corinthian Colleges and ITT Tech.
Alexander, meanwhile, has proposed judging each major at every college by the percentage of students who are paying back their loans on time. A version of that regulation, commonly known as the gainful employment rule, currently applies to for-profit colleges and non-degree programs at other schools.
On access, colleges should work to improve admissions and supports for historically underserved students, such as first-generation college students, veterans, and students of color, she said.
Murray concluded her speech with a focus on campus safety, particularly rules governing how schools respond to allegations of sexual assault and harassment under Title IX.
She has been a vocal opponent of the Education Department's new rules, which generally strengthen the rights of the accused and limit the scenarios in which schools must take action. Murray again criticized the proposal as "disastrous," "harmful," and one that will "once again sweep campus sexual assault under the rug."
The department should scrap the proposal, and Congress should work on the issue, she said. Alexander, too, said he would be willing to work with Murray on the subject during a higher ed reauthorization.
Get stories like these delivered straight to your inbox. Sign up for The 74 Newsletter