In Pursuit of a Better Democracy or Something Else: Oklahoma Latest State to Require High Schoolers to Pass Citizenship Test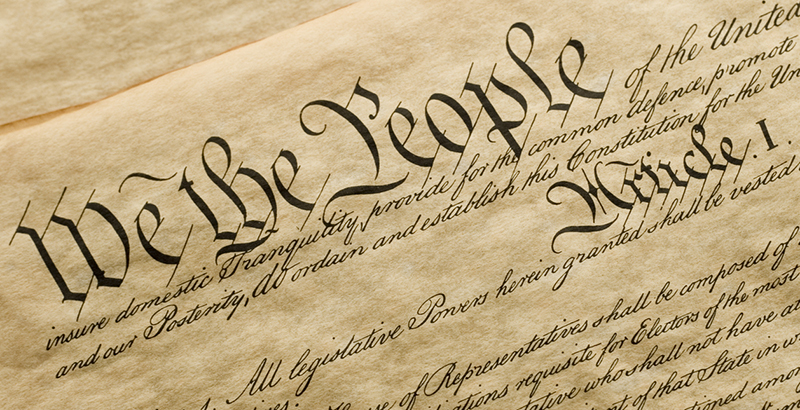 Get essential education news and commentary delivered straight to your inbox. Sign up here for The 74's daily newsletter.
Oklahoma recently joined several other states in requiring students to pass the same citizenship test administered by U.S. Citizenship and Immigration Services in order to graduate from high school.
The measure was put forth by House Speaker Pro Tempore Terry O'Donnell who told The 74 that people who possess a greater understanding of American government would be less likely to riot.
Citing unrest in Portland, Oregon following the death of George Floyd, and the Jan. 6 Capitol siege, O'Donnell said in June that the nation "saw a proliferation of mobs," who, instead of pursuing change through legal channels, decided to take action on their own, with some gatherings devolving into looting, arson and other illegal activities.
"The beauty of our democracy is that there is a way to address all grievances," O'Donnell said. "Mob violence or mob activity … is not part of the solution. It just adds to the problem."
The move runs parallel to Republican-led efforts, including in Oklahoma, to curtail the teaching of systemic racism, or what's often called critical race theory, in the nation's school districts. Republican Gov. Kevin Stitt signed a measure into law May 7 that prohibits Oklahoma public schools and universities from teaching that "an individual, by virtue of his or her race or sex, is inherently racist, sexist or oppressive."
Similar citizenship testing laws for high schoolers already exist in Arizona, Arkansas, Idaho, Kentucky, North Dakota, Tennessee and Wisconsin, while those in New Hampshire must take their school's own version of the test. Florida passed laws last month requiring a civics assessment for both high school students and those in public state colleges and universities. If students pass the test in high school, they don't have to take it again in college.
In a few other states, including Pennsylvania, students are required to take — but not pass — civics exams. Karen Boback, a Republican state representative from that state, hopes to join Oklahoma in requiring students to pass the test in order to graduate.
The initiative, pushed forth on the national stage by the Joe Foss Institute, a civics-focused non-profit organization based out of Arizona, has had mixed success: Kansas's Democratic governor recently vetoed the civics test graduation mandate in her state, calling it "legislative overreach."
Oklahoma's citizenship test bill, which Stitt signed in late April, mandates standards in history, social studies, and U.S. government courses. It requires the study of the U.S. Constitution, Declaration of Independence, Emancipation Proclamation and Federalist Papers.
Opponents say much of the material has already been covered in the state's public schools, that it adds only another unfunded mandate. Tulsa Public Schools said in a statement that it already has course requirements in place to teach students about American history and political processes, but that it will, "of course, comply with the graduation requirements put in place by the State of Oklahoma."
O'Donnell acknowledged teachers' efforts to date but said too many students cannot answer basic questions about the nation's founding or government, citing a 2018 report that only 24 percent of eighth-graders performed at or above the NAEP Proficient level on a civics assessment.
The new law will go into effect for students graduating in 2022-23. School districts must offer the test at least once per school year, beginning as early as eighth grade. Students may retake the exam until earning a passing score of 60 out of 100. Those with disabilities who have an individualized education plan are exempted.
Practice questions on the U.S. Citizen and Immigration Services website include: What group of people was taken to America and sold as slaves? The House of Representatives has how many voting members? The idea of self-government is in the first three words of the Constitution. What are these words?
Oklahoma's decision comes as the nation is actually making gains in civics education: A study published in September 2020 by the Annenberg Public Policy Center at the University of Pennsylvania found 51 percent of more than 1,000 people surveyed accurately named all three branches of the federal government, up from 39 percent in 2019 and 26 percent in 2016.
The organization suggested that recent events, including "an impeachment inquiry, a pandemic, nationwide protests over racial injustice, and a contentious presidential campaign" might have contributed to the increased awareness.
Oklahoma state Rep. Mickey Dollens, a Democrat, is a former public school teacher laid off in 2016 alongside hundreds of others because of sharp state budget cuts to education. He said the U.S. citizenship test calls for rote memorization of facts, and while each is important, they come without context and therefore do not cultivate authentic learning.
He said, too, that the citizenship test and the state's own existing history offerings serve two different purposes and cannot be interchanged.
"It is simply not as effective as the curriculum we have now," he said. "If that curriculum needs to be improved, I'm all for that. But to mandate that our schools take on a new standardized test without additional funding is wrong."
Miriam "Mimi" Marton, director of the Tulsa Immigrant Resource Network at the University of Tulsa, is suspect of such legislation given the state's history of passing some of the nation's strongest anti-immigration measures.
"If we were in a much more neutral state, I might think it's a good thing," she said. "We should all be able to pass a history or civics test about our own country."
But immigrants in her state remain vulnerable: The undocumented have long risked deportation through simple traffic stops. Legislation linking the passage of a citizenship test to graduation only further alienates and alarms those who've already suffered tremendously under the previous political administration, she said.
"This is so complicated," she said. "What it says on the surface is not the real purpose. Is the real purpose to catch students who are undocumented and couldn't answer those questions? Our state government spent a whole lot of time on this instead of dealing with desperate poverty and overall lack of medical care and instead passed legislation that is frivolous at best and punitive at worst."
Mark Mann, a member of the Oklahoma City Public Schools Board of Education, called the legislation "a solution looking for a problem." He said it "bites around the edges" of other anti-immigrant policies, that it was drummed up by conservative politicians looking to score points with their base.
He doubted state legislators themselves could pass the test and worries the exam could keep some students from graduating. If that's the case, he said, the state would likely have to create exemptions.
"We'll have to wait and see," he said. "I could imagine the state needing to come up with an accommodation or an alternate test."
But Rashid Duroseau, civics program director at Democracy Prep, founded in 2005, believes the exam has merit. His charter school network, which educates mainly low-income students of color, aims to prepare "the next generation of change makers." Democracy Prep Public Schools requires all students to learn civics. In addition to completing 40 hours of volunteering and a year-long service-learning project, they must demonstrate what the organization calls a foundational understanding of basic American history and the mechanics of U.S. government.
"Although we are not wedded to it, we currently use the USCIS Naturalization test as an assessment tool because it is an efficient and effective means of gathering the desired data," Duroseau said.
A 2018 study by Mathematica Policy Research found that enrolling in Democracy Prep increases the voter registration rates of its students by approximately 16 percentage points and boosts their voting rates by roughly 12 percentage points.
O'Donnell, of Oklahoma, noted voter participation among 18- to 24-year olds in his state is particularly low, the fifth worst in the nation for the 2016 election. Records further show the state came in dead last in overall voter participation in the 2020 presidential election.
The lawmaker hopes the new legislation might change this.
"If you understand how our government works, you will appreciate it and participate in it," he said, "whether you are Democratic, Republican, Libertarian or what have you."
Get stories like these delivered straight to your inbox. Sign up for The 74 Newsletter