In Indiana, Social-Emotional Support for Students Starts on the School Bus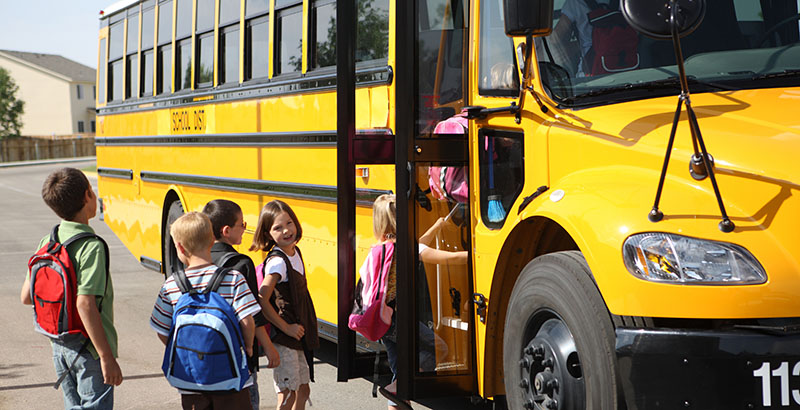 School bus drivers are the first and last school adults that many students interact with every day, but they are often overlooked as a source of support for children's social-emotional well-being.
Lori Desautels wants to change that.
Desautels, an education professor at Butler University in Indianapolis, said bus drivers often develop strong relationships with students, so she is teaching them social-emotional learning strategies to strengthen those connections and help students build resilience.
Over the summer, she led a workshop for more than a dozen bus drivers in Warsaw Community Schools in northern Indiana, part of a districtwide focus on student wellness. After conducting surveys and focus groups, district leaders realized that students needed help coping with peer pressure, bullying, trauma, and mental health concerns — and that the effort had to extend beyond teachers and school counselors.
"To be able to cover this need, we needed to have everybody involved," Superintendent David Hoffert told The 74.
Bus drivers often transport the same students year after year, so they can notice patterns of behavior that teachers and school administrators might miss, Desautels said. They also have an opportunity every morning to "set the brain state for the day," which can help children succeed in class. Desautels said just checking in with someone can help students regulate their emotions, which can "change brain architecture in the moment." Research shows that healthy relationships with adults are crucial for students coping with toxic stress.
The drivers also learned how to report concerns about student wellness and identify and react to students in crisis.
Hoffert said they have tried out many of the strategies, which include playing calming music, pairing younger students with older ones to work on breathing exercises, recognizing student successes in a weekly celebration, and checking in with students using hand signals like thumbs up or thumbs down. One even did a "kindness rocks" project, guiding students in writing inspirational messages on stones to build community and improve their school grounds.
The drivers were glad to be involved in the initiative. "They felt special because so much of the time we don't spend the time training our bus drivers" in social-emotional strategies, Hoffert said.
The training is "really empowering for the bus drivers," Desautels agreed. "They feel privileged, and they feel honored."
She is planning a workshop with bus drivers from Washington Township schools near Indianapolis later this year.
Get stories like these delivered straight to your inbox. Sign up for The 74 Newsletter