Illinois Governor Grants Reprieve of State's Popular Tax-Credit Scholarship Program, but Political Fight Puts Dent in Donations Even as Applications Surge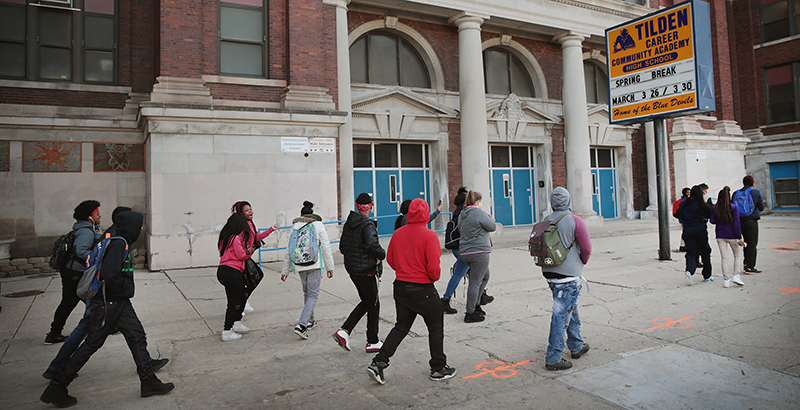 One of the country's largest tax-credit scholarship programs that helps low-income students attend private school in Illinois survived the state's budget negotiations last month despite calls for its early demise. But its lifeline comes as the program faces a massive funding shortfall fueled by months of uncertainty about its political fate.
Democratic Gov. J.B. Pritzker put the program, Invest in Kids, on precarious footing in February when he unveiled his budget plan, proposing an early phaseout of the initiative that would cut donation acceptances by half each year for the next three years. That move — which came after he spent months campaigning against Invest in Kids — appears to have scared away donors, leaving the program millions of dollars behind last year's pace of fundraising even as thousands more students have applied for the program.
Invest in Kids is a five-year pilot program that provides scholarships to lower-income students living in underperforming school districts to attend private schools. The scholarships are funded by business and individual donations — made to a scholarship-granting organization — 75 percent of which can be written off as a state tax credit. It was part of a sweeping bipartisan education bill signed into law in 2017 under Republican Gov. Bruce Rauner. Nationwide, 18 states have tax-credit scholarship programs, otherwise known as vouchers.
The program raised more than $60 million in 2018, short of its lofty $100 million goal but still more than any tax-credit scholarship program in the country has been able to collect in its first year. The program, however, quickly met strong opposition from Pritzker and the state's teachers unions, who chided it for diverting dollars from public schools to private schools.
Anthony Holter, executive director of Empower Illinois, the state's largest SGO, said that eliminating Invest in Kids would have been "detrimental" to the state's education reforms.
"For us, the messaging was clear: A promise has been made," Holter said. "So let's give [Invest in Kids] that full run."
By mid-June, the state had raised just $23.2 million for Invest in Kids, compared with $39.2 million by the same time last year.
Private school tuition in Illinois cost an average $6,772 last year. Empower Illinois granted nearly 5,500 scholarships averaging $6,669 each. Yet as Invest in Kids' funding pool dwindles, the number of applications continues to grow. More than 43,000 students have applied through Empower Illinois for a scholarship this year, up from more than 32,000 last year.
"The scholarship demand is undeniable," Holter said.
In a state where half of its 2 million K-12 public school students come from low-income households, and where a 20 percent spending gap between poor and affluent districts represents the largest chasm in the country, parents and advocates have looked to school choice programs like tax-credit scholarships as a way to provide opportunity to underprivileged students who would otherwise be beholden to underfunded, poorly performing neighborhood schools. And while early research has shown that voucher programs may not necessarily improve student test scores, they tend to increase the likelihood that a child attends and graduates from college.
Still, Invest in Kids has its detractors. The Illinois Education Association, the state's largest union, comprising 135,000 public teachers, educators and others largely employed by the state's public schools, has been fighting to eliminate the program.
IEA President Kathi Griffin said the union has been fighting Invest in Kids because the program takes money away from public schools, especially those most in need of funding. She added that wealthy donors shouldn't be receiving a 75 percent tax write-off to help private institutions.
Holter, of Empower Illinois, said, however, that the tax-credit scholarship program is bringing "new money" into the schools rather than detracting from public school funding. Invest in Kids, he added, has "helped increase the flow of dollars" into K-12 education statewide.
Based on donors to Empower Illinois, few are likely to be very wealthy, given the sizes of contributions. Of Empower's nearly 2,000 donors last year, 11 gave more than $1 million, according to figures provided by the SGO. A little more than half of Empower Illinois's donors gave $4,000 or less.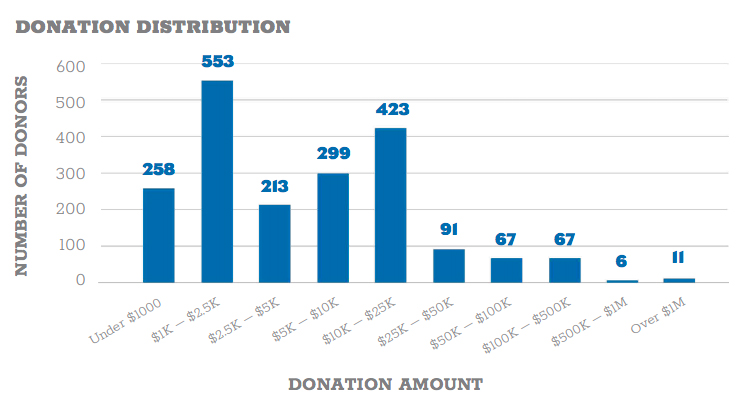 While Invest in Kids has been criticized for being a tax shelter for the state's wealthy, the beneficiaries of its scholarships tend to come from the lower tax brackets. The federal poverty level for a family of four sits at $25,750 as of January 2019. Three-quarters of Empower Illinois's scholarship recipients came from families with household incomes earning less than $46,435, or 185 percent of the federal poverty level, and the average household income for recipients was $35,371.
The federal government doesn't define the middle class, but these families fall squarely below how the Pew Research Center calculates middle income — two-thirds to double the U.S. median income of $75,500 in 2019, or between $50,366 and $151,100.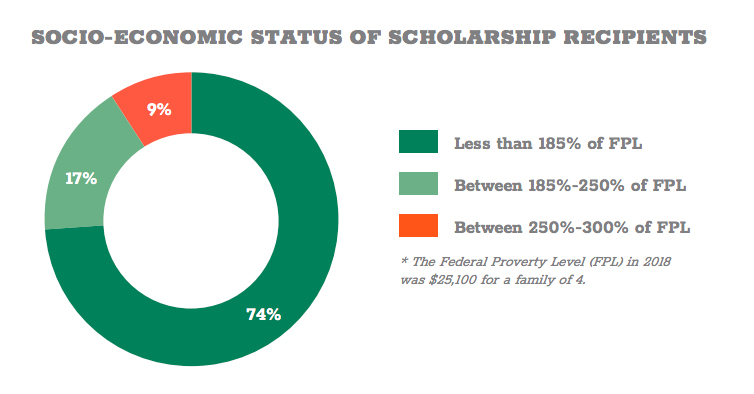 Empower Illinois's scholarship recipients don't perfectly mirror the state's overall student body. While white students make up about 50 percent of all students in Illinois, they represented about 40 percent of the SGO's recipients in 2018. Hispanic students, who comprise less than 30 percent of students statewide, made up a little under 40 percent of Empower's awardees.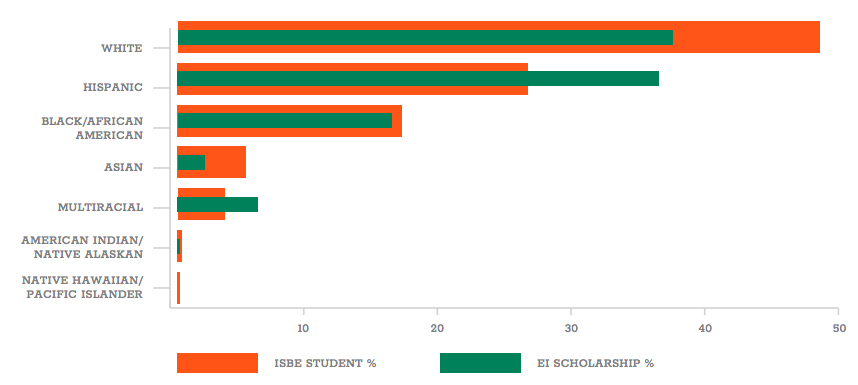 That disproportion stems from the fact that about 70 percent of all scholarships were allocated to students in Cook County, home to Chicago, which not only has a higher proportion of Hispanic students than other regions in the state but also is the only one in which there are more Hispanic students than students from any other ethnic group.
The agreement to keep the scholarship program was a turnaround for Pritzker, who, while campaigning to be elected governor in 2018, seemed to all but shut the door on allowing Invest in Kids to continue if he was elected to the state's highest office.
"I'm opposed to that $75 million tax credit, that school voucher system he's created, and we should as soon as possible do away with it," Pritzker said last year of then-Gov. Rauner, according to The State Journal-Register. "What I oppose is taking money out of the public schools, and that's what happened here."
But over the past few months, hundreds of teachers and students supporting the program lobbied legislators to come to its rescue. Representatives from almost 150 schools descended on the statehouse using the hashtag #SaveMyScholarship and were a routine presence in the state capital of Springfield, according to Empower Illinois, which coordinated much of that effort.
"The governor is committed to negotiating in good faith with Republicans, and his budget not only reflected those negotiations but also his commitment to funding public education properly, in line with historic education funding reform," said Jordan Abudayyeh, a spokesperson for Pritzker. "The governor is committed to making sure that all students in Illinois get the education they deserve."
Griffin, of the Illinois Education Association, said that while she was disappointed the program wasn't terminated, she praised a number of elements in the budget agreement, including an additional $375 million for K-12 funding — $25 million more than originally planned — a $40,000 minimum salary for teachers and a $15 minimum wage.
"A lot was done to help strengthen public education," Griffin said. "It's the first time in a number of years that we have a governor that truly understands public education and works hard to make public education stronger."
The IEA will continue lobbying the statehouse to end the program, Griffin added.
Empower Illinois's Holter said he believes the budget agreement "means we don't have to engage in this every single year to save it." He acknowledged that the program's uncertainty has put a dent in donations, but he said Empower's officials have started to close their year-over-year fundraising gap in the weeks since the agreement.
"With the questions surrounding the tax-credit scholarship program's stability for the last few months, we understand that donors may have been hesitant, but with the recent good news from Springfield about the tax-credit scholarship program, we are optimistic about upcoming fundraising," Holter said.
Laura Garcia is one of Illinois's parents whose children have received scholarships through the program. Garcia said her daughter, Jimena, was struggling in her public school in Cicero, and she wanted to send her to private school but was concerned she couldn't afford it. With the scholarship, Garcia said, her daughter has performed better academically and is doing much better socially.
"I heard they wanted to nix the program," said Garcia, who emailed her state representative in support of the program. "I thought, 'Oh my gosh, why? Why?'
"I'm not anti-public school," she says. "This is just to give a better situation for our children."
Support The 74's year-end campaign. Make a tax-exempt donation now.