Oldham: In Texas, in Illinois, and Around the Country, Businesses Are Working With Students to Better Bridge Classrooms With Careers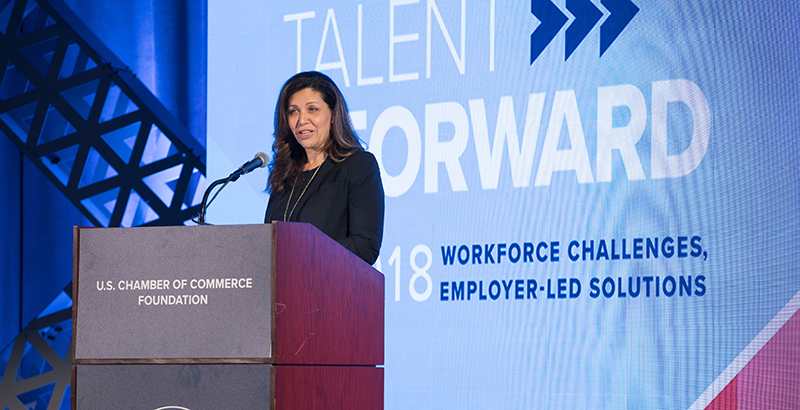 Now more than ever, the success of American business and the effectiveness of our education systems are inextricably linked. Business leaders must be even more engaged in ensuring that our education and workforce systems are preparing learners beginning at an early age for the increasing demands of the globally competitive 21st century knowledge economy.
Across America, employers are struggling to find skilled talent to fill critical jobs. With more than 6.3 million job openings and almost 40 percent of employers indicating they don't have the capacity to take on new business, it is clear that the American education system is impacting the business community's ability to grow, innovate, and compete.
The U.S. Chamber of Commerce Foundation recognizes that the challenges facing our nation's education system are complicated. More than 9 million students are stuck in our nation's lowest-performing schools, and only a third of our students graduate ready to succeed at college-level work. There are no silver bullets and no easy fixes. But what we do know is that the answers won't come from Washington, but rather from local leaders who know and understand the needs of their communities.
The business community is already stepping up in innovative ways to support learning across the K-12 continuum by creating partnerships with community organizations to create a talent pipeline, collaborations with high schools and districts to provide work-based learning opportunities for students, and efforts to advocate for policy change at the local, state, and national levels. Businesses have made a concerted effort to partner with schools to bring more purpose and real-world learning opportunities to students in districts across the country.
Texas
In 2010, Texas Instruments approached the Girl Scouts of Northeast Texas with a problem: By 2020, the company would not have enough engineers. Furthermore, there were 715,000 vacant STEM positions — science, technology, engineering, and math — in Texas alone. Compounding their challenge was the fact that much of the prospective workforce — 57 percent of middle and high school girls in the state — were not interested in STEM careers.
With support from companies like Texas Instruments and Ericsson, and in partnership with local schools, universities, and policymakers, the Girl Scouts built the STEM Center of Excellence. This 92-acre living laboratory teaches girls both the hard and soft skills critical for careers in STEM, as well as for college and careers outside STEM fields. With 88 percent of girls who attended reporting increased interest in STEM careers, the center is already making strides in fostering long-untapped STEM talent.
In addition, the two companies are partnering with schools and districts to build STEM curriculum and to leverage their own talent, encouraging employees to be volunteers and mentors to aspiring engineers.
Illinois
In Wheeling, Illinois, when community leaders realized the impact that an aging workforce was going to have on labor shortages, they reached out to High School District 214. Together, they recruited 950 industry partners to start the Career Pathways Program, which now provides more than 12,000 students from six high schools access to 44 career pathways. This remarkable program offers 39 industry certifications and the chance to explore real employment opportunities before graduation from high school.
From the creation of unique in-school health care labs and certified nursing assistant training to a first-of-its-kind nanotechnology laboratory filled with equipment typically found in America's top higher-education research institutions, this collaboration has pushed the boundaries of what is possible when business and public education act on their shared mission. And it is not just students who win; educators have received invaluable guidance from business leaders across sectors on the skills necessary to excel in their respective industries.
Additionally, District 214 has partnered with local colleges and universities to ensure that all students have access to early college credits as well as no-debt, low-cost college opportunities after they graduate. As a result of the early exposure to careers in their communities, District 214's students are graduating from high school with a clearer path to college and career.
Scaling opportunity
At the U.S. Chamber of Commerce Foundation, we believe there are thousands of businesses eager to provide greater opportunities for students to connect classrooms with careers. Over the past few years, we have worked with our network of state and regional chambers across the country to help define this elevated role for both business and business intermediaries as drivers of education solutions and to identify areas of opportunity for expanded employer leadership.
Work-based learning has emerged as a primary avenue for new forms of business engagement in helping to equip the next generation of workers with the skills and experience they need to be career-ready. An employer-managed, work-based learning process can expand opportunities for youth to connect to companies, make the mastery of basic skills like writing and higher-order math more relevant, and create the network of diverse talent businesses need to compete in the 21st century economy.
This month, the U.S. Chamber of Commerce Foundation is launching a new competitive grant program, the Business Leads Career Readiness Lab. This initiative will support five state or local chambers with $95,000 each to implement a high-quality work-based learning program in their community, focused on better connecting students with the academic and experiential learning opportunities needed to graduate ready for college and career.
The newest wave of the education revolution is here. The United States is competing on the global economic stage. With much of the workforce nearing retirement, and at a time when many industries are experiencing rapid growth, future success will depend on how well we work together to develop the students of today for the jobs of tomorrow.
Cheryl A. Oldham is vice president of education policy at the U.S. Chamber of Commerce and is also senior vice president of the education and workforce program of the U.S. Chamber of Commerce Foundation.
Disclosure: The 74's coverage of the skills gap, the challenges and opportunities of better educating our future workforce, and efforts underway to improve local employment pipelines is underwritten in part by the U.S. Chamber of Commerce Foundation.
Support The 74's year-end campaign. Make a tax-exempt donation now.