How to Avoid the Ghost of the Common Core in Social-Emotional Learning's Rollout? Emphasize Local Control and Community Connection, Experts Say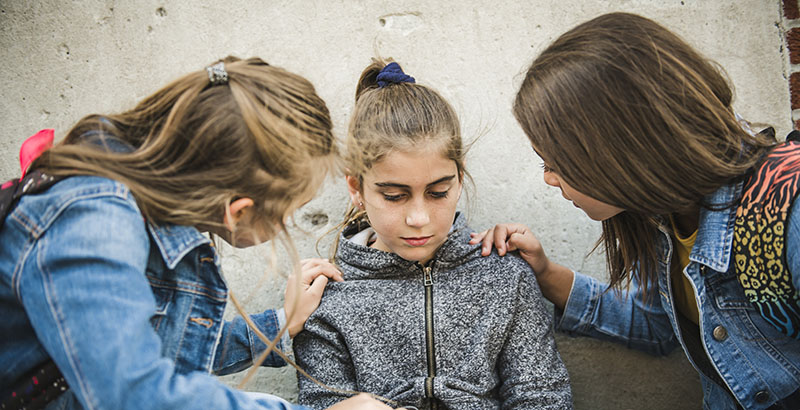 Students need to be mentally and emotionally well in order to learn at full capacity.
As much money and effort have been put into demonstrating that, the need to consider the "whole child" in education was never really the subject of debate.
"Nobody's in favor of half-child education," quipped Chester Finn, the Thomas B. Fordham Institute senior fellow, during a discussion of social-emotional learning, or SEL, at the American Enterprise Institute in Washington, D.C.
To his point, the goal of the Dec. 10 conversation at the conservative think tank among a high-profile panel of education researchers, policy people and advocates was not to debate whether social-emotional learning is necessary, but whether the movement swiftly building behind it is the most effective way to deliver on its promises.
Rick Hess, moderator and AEI's director of education policy studies, wondered if, as with other reforms, the enthusiasm for social-emotional learning at the national level would "end up turning ideas into something they were never intended to be."
To prevent that, panelists agreed that the quickly growing field needs to carefully balance local priorities and values with instruction rooted in the more universally accepted science of human development that underpins SEL and its goals of teaching students skills like self-regulation, collaboration, social awareness and empathy.
Panelists pointed to standardized testing and Common Core as top-down reforms born out of widespread agreement that high standards and consistency from school to school were inarguably good. Once put into practice locally, however, they were plagued by controversy, resentment and unintended consequences.
Hess mused that social-emotional learning could go the same way if "shoddy vendors" and insufficient training opened the door for more political and ideological motivation to creep in.
If social-emotional learning became a bastardized version of itself, a cheap tack-on to academic curriculum, Finn argued that it may be no more than a distraction from academics. An Aspen Institute report found that social-emotional learning, when properly executed, improves academic outcomes, but Finn pointed out that the length and complexity of that report alludes to how difficult fidelity might be to achieve. If overtaken by ideologues, he predicted, SEL would find itself with a "cadre of enemies."
Tim Shriver, one of the founders of the Collaborative for Academic, Social, and Emotional Learning (CASEL), might share Finn's and Hess's concern for quality, but he doesn't see SEL as a negotiable value-add or a volatile movement waiting to fall into the wrong hands. Shriver sees social-emotional learning as inevitable, even if it can't be done perfectly.
Children are growing as emotional and social beings influenced by their environments all the time, he said. Many of the issues panelists pointed to as being on the rise among kids — depression, suicide and bullying — demonstrate what fills the void when instruction rooted in developmental science is absent.
"Anybody who thinks the way we've done it is working is not paying attention to kids," Shriver said. "We don't have a choice as to whether we have a social and emotional learning program in our school. We have a choice as to whether it's any good."
To reach good, panelists said, requires governments, schools and funders to embrace a slow, intensely local roll-out of social and emotional learning, beginning with teachers. Not only would this help the quality of the programs as teachers have time to properly train and develop, they said, it would also address another great risk with social-emotional learning — community disconnect.
This happens when local teachers and parents are not included in the conversation, said Devin Carlson, a University of Oklahoma researcher and associate director for education at the National Institute of Risk and Resilience, and community engagement, so far, has not been a strength of education reformers. These movements, he said, have a history of promising one thing — the dignity of high expectations, for instance — and delivering another — such as constant test prep.
Both funders and governmental agencies usually drive things at a scale and speed that steamrolls communities, panelists agreed. In the rollout of the Common Core, as Karen Nussle, president of Conservative Leaders for Education, recalled, communities were left out of the conversation on why such a change was needed. Teachers and parents confused by, for instance, new ways of doing math "unified against 'The Man,'" she said. The federal zeitgeist had failed to justify itself to them.
Repeating that with SEL would be an unforced error, she argued, because grassroots demand for it as a concept is already there. Parents want life skills and pro-social behavior from their kids, she said: "They are terrified they're not doing enough of that at home."
However, as other panelists pointed out, they might not want it in the form of transcendental meditation and Eastern philosophy.
Education is, by nature, formative, much in the same way that religion is, said Jay Greene, chair of the University of Arkansas Department of Education Reform, and if schools begin to encroach on the areas of formation usually addressed by religion — character, values, identity — "it's as if we're trying to start a new religion."
For nonreligious people, it will be difficult to get the benefits of what is essentially moral education without "the icky God part," Greene argued. At the same time, he said, people who do have a religious tradition already have "elaborate pedagogy around character that has been refined over centuries and millennia."
Social-emotional learning would be well served to find the common strands between these value systems rather than ignoring them, Greene advised.
To do so will take some reversal of what Teachers Who Pray founder and CEO Marilyn Rhames characterized as a "scrubbing of God out of public education." While she did not advocate proselytizing or enforcing moral codes that violate the safety of others — such as anti-LGBTQ policies — Rhames did point out that to reject the work already being done by churches and places of spiritual guidance would be detrimental, even if those institutions don't reflect the entirety of what social-emotional learning is trying to accomplish.
Faith groups have been doing for generations what schools will require time to learn, Rhames said, pointing to a partnership in Nashville where churches offer afterschool social and emotional learning programs for public school students.
Many teachers have relied on personal faith for their own social and emotional well-being, and they will have a hard time divorcing the two, she said: "I believe hope comes from a spiritual place. So does diligence and excellence."
None of the panelists addressed it at length, but the separation of church and state looms large over these types of discussions, with school districts left to contemplate the line between religion as a content subject and religion as an enforced practice.
Although values and goals differ from place to place, the science of learning and human development is not subjective, said Jacqueline Jodl, a University of Virginia professor and former executive director of the Aspen Institute National Commission on Social, Emotional, and Academic Development. Social-emotional learning isn't "pulled out of thin air," she said.
Panelists gave various examples of SEL's universal foundations. Knowing that environment affects learning isn't a value-laden statement. It's scientifically based, they said. The effect of the stress hormone cortisol on the brain is a studied phenomenon, not an opinion.
Ultimately connecting the universal "how" of the human machinery and the local and personal "why" of education and identity requires trust, said Bror Saxberg, president of learning science at the Chan Zuckerberg Initiative. He acknowledged the role of funders, like CZI, in giving permission to "slow down" and build that trust one community at a time.
The catch-22 for social-emotional learning is that the more success it sees, the more momentum could push it in the direction of the sweeping education reforms of years past. But it was exactly those funding tsunamis, bickering think tanks and cramped timelines that gave rise to grassroots movements against standardized testing and Common Core.
Better community engagement now, before mandates and assessments are imminent, could keep the grassroots on the pro-SEL side, Shriver said.
"If we play the old game, we're in trouble."
Disclosure: The Bill & Melinda Gates Foundation, Chan Zuckerberg Initiative and Walton Family Foundation provide financial support to the American Enterprise Institute and to The 74.
Get stories like these delivered straight to your inbox. Sign up for The 74 Newsletter