How Do Americans Truly Feel About Public Education, & What Do They Want to See?
Siddiqi: New poll finds literacy, school safety, workforce and real-world training, and student mental health are top issues for voters and parents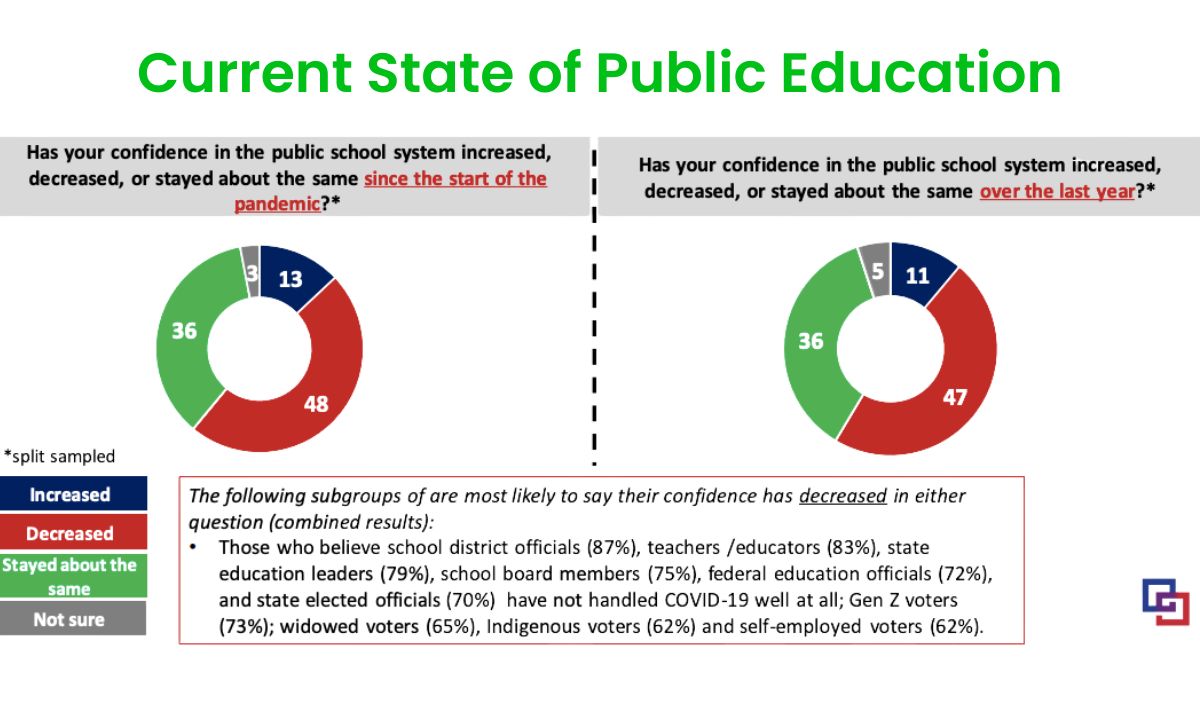 Support The 74's year-end campaign. Make a tax-exempt donation now.
The past two years have been inundated with media buzz about critical race theory, book banning and anti-transgender legislation surrounding athletics and restrooms, among other hot-button topics. With each article and soundbite, a wave of emotional responses follows. But are these issues truly top of mind for most parents and voters?
With students continuing to deal with major learning loss, states confronting an educator workforce crisis in high-needs areas like special education and STEM, and overall confidence in public schools declining, understanding what the public wants out of our education system is critical to the nation's recovery and to rebuilding trust in its institutions of learning.
During my 20 years in education, connecting with students, families and educators grounded my understanding of the challenges and wins experienced by those most impacted by education policies. Their perspectives drove my decisionmaking from my time as a teacher and school leader to my position as Virginia's secretary of education and now my role leading The Hunt Institute.
So how do Americans truly feel about public education, and what do they want to see?
As part of the institute's public engagement initiative, we surveyed voters across the country to learn more about their priorities. We're finding that workforce and real-world training, school safety, literacy and student mental health are all top issues for voters and parents.
More than 7 in 10 voters believe the country needs to ensure that students are reading at their appropriate grade level, and nearly half don't believe the schools are teaching real-world skills for the future workforce. Voters also want additional counseling and social, emotional and mental health supports for students, indicating that "social-emotional learning" may not be the kind of dog-whistle issue it is sometimes portrayed to be. And in a year of record-breaking school shootings, nearly 8 in 10 voters believe more must be done to ensure public schools are free of guns and other forms of physical violence.
In today's hyperconnected age, where anyone and everyone can amplify their opinion and viewpoint to the masses, it is important that policymakers create opportunities for members of their communities to make their voices heard. Fortunately, some states already have models for the kinds of family, community and partner engagement strategies that can be adopted at the state and local levels.
For example, in North Dakota, State Superintendent Kirsten Baesler has organized a Family Engagement Cabinet in addition to a Student Cabinet composed of 3rd through 12th graders from across the state. The Hunt Institute is working with New Mexico's secretary of education, Kurt Steinhaus to hear from employers about challenges they have encountered with hiring qualified candidates and partnering with schools to provide student training. We've also brought together state teams and experts in reading, policy and teacher preparation through The Path Forward program to support states in their efforts to embed evidence-based literacy instruction in teacher preparation and licensure programs.
Over the past two years, some states and districts have held virtual town halls and listening sessions to cater to wider audiences than in-person events allowed. Providing multiple platforms for diverse families to provide feedback and receive information can make communication channels accessible across demographics, helping leaders make sure that all voices — not just the loudest — are heard. And organizations such as Learning Heroes and the National Parents Union, which have been polling, researching and prioritizing families' voices for years, have the expertise and knowledge to provide guidance on engagement strategies.
Initiatives like these serve as a powerful reminder that students and families — with needs, wants and dreams for the future — are impacted by the policies and programs policymakers choose to invest in. By bringing families to the table, elected officials have the opportunity to hear parent priorities, propose possible solutions and receive immediate feedback.
More importantly, providing real opportunities for constituents to feel heard and involved in efforts to move forward with educational improvements will help rebuild the trust needed in state and local education systems.
Now more than ever, leaders must be willing to engage with and act in support of their communities. Elected officials must invest in the things that matter to families in 2022 and beyond — among them, mental health supports, workforce training and the peace of mind of knowing their children are safe when they step on the bus in the morning. With the midterm elections around the corner, The Hunt Institute will continue to support and scrutinize states when needed to ensure public voices are reflected in their education platforms.
Support The 74's year-end campaign. Make a tax-exempt donation now.