To Rebuild Trust With Families, Ed Dept. Seeks Input From Outspoken Parent Advocacy Group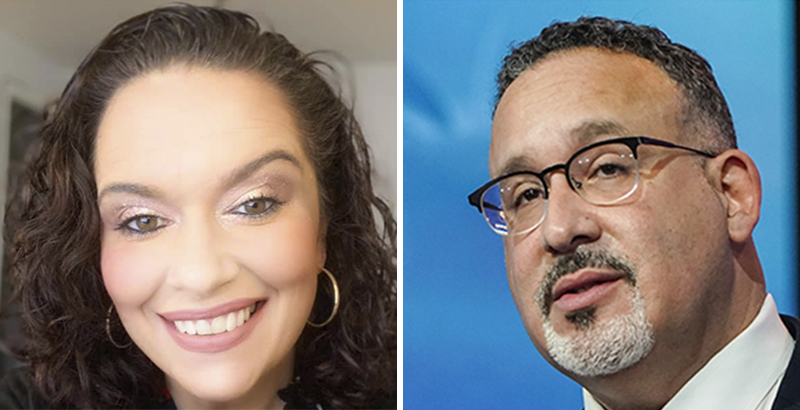 Get essential education news and commentary delivered straight to your inbox. Sign up here for The 74's daily newsletter.
U.S. Secretary of Education Miguel Cardona said Monday he wants "families at the table" as schools prepare for the fall, offering welcome news to parents who have felt shut out of efforts to help their children recover from the pandemic.
Last week, his staff took steps to fill up the guest list by contacting the National Parents Union, a network of advocacy groups that has been critical of distance learning, especially for low-income and minority students, and has pushed for schools to reopen.
On April 28, Christian Rhodes, chief of staff for the department's Office of Elementary and Secretary of Education, met with Keri Rodrigues, National Parents Union's founding president, and Marisol Rerucha, the group's chief of strategy and partnerships.
Since then, the group's representatives have been asked to work with the department's School Climate and Discipline Work Group and the Office of Parent Engagement and Communication, and to be involved in a meeting regarding federal relief funds later this week.
"They feel like we represent a really important constituency," Rodrigues said. "We were very clear with them. We're not here just to be disseminating information from [the department]. We need to be informing policy."
The department's invitation to the organization to be part of its "kitchen cabinet" follows accusations that the teachers unions have had greater access to the secretary and the administration than other interest groups. The National Parents Union represents groups that have largely blamed unions for slowing down the reopening process and say schools have failed their children during the pandemic. Parent organizations were not represented during Cardona's March 24 reopening summit, and in early April, Rodrigues said she was "furious" that the department had not yet reached out to any groups within the network. With states facing a June 7 deadline to submit plans to the department for spending American Rescue Plan funds, some of those local groups now want to have more say in how districts spend that money.
"States are looking at revisiting what it means to have families engaged," Cardona said at the Education Writers Association's annual conference. "This pandemic taught us that we have to be nimble, we have to be flexible and we have to meet families where they are."
As part of his "Help is Here" tour to local schools, mostly in the Northeast, the secretary has interacted with some parents who don't represent particular advocacy groups. And Rodrigues said her group is directing the department to other organizations "doing important work."
Rachel Thomas, a spokeswoman for the education department, said working with parents is "critical" to addressing academic inequities made worse by the pandemic.
"It's with parents' partnership that we can build our education system back better than it was before, and make sure our schools are welcoming environments that work for all students, not just some," she said.
In his comments to reporters, Cardona added that it's important to ensure the relief funds are used for students that were the most negatively impacted during school closures.
The National Parents Union is working with the Center on Reinventing Public Education at the University of Washington to create "a checklist" that families can use to track how districts are using relief funds. The materials are expected to be released next week.
"The questions are oriented around whether students are getting the individualized supports they need and whether parents are getting individualized information about their child's progress," said Robin Lake, director of the center.
Rodrigues suggested many of the local groups that have been advocating for reopening schools will now become "watchdogs" to track the funding.
"It's safe to say that until the pandemic, many parents never really gave much thought to how the school system operated, or how they used their funds," said Christy Hudson, a member of Open Fairfax County Schools, a parents' group in Virginia. With the relief funds, she added, "it's more than likely that parents are going to stay involved, and keep an eye on the school systems."
Founded in early 2020, the National Parent Union receives funding from reform-oriented and pro-charter foundations. Since the beginning of the pandemic, the group has polled parents monthly on topics such as school reopening, parents' preferences for in-person or remote learning, and how prepared they think their children are for the next grade level.
The organization's most recent results show 58 percent of parents want both in-person and remote options this fall — an issue where Cardona's expectations and parents' preferences are likely to diverge.
Some districts and state leaders say they plan to limit or eliminate virtual options this fall, and Cardona said he doesn't want "a system where students who were underserved in the past select remote learning, because they don't feel that that school is welcoming or safe for them."
Disclosure: The Walton Family Foundation, the Carnegie Corporation of New York, the Chan Zuckerberg Initiative, the Charles and Lynn Schusterman Family Foundation and The City Fund provide financial support to the National Parents Union and The 74.
Support The 74's year-end campaign. Make a tax-exempt donation now.