How CT FAFSA Challenge Closes Opportunity Gaps and Promotes Access to Higher Ed
Russell-Tucker & Pallin: Working with nonprofit and high school partners, state program is paying off for over 21,000 Connecticut students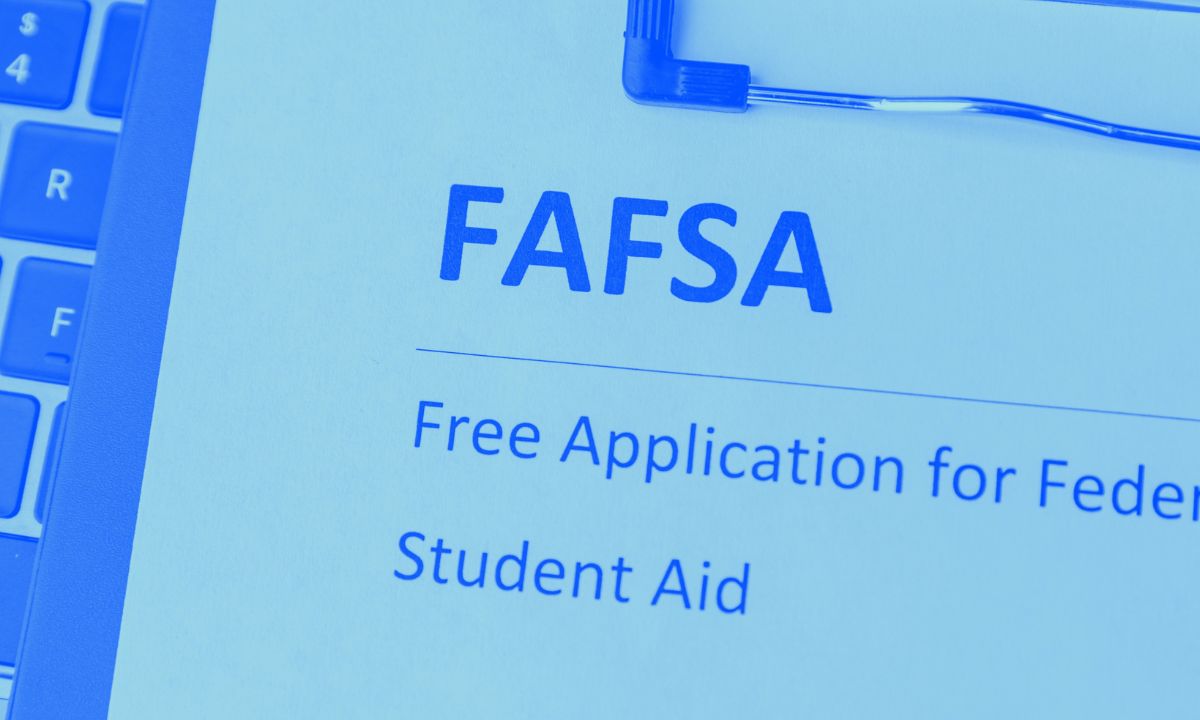 Support The 74's year-end campaign. Make a tax-exempt donation now.
Last year, nearly 2 million students nationwide — roughly half of all high school seniors — failed to complete the Free Application for Federal Student Aid (FAFSA), leaving unclaimed billions of dollars that could finance higher education. Completing the FAFSA is one of the best predictors of postsecondary enrollment. However, too many students face barriers that prevent them from doing so. As the country experiences historic declines in college enrollment and employers face shortages of high-skilled workers, more must be done to empower students to unlock their full potential, particularly those of color and from low-income backgrounds.
In our home state of Connecticut, more than 70% of jobs require higher education, yet only 25% of high school graduates from low-income backgrounds earn a college degree within six years. Through our Pledge to Advance Connecticut (PACT) program, the state's nationally recognized community colleges are essentially free — but only if students complete the FAFSA.
The pandemic forced the education community to reimagine how we support schools and students in pursuit of college and certificate programs. So in December 2020, leveraging federal American Rescue Plan Act funding, the Connecticut State Department of Education, the Office of the Governor and the Connecticut RISE Network launched the Connecticut FAFSA Challenge. The idea was to partner with high schools in new ways to improve their FAFSA rates.
Now in its third year, the investment is paying off for over 21,000 Connecticut students who have already completed the FAFSA. In March, Connecticut's FAFSA completion rate reached 54.5%, up from 45.8% in 2022 and surpassing the national average of 45%.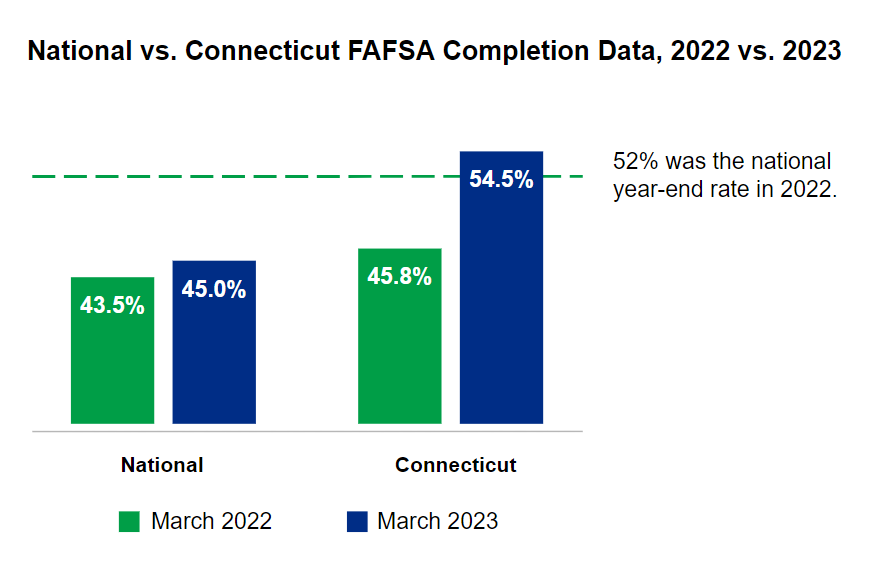 How is Connecticut moving the needle on FAFSA completion and advancing the goal of postsecondary success for all students?
Partnerships to Build Capacity: Over the past three years, schools with low FAFSA completion rates and high concentrations of need have been invited to participate in the FAFSA Challenge. School leaders and educators participate in a statewide community of practice, meeting monthly to educators review data, share promising practices, and troubleshoot barriers and obstacles. Schools also participate in monthly coaching with RISE, and educators have access to free FAFSA training via FAFSACT.org. Additionally, the department has partnered with colleges and community-based organizations to better connect schools, students and families with service providers.
Resources to Fund Innovation: Through American Rescue Plan funding, schools participating in the challenge receive microgrants to pursue innovative strategies to promote FAFSA completion, such as family events, communications campaigns and staff stipends. For example, Norwalk's Brien McMahon High School formed a FAFSA Task Force of teachers and counselors who receive training to support a caseload of students. Together they review data, share ideas and stay motivated as a team working toward a shared goal. Bridgeport's Central High School expanded its family engagement efforts. Counselors reach out to caregivers of students who have not completed the FAFSA and promote the campaign through school signs and raffles that recognize students after they complete this important milestone.
Data to Drive Action: Too often, educators lack the user-friendly data necessary to provide students with timely and equitable support. A new FAFSA dashboard and data tools allow schools to monitor their progress daily and personalize support for students and families. These tools also promote shared accountability for results. They were made possible through a data-sharing agreement among the department, the Office of Higher Education and school districts. Gov. Ned Lamont's 2021 workforce bill further spurred FAFSA completion and the focus on these data by requiring school districts to adopt policies to improve completion rates.
The FAFSA Challenge represents a coordinated, collaborative and multifaceted approach to promote FAFSA completion. In 2020-21, schools participating in the challenge increased their completion rates by 4 percentage points, and in 2021-22, that number doubled to 8 points. Building on the successes of the first two years, the 57 schools participating in the 2022-23 FAFSA Challenge are already on pace to exceed these results by the end of the school year.
Schools are working together in new ways to promote FAFSA completion and postsecondary success, closing opportunity gaps for students and enabling them to achieve their dreams despite financial barriers.
We challenge other states across the country to make FAFSA completion a core component of their education and economic recovery efforts. Connecticut's approach is customized to its needs, but also highly replicable. By working together to improve educational outcomes, state policymakers and their partners can contribute to increased employment, decreased incarceration, and better economic prosperity for local communities and the nation.
Support The 74's year-end campaign. Make a tax-exempt donation now.