How a Retired Teacher Won a Seat in Oklahoma's Legislature — and Flipped a Red District Blue in the Process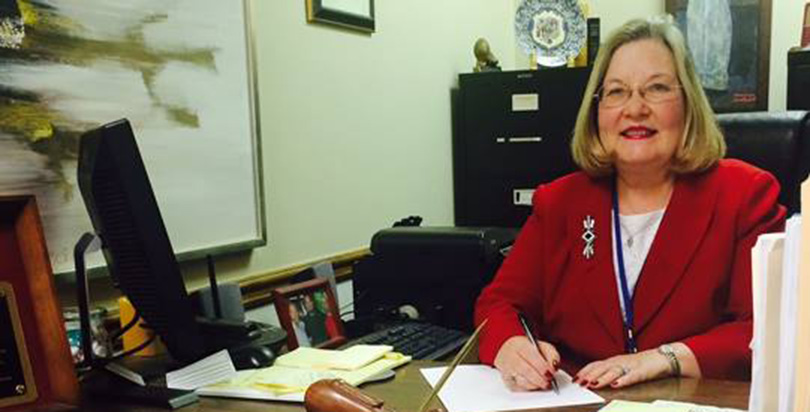 In the midst of a teacher shortage and an education funding crisis, Oklahomans have elected a retired public school teacher to the state legislature, flipping a historically Republican district blue.
Democrat Karen Gaddis, 68, won an east Tulsa County house seat in a special election Tuesday, with 52 percent of the vote, against Republican Tressa Nunley. The district had been red since the early 1990s, Tulsa World reported.
"I think the public are just fed up with our lack of leadership in the Oklahoma legislature," Gaddis told The 74. "The leadership promised teacher pay raises, especially this last year at the beginning of the session, and then there were no teacher pay raises."
Gaddis's win is significant, especially after a wave of 26 educators ran for office in Oklahoma last year. (Five were elected.) Many saw those campaigns as a response to the state's education funding crisis.
Districts have been shutting down schools and cutting school weeks to four days to save money. Teacher pay has remained stagnant, and efforts to increase salaries have failed, leaving the state with one of the worst pay rates in the nation. Many teachers are fleeing Oklahoma for neighboring states, where they can earn significantly higher salaries: Oklahoma's 2016 Teacher of the Year moved to Texas this year after earning just $35,000.
Gaddis said education is her number one priority and that she wants teacher pay increased not by $1,000, as the state proposed but failed to do, but by $10,000. She would raise the base pay to $50,000 by taxing the wealthy — which she called her "pie-in-the-sky" goal — oppose emergency teacher hiring practices that compensate for low pay by putting unqualified teachers in the classroom, advocate for smaller class sizes and new textbooks and equipment, and work to make higher education affordable.
A Tulsa native, Gaddis has been an educator for 40 years, spending most of her career in Tulsa Public Schools teaching high school math.
(The 74: Why These Two Tulsa Educators Returned Home to Save the Latino Students Too Often Left Behind)
"I'm just a 68-year-old grandmother that is going to the legislature," she said. "I had to learn to be bold, and now I'm going to go someplace where people don't want me to be bold but I will be bold anyway."
This was Gaddis's second time seeking the House seat; she ran in November against Rep. Dan Kirby, then the incumbent, who resigned in February after accusations of sexual harassment from an employee.
Gaddis received campaign donations from across the nation, her first coming from Hawaii. Although she doesn't know if winning a historically Republican seat will affect other elections in a historically red state, she thinks her victory can raise awareness. More important, Gaddis said, she hopes she will embolden other teachers to run for office.
Former students have told her they have decided to seek public office because "'If Mrs. Gaddis can do it, I can too,'" she said.
Her four decades as a teacher prepared her for bipartisanship, Gaddis said. "You have a job to do, and it doesn't matter who you have to work with. I've been with lots of principals and lots of superintendents. What's important is getting the job done."
Get stories like these delivered straight to your inbox. Sign up for The 74 Newsletter