Hochul's Proposal for Small-Group Tutoring Blocked by NY State Legislature
Both chambers rejected a clause devoting $250 million to tutoring, which experts say could be the best tactic for accelerating student learning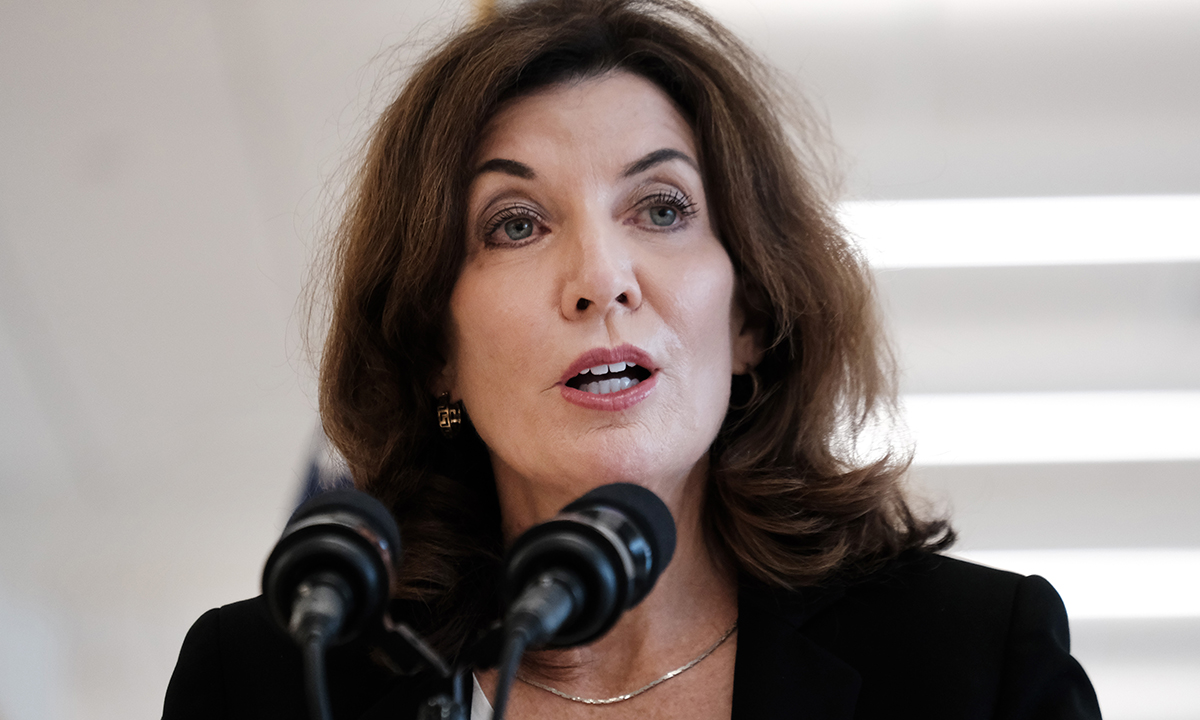 Support The 74's year-end campaign. Make a tax-exempt donation now.
Updated, March 31
Funding for high-dosage tutoring, a strategy researchers say could be the most effective way to help students re-gain missed learning, appears likely to be left out of New York state's 2024 budget.
In a response to Gov. Kathy Hochul's proposed $227 billion spending plan, lawmakers formally rejected a clause that would have devoted $250 million for school districts' tutoring efforts. Though negotiations are ongoing over the finalized budget, which is due April 1, neither chamber endorsed the tutoring measure, indicating its chances of success may be slim.
The money will still reach schools as part of a total $24 billion distributed via Foundation Aid, a state funding formula that prioritizes high-needs districts. But school systems will have no obligation to spend the funds on tutoring.
The move was largely overshadowed by the legislature's simultaneous rejection of Hochul's plan to lift the cap on New York City charter schools, an action state legislators also delivered within their response to the governor's budget. But while the charter debate has grabbed headlines, the scope of the tutoring decision may perhaps be farther-reaching, as experts warn COVID learning losses could hinder a generation of students if not addressed immediately.
Just days before the news from Albany, New York state Comptroller Thomas DiNapoli released a report that found New York's fourth graders had lost twice as much ground in reading and math from 2019 to 2022 on national tests as the national average. New York's fourth-grade math learning loss was estimated to equal 30 weeks of learning delays, or nearly an entire school year. DiNapoli urged school leaders to "act quickly" to remedy the stark declines.
Michael Duffy is the president of the GO Foundation, a New York-based organization that brings tutors into public school classrooms for one-on-one or small-group lessons. The legislature's recent rejection of the governor's tutoring proposal is a "missed opportunity," he said.
"I think that those dollars would have been a really important way to help level the playing field," Duffy said, explaining that the private market typically renders one-on-one tutoring accessible only to the well-off.
Schools in New York and across the country are armed with billions of dollars in COVID relief money, much of which they are required to spend on learning recovery efforts such as tutoring. Yet across the country, just a fraction of students are actually accessing tutoring via their school district — in many large systems, under 10%.
Empire State districts received a total of $14 billion and had spent approximately 40% of their stimulus allotment as of Jan. 31, according to the comptroller's office. Funds are set to expire in September 2024.
In addition to federal money, New York is also boosting its state aid to schools by $2.7 billion above this year's level. The total $24 billion in Foundation Aid will mark the first time in the 15-year history of the formula that it has been fully funded, a key Hochul campaign promise.
"Gov. Hochul's Executive Budget makes transformative investments to make New York more affordable, more livable and safer, and she looks forward to working with the legislature on a final budget that meets the needs of all New Yorkers," a governor's spokesperson wrote in an email.
The governor's office declined to comment on why the legislature blocked the tutoring proposal or whether the governor would propose any alternative learning acceleration policies in its place.
State Senate Majority Leader Andrea Stewart-Cousins and Assembly Speaker Carl Heastie did not respond to requests for comment.
Robert Lowry, communications director for New York's Council of School Superintendents, said his organization opposed the tutoring measure.
"It was not a well-thought-out proposal," he said, explaining that many school leaders support tutoring and other academic recovery efforts, but fear they might face staffing challenges that could leave funds unspent if too narrowly earmarked. He also criticized the state's emphasis on tutoring from grades 3-8 without serving younger or older students and the move to add requirements to aid originally intended to provide unrestricted funds.
Even without a state mandate, over twice as many superintendents reported that they are investing in extra academic help for their students, according to an annual survey carried out by the Council, Lowry said.
Tutoring "may be a promising model," Lowry acknowledged. But the proposal from Hochul was too "rigidly constructed," he said.
Ashara Baker, the National Parent Union's New York state director, countered that setting aside money for tutoring is necessary in the face of what she says are inconsistent academic recovery efforts across districts.
"​​Families have lost trust in school leaders to be transparent about how much they're willing to invest in getting our kids on track. This dedicated fund will ensure districts will all be accountable in investing in tutoring," Baker said in an emailed statement.
Despite any efforts to recoup academic losses, observers still fear a continued dip in student learning. The New York Board of Regents recently announced it would be lowering the threshold for "proficiency" on state tests, citing last year's lower scores as a "new normal." In Schenectady, an extreme case, no eighth grader scored proficient on the math test last year.
Eliandra West runs Ebentive, a company that works with schools to help students with disabilities. Tutoring, the educator said, has been the tactic that's triggered the best results for the struggling students she serves.
"One-on-one sessions have been the most instrumental [approach] in guiding students to find their voice in the learning process," she said.
It's what Duffy, at the GO Foundation, has also seen — and why he's disappointed by lawmakers' move to cut the statewide tutoring proposal.
"Every kid benefits from the attention of a tutor," he said. "It is the future of education."
Support The 74's year-end campaign. Make a tax-exempt donation now.