Hill: A Compliance Mentality Stifles Initiative and Innovation in a Crisis — Just When They're Needed Most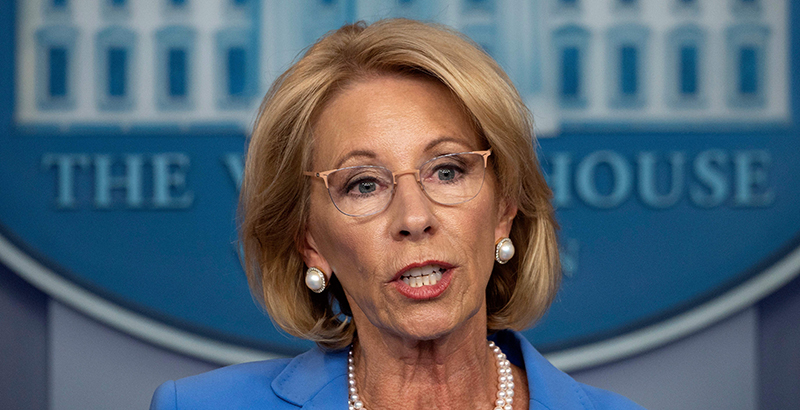 After a period of confusion caused by the U.S. Department of Education, school districts are rushing to get teaching and learning online. But because of that confusion, they lost a full month of preparation and planning.
In mid-March, the department's Office for Civil Rights (OCR) was sending a stark message: "If a school district closes its schools and does not provide any educational services to the general student population, then a school would not be required to provide services to students with disabilities during that same period of time."
Whatever the good intentions behind it, OCR's actions chilled schools' efforts to ensure that learning continued during the crisis. Entire states went into compliance mode, forgetting their paramount duty to make sure children are educated, and passing OCR's warning along if they were subordinates in a command-and-control system. Innovative school systems, like the state of Washington's Northshore District, abruptly suspended their complete program of online instruction.
On March 23, the department blunted the force of OCR's threats, encouraging states and localities to provide online instruction while trying out ideas for serving disabled students. States like Washington did a sudden 180. Its superintendent of public instruction, after stopping some fast-moving districts from going fully online, reversed course and began pressing all districts to get it done by March 30. That was unrealistic, but districts are now trying, working under great pressure.
There is a really big lesson here: A compliance mentality can compound a disaster by stopping necessary initiative-taking and innovation. OCR did its job by ensuring that the current crisis will not create any precedent allowing districts to ignore students with disabilities in hard times. But many districts were willing to do nothing, thereby avoiding internal conflicts about changing teacher duties, quality control and accountability for results. Together, this inaction cost students weeks of learning time and sacrificed initial lessons that might have been learned and shared by pioneering districts.
The three weeks of putting compliance over initiative also halted innovation in support of homebound students with disabilities. Even if the department's latest guidance leads to some experimentation, its message remains: Don't take any chances on innovation in the current crisis that a lawyer or interest group will claim violates a student's Individualized Education Program that was written when hands-on services were possible.
In the future, we can expect states, whose main job under their own constitutions is education, will struggle against environmental and health crises. They can't let themselves be diverted from their duty by mixed messages from the federal government.
Now that districts are working on the problem, there will be brilliant initiatives and less successful ones. Researchers, foundations and state departments of education should collaborate to find and share lessons about designing and delivering online instruction, motivating and ensuring student participation, quickly helping students when they fall behind, maintaining teacher contact with students and supporting disabled students when schools are closed. If, as many expect, further waves of social distancing will be needed to control COVID-19 infections, these lessons will be needed as early as next school year.
This is a unique opportunity to see what can be done both to sustain education in crisis and to more fully exploit the potential of online instruction and student support. But it almost didn't happen, as the feds gave states and districts an excuse to prioritize compliance over their duty to provide education.
Paul Hill's research focuses on reform of public elementary and secondary education. A former federal policy adviser on education, he founded the Center on Reinventing Public Education at the University of Washington Bothell.
Support The 74's year-end campaign. Make a tax-exempt donation now.