Lake: As Schools Shift to Virtual Learning, Educators Worry That Online Instruction Is Inequitable. But No Learning at All Is Worse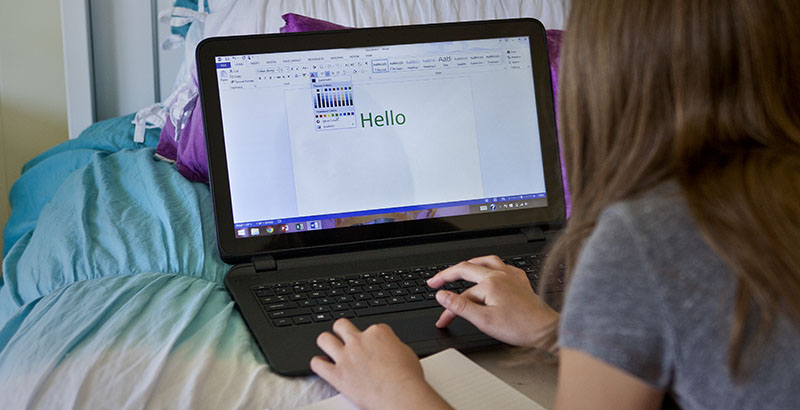 Here in Seattle, my kids have been out of school for a week in response to our local COVID-19 outbreak. Their small, private school announced Friday, March 6, that it would close, took a day for teacher planning on March 7 and started virtual school March 9.
It's going pretty well. The students get to interact (albeit virtually) with their teachers and friends each day, which helps them deal with the very real challenge of social isolation. From my perspective, it's a godsend. The kids are busy working on schoolwork most of the day while I am working downstairs. One day, I got to join a viewing party with them, as the school hosted a lecture from an international coronavirus expert. The school is organizing and enforcing homework expectations, but the kids also understand that now is the time for them to step up and take more responsibility for their own learning.
It's not ideal. The kids say there is a lot more independent work than usual, and breakout groups via Zoom are "awkward." But we overhear their teachers making changes every day to improve their lessons and instructional strategies. They are not doing anything too complicated. Zoom lessons, Google Doc submissions, kids on school-provided Chromebooks. It's a lighter load, but my kids are happy to have something that feels normal in this otherwise completely abnormal time.
Meanwhile, public schools across the state are closing by order of Gov. Jay Inslee. Most have no plans to provide any instruction at all. Our superintendent of public instruction advised schools not to offer online classes unless they can ensure that lessons are provided on an equitable basis.
On its face, this seems rational. In times of crisis, our most vulnerable families and students are at higher-than-normal risk. Some students have no other safe, quiet place to study other than school. Some families have no Wi-Fi access or devices at home. Students with special needs require accommodations that, at a minimum, could require revisions to their Individualized Education Programs if schools go remote. For myriad reasons (language barriers, inflexible work schedules, lack of familiarity with technology), many parents and guardians will struggle to support at-home learning.
Failure to plan and solve for these challenges would be irresponsible. But the same vulnerable and underserved students who will bear the greatest burdens when schools suddenly shift instruction from the classroom to the cloud also stand to suffer the most if schools provide no instruction at all.
When schools close without any instructional offerings, all kids lose out on what here in Washington may be months of critical learning time. My neighbors report that their public-school children were "bored out of their minds" after just one day of staying home. On a local Facebook page for kids with special needs, parents report that their children are struggling with significant anxiety and depression without any structure and social interaction in their day.
Meanwhile, families with the means are filling the void left by sudden school closures by accessing tutors and online programs or tapping into homeschool networks. Or their children, like mine, are enrolled in private schools, where kids continue to learn, prepare for college entrance tests, even get online enrichment classes in art and music. Some school districts with more resources and more economically privileged families are trying to charge ahead and move online.
However, Washington's higher-poverty districts are simply closing. With no plan. In large part, this seems to be in response to the conundrum over requirements under the Individuals with Disabilities Education Act. The federal government has issued guidance that districts need not provide special education if they are not offering instruction. But if they are, they are legally obligated to provide accommodations that allow students with disabilities to receive a free, appropriate public education.
I recently wrote about one district that decided something was better than nothing. Northshore School District was the first in our state to close. It ensured that every student had a Wi-Fi hotspot, crafted a plan for serving meals and providing special education, offered professional development for teachers and families — and jumped. The superintendent acknowledged it would be bumpy but trusted that Northshore educators and the community could come together to solve problems as best they could. Just a few days into the experiment, state officials announced sweeping school closures that eventually covered the whole state, and Northshore decided to cease instruction.
In a message to families, Superintendent Michelle Reid wrote: "As leaders across our region have wrestled with ways to provide educational continuity during this unprecedented crisis, issues of equity have, appropriately, come to the forefront; specifically involving special education services, food and nutrition, English learner services and child care. Here in Northshore, while we have been able to mitigate several of these challenges, we have not yet been able to mitigate all of them and meet the strict guidelines outlined in federal and state regulations."
I do not know what kinds of issues arose at Northshore. Perhaps they were so dire that the state had to put the district's efforts to a stop. But were they any worse than the alternative? Doing nothing guarantees certain inequities and hardships. Students with disabilities, for example, receive no services and no social interaction.
Doing something produces unknown inequities that can be addressed with enough will, creativity and innovation. The Los Angeles Unified School District is overcoming the technology divide by providing instruction via television, a technology that exists in nearly every home. Comcast has announced that it will provide free hotspots and unlimited data nationwide. Zoom is offering free access to educators. If Google would give free Chromebooks, every student would have access to exactly the same technologies that my kids use. Students in more advantaged settings could provide tutoring and technology support to students and families in need of support.
Some districts might provide both online and in-person instruction. This would allow for more social distancing in schools and specialized lessons for students with unique needs or who prefer in-person teaching. There might be rotating face-to-face instruction cohorts or age-based strategies.
This is just a start. A collaborative problem-solving discussion led by a virtual panel of our nation's best educators could surely improve on it. These are not easy challenges, but if we don't tackle them head-on, we may face the daunting task of trying to help millions of students recover months of lost learning time.
The majority of our nation's public schools are now closed, and a growing chorus of educators is calling for the remaining holdouts to join them. An all-or-nothing approach under these conditions will not serve our most vulnerable students well. The most compassionate approach is for educators to do the best they can for every kid.
That will require state and federal governments to give schools better guidance and increased flexibility. And it will require school system leaders to learn as they go, to identify students who are not being well served by their efforts and to find ways to better meet their needs. These extraordinary times will require extraordinary measures to ensure that learning continues. Surely that is preferable to no measures at all.
Robin Lake is director of the Center on Reinventing Public Education at the University of Washington Bothell. You can find her on Twitter @RbnLake.
Support The 74's year-end campaign. Make a tax-exempt donation now.