Hands-On Learning … From Afar: From Career-Technical Instruction to Physical Education, How Teachers Are Adapting Applied Learning Amid the Pandemic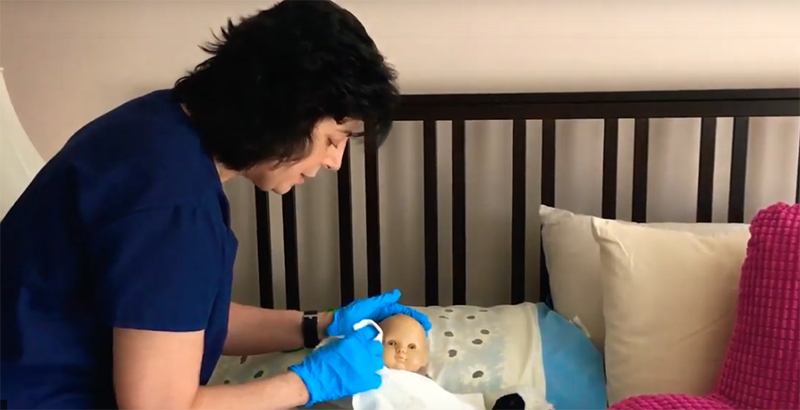 Wearing navy scrubs, teacher Linda Romano reviewed bed-bathing on a new mannequin last month: an American Girl baby doll.
"She is completely set up in her bed, she has a visitor — Mr. Lamb — and she's holding her [patient] call bell," Romano told her students over online video from her grown daughter's pink bedroom.
Yes, the Newburgh Free Academy teacher's school in New York was closed for COVID-19. But her seniors were stressed about their upcoming Certified Nursing Assistant exam. So Romano, who had started the school's Nurse Aide Program, made do. It was just one creative way that teachers in more applied fields such as career-technical education, physical education and family and consumer sciences are continuing to educate students during the pandemic.
The sudden need for distance learning is an especially tall order for these teachers, for several reasons. Their fields are hands-on and equipment-heavy, with limited use of textbooks or digital media. Most of them have rarely taught online. And though their districts and schools offer help with e-classrooms such as Schoology or Google Classroom, there's not a lot of district support to adapt lessons when you're the only teacher in your subject area.
"I have to be honest — I was really scared," said Scott Stone, agriculture teacher at Centralia High School in Missouri. "This is uncharted territory for many of us."
"I honestly didn't have much of an idea" what to do, family and consumer sciences teacher Angie Ehlers said.
Nonetheless, like Romano, they're rising to the challenge.
It helps that resources are flooding the market. Many textbook and equipment companies have temporarily unlocked their online resources, allowing Stone's students to "weld" on the VRTEX Virtual Welding Simulator using just a mouse. His district couldn't pay for the online curriculum, he said.
Dan DeJager, 2019 SHAPE America High School Physical Education Teacher of the Year at Meraki High School in Sacramento County, California, had hoped to find a publisher for his exercise card game. But when the crisis hit, he released the deck to print and play at home for free. With push-ups, crunches and squats, the 54-card Super Deck can exhaust even the most antsy third-grader.
"Folks need help," he said.
Professional organizations and peer social media groups are buzzing as well with ideas and tutorials. "I binged on every webinar I could find," Romano said.
Romano emerged from teaching her first online class exhilarated. It was good to see students' faces on video, she said. "I just missed them!" And although her plan for the first virtual session was a simple check-in, the students wanted a lesson. "They were getting a little bored," she said. "They just seemed like they needed to see each other." They were even on time.
Still, online options can't serve the entire curriculum or the entire student body in these subject areas. With long-term care centers closed to visitors, Romano is searching for alternatives for the clinical component of her classes. Ehlers's Child Development students were supposed to volunteer in the school's prekindergarten. Brian Miller, principal of Kern High School District's Regional Occupational Center in Bakersfield, California, switched classes to a career readiness unit because it didn't require equipment.
Such obstacles pile up fast. A significant minority of Stone's students in Centralia, Missouri, don't have reliable internet or a device at home they can use for school — and the library is closed. He can't let them into the school greenhouse or ask them to purchase plants or pots, so he's having them journal about the grass growing in their yards. Stone initially thought his brainwave was dumb, he said. "But I can't think of any other way to make this happen!"
Even family and consumer sciences, the class formerly known as home economics, can't expect students to buy ingredients or own an electric mixer. You can't assign a particular recipe when "we don't know what the kids have access to," Ehlers said. So instead she created five-by-five Bingo cards for each subject. Students "win" by completing five tasks across, diagonal or down, or one task in each column, and posting evidence of their work to Schoology. The options include finding a recipe for their favorite dessert, sending friends "random messages to cheer them up," interviewing parents or grandparents about their lives, creating a quarantine budget, cleaning and organizing their room or doing the laundry.
"Parents are going to love me!" Ehlers said.
Of course, physical education isn't just about getting your heart rate up — there's also learning proper technique, understanding how exercise fits into a healthy lifestyle and interacting with other people. Just like there's a difference between a YouTube eye shadow tutorial and a cosmetology class that is geared to certification standards and covers sanitation and business — as well as shimmery powder. The teachers acknowledged that they weren't yet covering the entire complexity of their subjects. They're taking the new reality day by day, starting with review and the basics while they figure out how to teach new skills and critical thinking.
Ehlers has an entire new class of seventh-graders who have never taken her subject before. Right now, she's just trying to fill two weeks, she said, as she explores how to do her usual teaching of higher-order thinking skills — the math of measurement, for instance. Maybe they'll take a new recipe a classmate tried at home and discuss its components and why each ingredient matters, she said.
Simulated computer welding doesn't teach you how to get the angle right when you're holding a welding stick, Stone said. But at least students will "get some of the basic groundwork," he said.
"There's going to be bumps in the road. But just keep trudging forward," Stone added. "The students are resilient, and we have to be, too."
These teachers hope that the crisis provides, instead, a deeper lesson about the importance of their subjects.
"What better time to learn about infection control than now?" Romano said.
"Being physically active, being physically literate, the benefits go beyond credits and grades," DeJager said — especially in a stressful time.
And the COVID-19 closures offer teachers the chance to learn as well. "Everybody's going to be better as a result of this situation. We're all going to be better teachers and we'll gain so many skills," Ehlers said. At least, "I hope that will be the case."
Get stories like these delivered straight to your inbox. Sign up for The 74 Newsletter