Grammy Coalition Leverages Resources, Star Power to Boost Music Education in Cash-Strapped Districts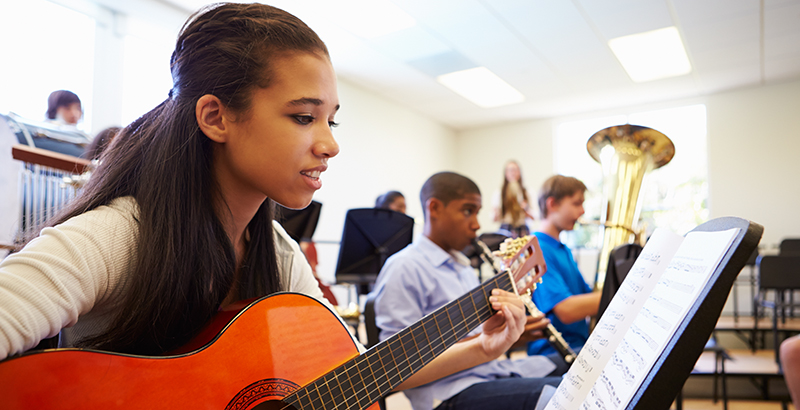 Corrected June 22
New York City
Music industry and marketing courses. Female students training to be audio engineers. Drum sets designed by Questlove. These are the staples of a new approach to teaching music in public schools — one actively supported by the Grammy Music Education Coalition.
The organization, now in its second year, invests in resource-strapped school districts to re-energize music instruction in K-12 public schools. The goal is to undo the spread of "music deserts": neighborhoods that lack consistent exposure to live music performance and lessons — especially for kids.
"Imagine a community where there aren't any theaters within walking distance or, if there are, kids can't afford to buy tickets. There are no concerts in the neighborhood … And they have schools without music teachers or any music programs," said the nonprofit's director, Lee Whitmore.
A branch of the recording academy that bestows the world-famous Grammy awards, the music education coalition has so far partnered with three school districts — New York City, Nashville and Philadelphia — to support music teachers and classroom resources. The coalition plans to invest $1 million in Nashville and Philadelphia schools each by the middle of the coming school year. It's also drawing upon some of the biggest names and rising stars in the industry to build momentum behind the effort.
Gaps in access to music education in U.S. public schools have grown in recent years. About 1 in 6 eighth-graders reported not having a full-time specialist to teach music, according to 2017 research from the National Assessment of Educational Progress. For black and Latino students, it was about 1 in 5. Students from low-income backgrounds were also less likely to attend schools with dedicated music educators and music rooms than their peers.
Meanwhile, research suggests that regular exposure to music instruction in adolescence can help build listening and language skills and improve academic performance.
Before launching the Grammy initiative in 2017, Whitmore led community outreach and social entrepreneurship efforts at Boston's Berklee College of Music. He learned the power of music education early in his own life, he said. The child of an Army civilian employee, Whitmore moved constantly growing up. By high school, he'd attended about 12 different schools.
Despite Whitmore's ever-changing surroundings, playing the piano helped him find community. He remembers entering a choral room for the first time at a new school in Yuma, Arizona, full of unfamiliar kids. He didn't know what choral part he sang, so the teacher handed him the piano accompaniment.
"I walked out of that room with a bunch of friends," he said. "When I was young, music was the anchor for me."
Now, Whitmore hopes the Grammy coalition can bring that same feeling to students in its partner districts. The coalition is in its first year of grantmaking and has agreed to stay with New York, Nashville and Philadelphia for three years, with some flexibility, he said. He noted that the group isn't a "perpetual check-writer," nor does it fund teacher salaries. Instead, it strives to invest in plans laid out by districts that will help underserved communities "so that more kids come in, come back and stay" in music programs, he said.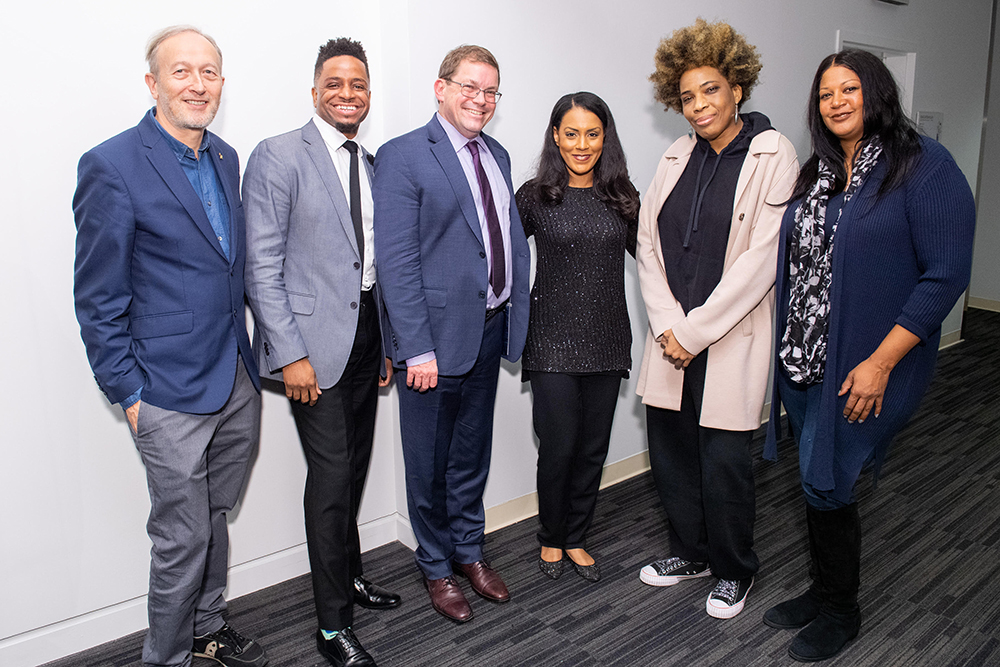 Nine representatives from a mix of music, business and nonprofit organizations comprise the coalition's board. The group, based in Boston, received initial funding through the Grammy Recording Academy as well as several arts-focused philanthropies and schools, including Berklee. In its first year, it raised $5 million, but its goal is to amass $18 million by 2021 and to invest $5 million in each of its focus districts. Whitmore and his colleagues are still fundraising through philanthropic channels with plans to launch a crowdfunding effort this October.
Over the course of the past two years, Whitmore and his colleagues asked school principals, superintendents and teachers how they could best bolster music lessons in their schools. Many of the schools in these districts are high poverty and qualify for federal Title I funding.
One request was professional development for teachers. Schools with limited resources see much higher teacher turnover, and Whitmore and his colleagues wanted to equip teachers with skills that allow them to teach a wider array of music courses.
In Philadelphia, a districtwide program called "Destined to Achieve Successful Heights" trains students in music technology, business and organizational leadership. For teachers, the initiative funds training in business and marketing.
Whitmore and his colleagues also knew they needed to support culturally responsive lessons. In Philadelphia, the coalition has partnered with musicians who hail from the city to help develop curricular materials, like the drum kits hip-hop musician and Roots member Questlove assembled for elementary students.
And in New York, a coalition initiative supported by the car audio tech company HARMAN International seeks to disrupt the outsize power men have in the music industry by teaching girls specifically about career possibilities in audio production and engineering.
Whitmore points to student mariachi programs, which are growing in districts like Nashville and excel in districts such as Las Vegas, as another example of the culturally specific ensembles he hopes the organization could support."
Keeping students engaged by offering music lessons that break away from traditional jazz bands or string orchestras can be critical. Nearly every state requires schools to provide arts education, including music. But by high school, it can become more difficult to keep students in these classes, said Whitmore.
Jeff Smith, director of visual and performing arts for Nashville Metro Public Schools, said the Grammy coalition has helped his district take a closer look at students who don't get exposure to music classes. Thanks to that support, the Music City school district now works with a data analytics company to track demographic information on student enrollment in music courses.
"I will be the first to say that our school district and other urban school districts like ours cannot do it alone," Smith said. "We need the support and partnership of organizations like the Grammy Music Education Coalition."
Whitmore's group has also helped the district build a recording studio for students and pilot a program for middle school teachers to contact parents. The message, Whitmore said, can be as simple as "Hey, your son or daughter, did you know they're doing a really good job in band or choir or guitar class? Why don't you think about encouraging them to stay with it in high school?"
The celebrity status of the recording academy plays a role in that work as well. A team of "all-star ambassadors" have signed on to help emphasize the value of music education and help fundraise in a public campaign. Among the ambassadors are Broadway performer Kristin Chenoweth, Latin singer Luis Fonsi, and Bebe Rexha, a 2018 Grammy nominee for best new artist. Rexha was born to Albanian immigrant parents and attended Staten Island public schools before being discovered in a songwriting program for city students. She, in many ways, represents the spirit of the initiative, said Whitmore.
This kind of collaboration takes honesty, Smith said, about what a district's greatest needs are and what can have a lasting impact after the Grammy partnership ends.
"I think the worst thing that could happen for any new program is to provide this opportunity to teachers and students and then say some years down the road, 'Sorry, but we no longer have funding, so we're going to have to take that back,'" said Smith. "We're very interested in working to ensure that anything put in place is not only needed and necessary, but is sustainable."
Ultimately, the undertaking is about messaging to students, particularly those in disadvantaged communities, that they, too, deserve creative expression, said Whitmore.
"I want to make as much ground as we can for kids that aren't being encouraged [to pursue music] and don't have any opportunity, that light hasn't come on for them, they haven't seen, 'Oh, I can do this,'" he said.
Correction: The School District of Philadelphia hosts the "Destined to Achieve Successful Heights" program and Metro Nashville Public Schools do have mariachi bands. An earlier version of this story incorrectly reported which district offered the music industry program and said none of the three districts working with the Grammy Music Education Coalition had mariachi bands. 
Support The 74's year-end campaign. Make a tax-exempt donation now.