Gov. Ron DeSantis, Who Leveraged Parent Outrage Over Schools, Wins Big in Florida
Republican firebrand embraced debates over school closings, critical race theory, LGBTQ rights to secure landslide re-election victory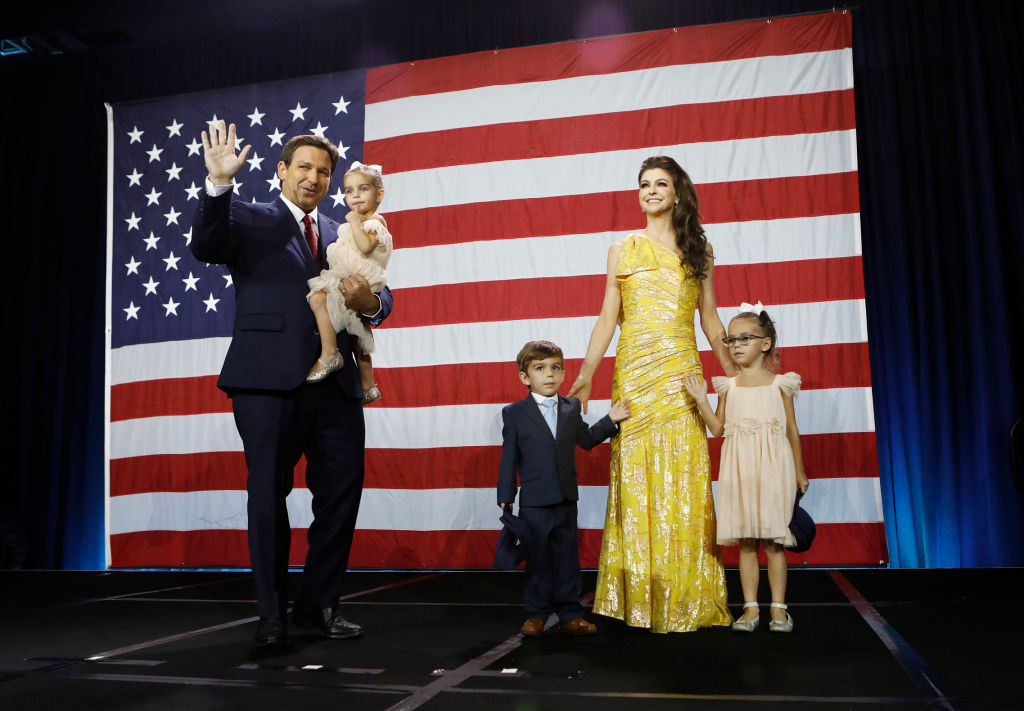 No paywall. No pop-up ads.
Republican Florida Gov. Ron DeSantis has secured his re-election bid, defeating Democratic challenger Charlie Crist in a landslide victory Tuesday after waging a campaign that leaned heavily on moral panic about students and teachers.
Long considered a swing state, Florida voters fell decisively to the right this year, including in Miami-Dade County, which has long been a Democratic enclave. Just this summer at an education conference in Orlando, former Miami-Dade schools Superintendent Alberto Carvalho joked about the state of Florida politics: "The further south you go in Florida, the more north you find yourself."
But this year, in a political climate defined by social and economic anxiety, DeSantis skated past Crist in Miami-Dade to become the first GOP gubernatorial candidate to secure the county since 2002. In doing so, he positioned himself for a possible 2024 presidential run and a looming showdown for control of the GOP with former President Donald Trump.
"We not only won election," DeSantis said during his victory speech Tuesday night. "We have rewritten the political map."
DeSantis — who rose to national prominence for banning schools from enforcing mask mandates, prohibiting transgender students from participating in girls' athletics and cracking down on classroom discussions about race and sexuality — secured nearly 60% of votes. During his victory speech, he boasted about his response to the pandemic, which has hit the state hard, and grievances about schools.
"We chose facts over fear, we chose education over indoctrination, we chose law and order over rioting and disorder," said DeSantis, who first squeaked into office in 2018. "We fight the woke in the legislature, we fight the woke in the schools, we fight the woke in the corporations. We will never, ever surrender to the woke mob. Florida is where woke goes to die."
The extent to which DeSantis leaned into education as a political motivator was seen in his decision to endorse 30 candidates in local school board races this year. All six of the DeSantis-backed school board contenders won their runoffs Tuesday, meaning 24 of the 30 candidates the governor supported were victorious, Politico reported.
The Florida governor's growing stature hasn't been lost on Trump, who could announce his third presidential bid as early as next week. During a Pennsylvania rally just three days before the midterms, Trump highlighted favorable poll numbers that showed him at the head of the pack in a race for the GOP nomination in 2024.
"There it is, Trump at 71," the former president said before laying into the governor with a jab. "Ron De-Sanctimonious at 10%."
Trump's name was never invoked by DeSantis on Tuesday who hinted at his larger political ambitions. 
"I believe the survival of the American experiment requires a revival of true American principles," he said. "Florida has proved that it can be done. We offer a ray of hope that better days still lie ahead."
Get stories like these delivered straight to your inbox. Sign up for The 74 Newsletter