Google Puts the Pedal to the Metal for Rural Students With Expansion of Free School Bus Wi-Fi Into 12 More States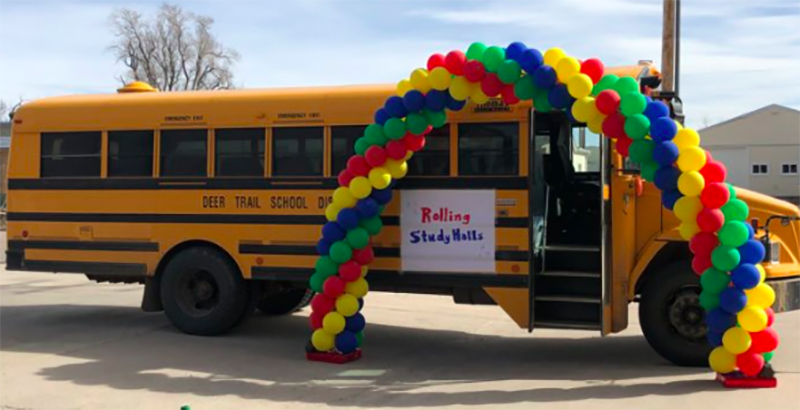 This article is one in a series at The 74 that profiles the heroes, victories, success stories, and random acts of kindness to be found at schools all across America. Read more of our recent inspiring profiles at The74million.org/series/inspiring.
Kids in rural parts of the United States spend up to four hours a day on the road to and from school. When they finally get home, many have no access to high-speed internet. This double whammy leaves them in an academic and technological backwoods that's a heartbreaking barrier to their job prospects in the 21st century.
That's why Google, in a continued push to bring these students up to speed, has expanded its Rolling Study Halls into 16 more rural districts across a dozen states.
Building on highly successful pilot programs in South Carolina and North Carolina, the pep-rally-like enthusiasm for these launches has been infectious.
The tech giant aims to bridge the "homework gap" in remote, low-income areas with free Wi-Fi, Chromebooks, and onboard teacher tutors, turning school buses into mobile classrooms that bring the world outside school right to the students' seats.
"Now that I have Wi-Fi on the bus, I'm able to get most of my homework done before I even step foot in the door," says aspiring lawyer Kaelyn, 14, of Lenoir, North Carolina, in a video Google posted on YouTube chronicling its 2016 partnership in the program with education leaders in Caldwell County.
"The use of technology on buses gives an opportunity for all of our students to keep up," says Matthew Ross, history teacher at Gamewell Middle School in Lenoir.
Google predicts the expansion, launched early this month — with Colorado Sen. Cory Gardner riding along — in Deer Trail, Colorado, will reclaim 1.5 million learning hours for thousands of students traveling to school on 70 buses in Alabama, Colorado, Georgia, Kansas, Minnesota, New Mexico, Oregon, Pennsylvania, South Carolina, Tennessee, Texas, and Virginia by the end of this school year.
"The average bus ride in Deer Trail is between 40 and 110 minutes. That's nearly two hours one way for some of these kids to coming to school. They're going to have tutoring on these buses," Gardner told The Denver Channel.
"What we see are consistencies in learning, consistencies in growth," said Ross. "When students experience that amount of success, it completely changes the way they view themselves."
So much so, that there's at least one request for the program to expand overseas.
Get stories like these delivered straight to your inbox. Sign up for The 74 Newsletter