Goldberg: To Address Our National Reading Crisis, Teachers Need More and Better Training, Not a Lowering of the Credentials Bar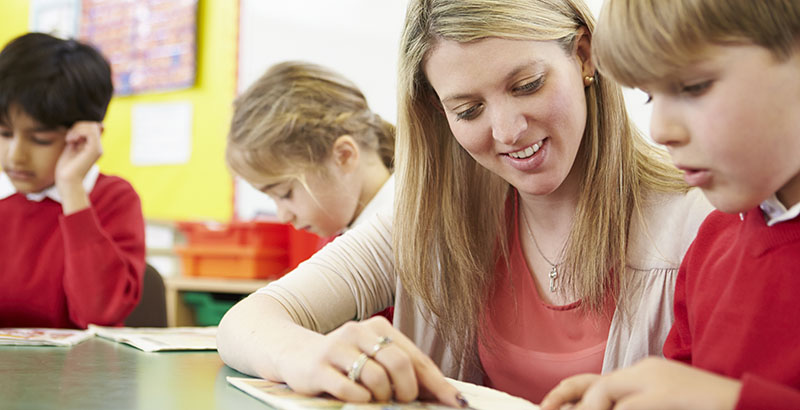 A common misapprehension about effective reading instruction is that we learn to do by doing — that students learn to read by reading and teachers learn to teach by teaching. It is painfully clear, as evidenced by our national reading rates, that this is not the case.
Some non-educators, such as Chad Aldeman, propose that we consider addressing our national reading crisis by removing barriers to teacher credentialing. That's the equivalent of saying that to fix the criminal justice system, we should eliminate law school and the bar exam and ask attorneys to learn on the job.
On the contrary, teachers need and deserve training on par with that of legal and medical professionals. We need pre-service instruction that covers theory and research, internships that provide intensive supervised practice and ongoing professional development and support once we are in the classroom.
I chose a path toward a credential that should have included all those components. I completed four years of college, two years of a credential/masters program and several student-teaching placements. But due to the content of the instruction I received, I graduated without the knowledge I needed to effectively teach reading.
I knew I wanted to become a teacher while I was in college, but even with that clarity, I did not have the guidance I needed to use my coursework to build the body of knowledge teaching would require. Had I been better advised, I might have invested my time and tuition in linguistics, history or math courses rather than succumbing to the draw of "The History of Chocolate" and "Introduction to Horror Films." But like many college students, I was barely an adult and lacked the foresight to use my four years in college to prepare for the next 30.
Looking back at my teacher prep program, I can see the impracticality and lack of instructional rigor in the coursework that led to my credential and my master's in education. I completed a full course on Vygotskian theory, debated the narrative of colonialism in Where the Wild Things Are and learned to finger-knit a scarf. I did not learn anything about the structure of the English language or how our brains learn to read.
These deficiencies are deeply problematic. But to use them as an excuse for dismantling formal teacher preparation would be to further deprofessionalize teaching. Teachers should be able to count on our preparation programs to provide the components of high-quality literacy instruction. Every teacher leaving a preparation program should be able to answer basic questions like:
● How do children learn to read?
● What are the prerequisite skills of reading comprehension?
● What are the signs that a child is at risk of reading failure?
This learning is best done pre-service (much in the way medical professionals in training learn human anatomy before working with patients), before we are exhausted by classroom management and distracted by papers to grade. Like most teachers, I did not leave my preparation program with a clear understanding of the reading process, assessment or effective instruction.
From student teaching, I learned the basics of classroom management and lesson planning. I also learned common practices (independent reading, analyzing reading records, teaching students to memorize words by sight) that I would have dismissed had I taken the most basic course in the science of reading development. Because I lacked an understanding of reading research, I went on to replicate those ineffective practices in my own first years in the classroom.
In theory, on-the-job training for new teachers is wonderful. In reality, it is another missed opportunity. To advance from a "preliminary" to a "clear" teaching credential, I met regularly with my assigned mentor teacher at lunch or after school. Together, we completed paperwork. She was rarely able to observe my instruction because she, too, was teaching full time.
One Saturday a month, I was required to attend classes led by lecturers and motivational speakers who taught us nothing about reading instruction. Instead, we engaged in activities designed to stave off burnout (e.g., telling a colleague, "I need a Vitamin You") and to promote creative thinking (e.g., repeating three times, "Don't think outside of the box … blow UP the box!" while performing hand motions). The hours logged were a waste, but I was so tired from daily teaching that I might not have learned much even if the content had been meaningful.
Most in-service training is provided by schools and districts who aren't sure what to do with the opportunity. Professional development is delivered by teachers and administrators who themselves were underprepared to teach reading, or by publishers of ineffective curriculum. Though Aldeman calls Reading First a failure, when veteran teachers are asked about effective professional development, many cite trainings delivered under Reading First. Teachers were grateful to learn about the science of reading. They just wished they had learned it before entering the classroom.
It was only after I left the classroom to become a literacy coach, 10 years into my career, that I had the opportunity to do the work I should have completed in my preparation program. I took classes on the structure of the English language, attended conferences on the diagnosis of reading difficulties and studied how our brains learn to crack the alphabetic code.
Understanding how students learn to read allows me to approach reading instruction systematically and explicitly. I now use predictive assessments to identify which students are at risk of reading difficulty, and I provide training for coaches and teachers on how to provide early intervention. Teachers often express regret about not having this information sooner. With hindsight, we can all identify students we had earlier in our careers who could have been spared reading difficulties had we been better trained in evidence-based reading instruction.
The fact that I am a better teacher now than I was at the start of my career is not an argument for abandoning pre-service training. It's an argument for respecting the time and money that teaching candidates devote to their preparation. Teachers are willing to work hard and study in order to be prepared for our students. We deserve training worthy of our efforts.
Margaret Goldberg serves as a literacy coach in a large urban district in California and was formerly a classroom teacher and curriculum developer. She is the co-founder of the Right to Read Project, a group of teachers, researchers and activists committed to the pursuit of equity through literacy. Her writing is published on the Right to Read Project blog and on Reading Rockets.
Support The 74's year-end campaign. Make a tax-exempt donation now.