Glendening: STEM Fields Are Booming. Open Them Up to Girls, Students of Color
Closing racial and income disparities in STEM education starts with early childhood and must continue through K-12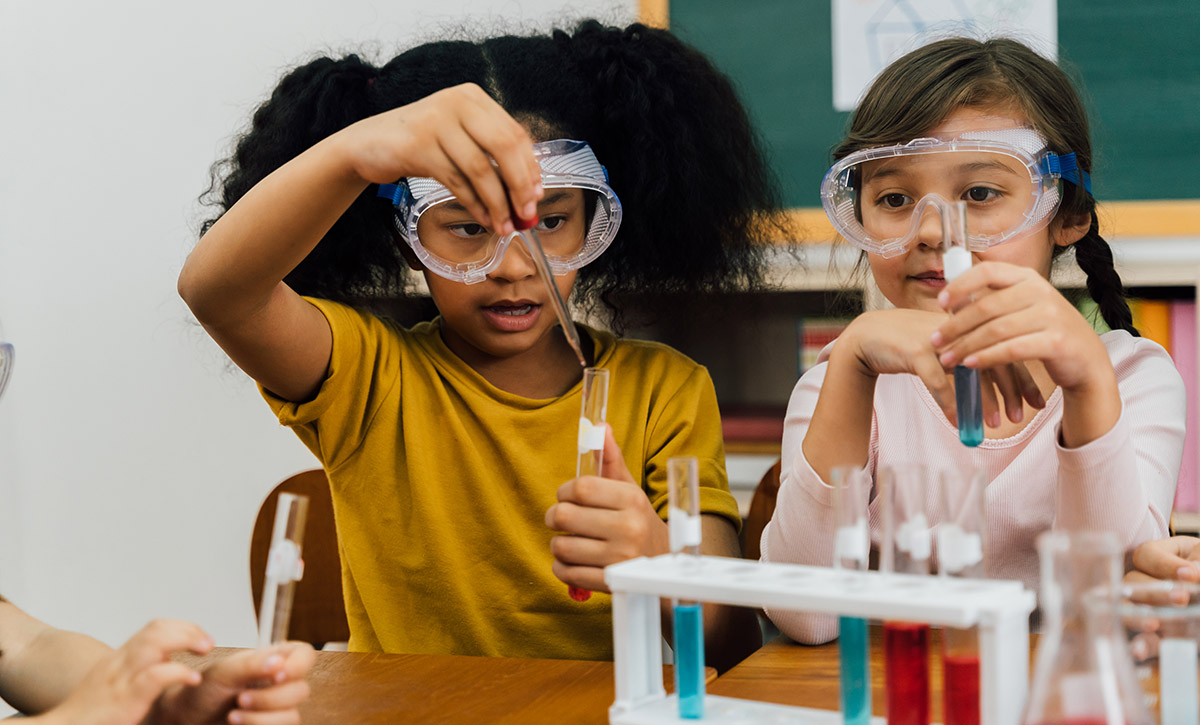 Get stories like these delivered straight to your inbox. Sign up for The 74 Newsletter
"We are currently preparing students for jobs that don't yet exist, using technologies that haven't been invented, in order to solve problems we don't even know are problems yet."
Twenty years after former Secretary of Education Richard Riley spoke these words, the need for qualified professionals in science, technology, engineering and mathematics continues to grow as the nation confronts global health, climate and security challenges that require innovative solutions to save lives.
STEM occupations are projected to increase twice as fast as all other jobs through 2029, and while the number of college graduates with degrees in STEM-related fields is seeing comparable growth, inequitable access to education in these fields is creating barriers to entering the workforce for people of color and women.
A close look at the data on who works in STEM reveals that Black and Hispanic professionals are underrepresented compared with their white and Asian peers, and women fill only a quarter of STEM jobs. This isn't just a matter of equity — it's a labor shortage issue. The U.S. population continues to become more diverse, and a recent congressional report cited concerns that America will be unable to meet workplace demands if the number of individuals from these populations earning bachelor's degrees in STEM fields doesn't significantly grow.
This gap in access starts in early childhood, as infants begin developing their spatial awareness. The ability to create and manipulate visual images begins minutes after birth and continues through childhood, and is an important skill for success in STEM careers. Yet children from low-income backgrounds have fewer opportunities, such as exposure to blocks, to discover or develop their spatial intelligence. This continues throughout K-12 education, as schools and districts that predominantly enroll Black and/or Hispanic students and are located in low-income areas struggle to provide science labs, hands-on activities and other resources necessary for high-quality STEM learning.
There is also a gap in the support and opportunities available outside of classroom settings. Parents with lower incomes and/or those who lack a college education are inclined to believe their children will learn everything they need to know in school and are less confident in their ability to support science and math learning at home. Particularly concerning for the increased representation of women in STEM is the fact that mothers are less likely than fathers to feel confident in helping their children engage in science.
Ironically, the global challenges, such as climate change, that require a robust STEM workforce are also exacerbating these equity gaps in STEM education by keeping students out of classrooms and away from critical hands-on learning experiences in school labs. After Hurricane Ida hit the Gulf Coast in August 2021 as a Category 4 storm, 40 percent of Louisiana's students missed classes due to damage to their schools — in some cases, for up to a month. This in-person instruction couldn't be replaced with virtual learning because of storm damage to critical infrastructure, including power lines.
Similar inequities occurred when the COVID-19 pandemic forced most school systems to shift to remote learning, as many students did not have access to sufficient broadband at home. Some states attempted to provide connections by parking school buses with mobile internet hotspots in neighborhoods. But this required students to be on the bus or working just outside in order to log on, and assumed that students would learn as well in that environment as at the kitchen table, with a parent nearby to help. This digital divide disproportionately impacted Black, Hispanic and low-income students. In Baltimore, it is estimated that about 25 percent of students were prevented from participating in virtual schooling. These concerns continue even as children return to the classroom, as school curricula become increasingly digital and existing challenges, such as the homework gap, persist.
Local, state and federal policymakers must understand the economic, social and environmental harm inflicted by these racial and income disparities in access to high-quality STEM education. Close these gaps starts by investing in children's early development and ensuring that funding for early childhood education includes STEM programs — and these must include low- to no-cost options so that all families, not just the privileged, can participate. States should also allocate funds and establish public-private partnerships to provide students in K-12 schools with access to the equipment and resources needed for high-quality in-person learning, particularly students of color and girls. This includes blocks and other building materials, lab equipment, internet-connected devices and books, as well as parks, museums, science centers and STEM businesses and workplaces. Professionals in science, technology, engineering and math careers can also serve a valuable role as mentors and role models for K-12 students, as having a mentor with shared identities has been shown to be particularly beneficial for students of color and girls in STEM.
Ongoing and new global challenges demand a diverse STEM workforce. If we want to make the United States a country that is healthy, prosperous and resilient for every person, no matter where they grow up, policymakers and education leaders must act now to close equity gaps in STEM education.
Get stories like these delivered straight to your inbox. Sign up for The 74 Newsletter