New York City's Initial Bid to Reduce Teacher Reserve Falls Far Short of Goals — and Falls Mostly on Poorer Schools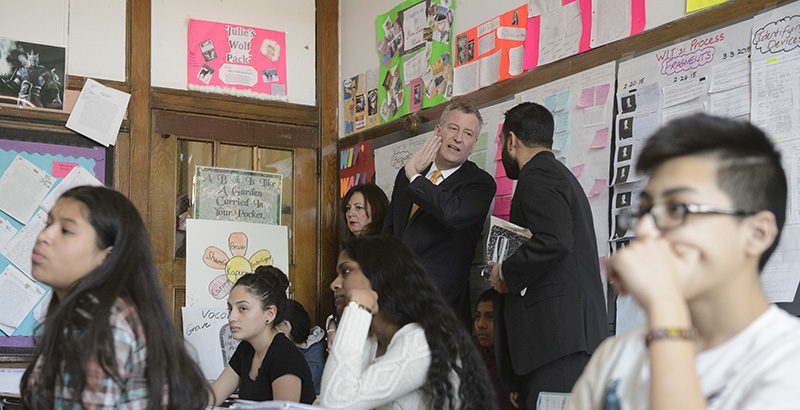 Updated Dec. 7
Forty-one teachers who lost their positions but continue to be paid were placed in New York City schools this fall, far below estimates by city officials that roughly 400 would be moved into vacancies as part of a controversial cost-savings initiative, according to information shared by the Department of Education Thursday morning.
The teachers, whose placements will become full-time if they receive favorable year-end evaluations, were placed in predominantly black and poor schools, a survey by advocacy groups pushing the city for more transparency found.
Officials aim to reduce the size of a pool for tenured teachers who can't find classroom jobs, known as the Absent Teacher Reserve (ATR), which cost the city more than $150 million in salaries and benefits last year.
Separate from these placements, individual city schools have hired 318 teachers out of the ATR since August, according to the DOE's update. Of these, 205 were hired for permanent positions conditional on a positive evaluation at the end of the year. The DOE is providing schools with a 50 percent salary discount this year, and 25 percent next year, for another 113 teachers.
"With our common-sense reforms to the ATR pool, we're making better use of this resource to meet the needs of schools," said Randy Asher, the DOE's senior adviser for talent management and innovation, in a statement. "We'll continue working with our school leaders and ATR teachers to supervise and support ATR teachers, and we'll address any matches that aren't working for schools."
The ATR has been city education's Gordian knot since the Bloomberg administration negotiated an end to seniority-based hiring in 2005, which left tenured teachers without the certainty that they would always be hired.
City officials say vacancy listings that for various reasons were misleading or inaccurate partly accounted for the effort's falling far short of projections. In some cases, additionally, principals told them that proposed hires lacked specific skills or didn't match the criteria established by donors for grant-funded positions. Earlier this year, after first learning of the DOE's proposal, principals told Chalkbeat they would work around the new arrangement.
"Despite the central administration's full-court press to place teachers from the ATR pool," said David Bloomfield, a professor of educational leadership, law, and policy at Brooklyn College, "principals seem to have avoided placements, fearing the taint that unfortunately hangs over the program."
While the number of new teachers is small, a survey by Educators4Excellence and EdTrust-NY, advocacy groups that filed a request in November for the backgrounds of ATR teachers, found that their placement reinforced concerns they would be concentrated in high-needs schools. The 41 teachers are disproportionately working in:
Schools that serve black students (44 percent average enrollment in the 39 schools, compared with 26 percent citywide)
Schools that serve low-income students (84 percent average enrollment in the 39 schools, compared with 75 percent enrollment citywide)
Schools with lower graduation rates (71 percent; citywide rate is 79 percent)
"This raises major equity concerns," said Ian Rosenblum, executive director of The Education Trust–New York.  "Parents and the public still lacking basic information about the teachers' effectiveness, length of time in the ATR, and area of certification, as well as any information about the 205 'provisionally hired' teachers."
"The additional transparency highlights our concerns that teachers from the ATR pool are being disproportionately placed in high-need schools serving low-income and minority students," said Evan Stone, co-CEO of Educators 4 Excellence.
The Council of School Supervisors and Administrators, which represents principals, expressed continued willingness to work with the department.
"We have been assured by the Department of Education that placements were made intentionally and in the best interests of students," its president, Mark Cannizzaro, said. "While we will monitor this closely, we are pleased that we have not heard anything to the contrary. In the event that concerns do arise, we will fully support our principals."
All of the 41 teachers will work in the subject for which they're certified to teach, according to the DOE, and none "entered the pool following a legal or disciplinary case," though the DOE was unable to say immediately if some had faced past charges. (A 2014 TNTP analysis found that 25 percent of those in the pool faced disciplinary charges; one-third also received poor evaluations, according to the report.)  Only one of the teachers has received an "ineffective" performance rating since 2009-10.
If they receive a "highly effective" or "effective" rating at the end of the year, and there is a vacancy in the subject they are licensed for, the newly placed teachers will be permanently hired.
The DOE said there were 884 teachers in the ATR as of December 1, down from 1,202 in September. At the start of the 2013 school year there were 1,957 teachers in the ATR.
Get stories like these delivered straight to your inbox. Sign up for The 74 Newsletter