From Fast Food to Savings Accounts, $50 Weekly Payments Shift Students' Thinking
Rooted Schools in Indianapolis and New Orleans build student financial literacy with guaranteed income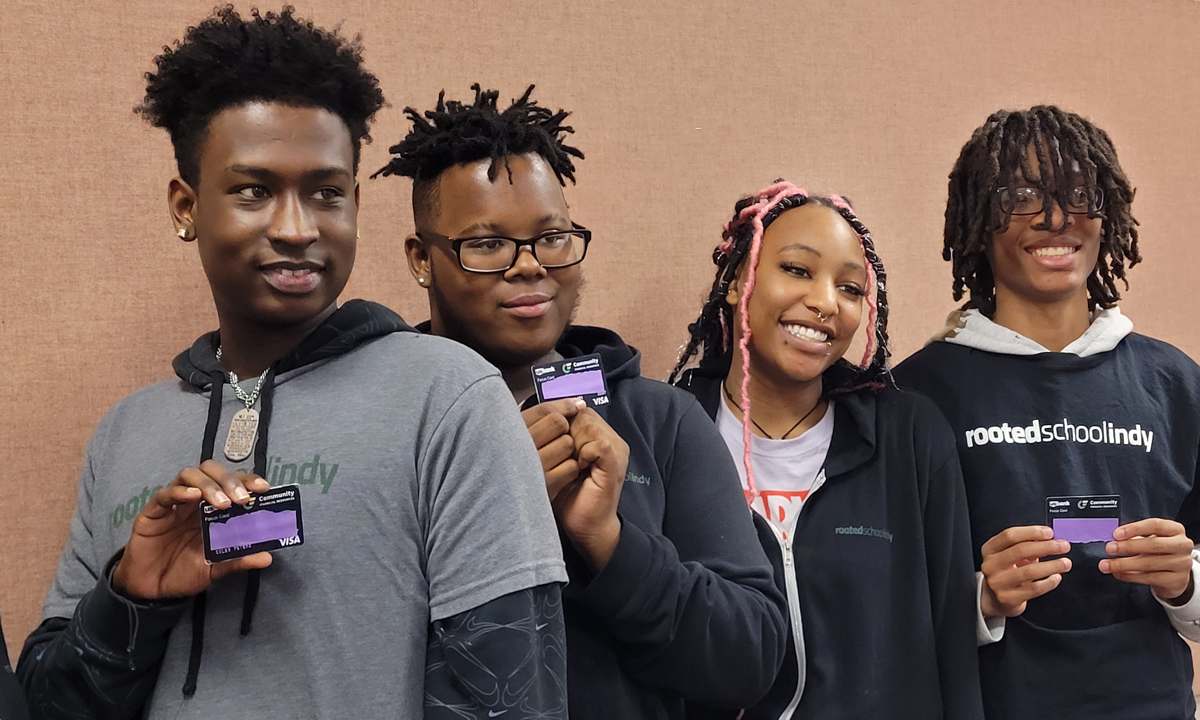 Support The 74's year-end campaign. Make a tax-exempt donation now.
The first few weeks Caleb Lee was given $50 as part of a first-of-its-kind guaranteed income experiment at his Indianapolis charter high school, it went hand to mouth in the form of Mexican takeout DoorDash deliveries.
Now, just three months later, the 11th grader's goals for the money have shifted toward savings and financial goals — just as his school and researchers hoped.
Lee's high school, the Rooted School in the Arlington Woods neighborhood, and another Rooted School in New Orleans partnered for the $50 Study, collaborating with university researchers to see if cash payments to students can help students build financial literacy.
That's an important lesson at Lee's school, where 89% of students, almost all of whom are Black, qualify for free or reduced lunch, a typical measure of financial neediness.
Helping economically disadvantaged students grow into financially independent adults is also a core mission of the growing Rooted School model. The charter chain will expand to Las Vegas and Vancouver, Washington, next school year.
The charter chain's "moonshot," as its website states, is to close the wealth gap between Black and white Americans. The $50 cash project is a teaching tool toward that mission, said Talia Livneh, director of programs at the Rooted School Foundation.
"There's an increased sense of agency, self and financial freedom, when students have access to money independently of whether their parents give it to them or not." Livneh said. "We're also seeing students are learning financial literacy, capability, socialization, that happens inherently by having access to money."
Each Wednesday since January, the foundation has deposited $50 in debit card accounts for Lee and about 40 classmates at his school and another 40 at the New Orleans Rooted school. The study will again give those weekly payments for 40 weeks to a second group of students at each school in the fall.
Researchers will then track students' spending and study their attitudes about money and financial security using the Consumer Financial Protection Bureau's Financial Well-Being Scale as a standardized measure.
New Orleans students are also publicizing their journey in a podcast.
Though teenagers have been included in other guaranteed income studies, Livneh and Zibei Chen, an assistant professor at the University of Tennessee who is the lead researcher for the study, say they believe this is the first to be based at a school and focused just on teens. The Center for Guaranteed Income Research at the University of Pennsylvania is also part of the study.
Chen said centering the study on a school will also allow her to see if the money affects academic performance, either by eliminating family hardships that distract from learning or by shifting students' planning for the future.
A 2020 pilot at the New Orleans school, with just 10 students receiving the payments, offered hints that students could reduce family problems with unpaid bills or rent, but was too small and short — along with being in the early months of the pandemic — to draw any conclusions about academics.
"That's something we'd like to see," Chen said. "But we're going to wait to see what the data tells us."
Students at the Indianapolis school said they jumped at the chance to participate, once the school assured them it wasn't a scam and they wouldn't be on the hook for anything more than reporting spending and filling out surveys.
"It's an opportunity for us to be independent," said Nyarian Anatman, who said the money lets students treat themselves, help family or save. She'll spend part of her money to fly to her cousin's 18th birthday in Florida.
"It gives us a chance at financial responsibility," added 11th grader Javon Members, who's also part of the study. "Not a lot of kids our age know what to do with money. So when you get that money firsthand, it's like, okay, now I can see what I can do to save, or I can spend it."
Some students had serious uses for the money right from the start. Several have used it for the school's participation fees for athletic teams, while students in the pilot bought Apple stock or cryptocurrency. La'Nyah Glover, also an 11th grader, said she has used some on her younger siblings and on shoes, clothes and gas so that she doesn't have to ask her parents for money.
Glover, who wants to become a professional photographer, also bought backdrops and memory cards for the business she is starting.
"This money helps you grow businesses," she said. "I didn't have to worry like I worried before…Now that I have this, I can buy the backdrops I need, I can get more jobs. When I get more jobs. I get more money, and I make more than the $50 which I'm getting every week."
Like Lee, fast food was a focus for 11th grader Dwayne Sullivan, along with video games.
"When I first got my card, I was just buying stupid stuff," he said. "McDonald's really has a place in my heart. But now I'm trying to save my money."
His goal: buying a car.
Sullivan and Lee's early splurges with the windfall were typical for students in the earlier pilot and the newly-launched expansion. Many have bought headphones or music downloads, gas to drive places on a whim or, like Lee, fast food. A report on the pilot study noted that for some students, particularly from low-income families, these purchases were meaningful, even just being able to buy a whole pizza for themselves and not just a slice.
"I could do it without (my mother) criticizing me or saying anything to me: 'Why are you wasting your money?" Lee said. "This is my money. I could do whatever I wanted to."
But he said weekly personal finance classes at the school – along with nudging from his mother – convinced him to start saving for film school after a few weeks.
"This tool can help me in the long run, because soon I'm going to have to pay bills," he said. "I'm gonna have to pay rent. I don't pay that now, but I'm going to. This is helping me realize that saving is a lot more important and money can do a lot more than I thought it could."
Support The 74's year-end campaign. Make a tax-exempt donation now.