From Communities in Schools Alumnus to Its New CEO, Rey Saldaña Has a Great Backstory — but That Shouldn't Mean Other Struggling Students Have To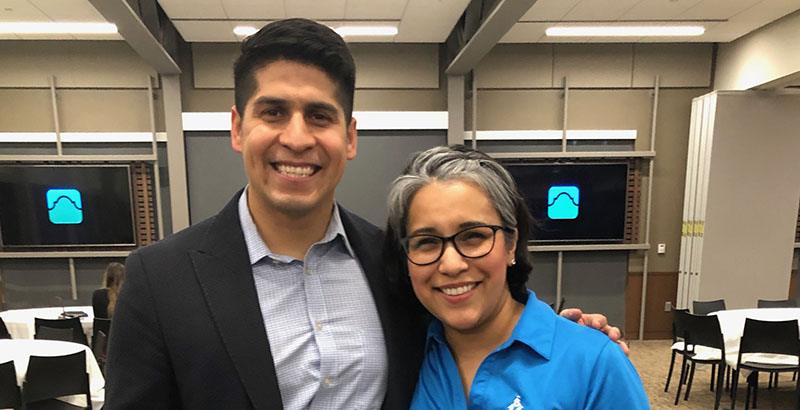 Yes, Rey Saldaña has a compelling origin story.
The child of Mexican immigrants grew up in a low-income home in a low-income community; he eventually went to Stanford University and then went on to a career in public service. It's the kind of story one might find in an inspiring video at a fundraiser, or a year-end report for an education nonprofit.
In fact, it has been.
For the past decade, national dropout prevention organization Communities in Schools has showcased Saldaña's story, even inviting him to sit on the nonprofit's board as an alumni representative.
But it's one thing to be the poster child, and another thing to be the boss. It's another thing entirely to become the boss during a global pandemic and an inevitable recession to follow. Saldaña's entire tenure with the organization so far has been spent managing the quickly escalating crisis from his home office in San Antonio via Zoom meetings.
He sees the worry on staff's faces as they teleconference. They know that the crisis has sequestered students out of their reach, and they are doing their best to connect with them virtually and assess their situations. Staff members know that some of their students are not safe.
"It's keeping them up at night," Saldaña said.
In the middle of these extraordinary times, and maybe even because of them, the nonprofit's state and local directors are affirming that Saldaña is the right person for the job. "He lives it," said Susan Richards, Washington state director for Communities in Schools, one of the geographies hardest hit by the outbreak. "He gets it in his heart."
In February, the 43-year-old organization took their relationship with Saldaña, 33, a significant step further, hiring him as president and CEO. Although board members could have chosen a more expected CEO, Saldaña admitted, they are betting on him to bring firsthand knowledge of the program and its students.
"The notion that one of the millions of students whose lives have been positively affected by a Communities in Schools program could one day become the leader of our national organization has been a lofty, long-wished-for goal," board chair Elaine Wynn wrote in a letter announcing the hire to Communities in Schools staff and supporters.
While he is the first alum to lead the organization, Saldaña is not alone as a Communities in Schools success story, and he's confident that the model is strong enough to support the kind of work he wants to do — work that looks at education less as an escape hatch for an exceptional few, and more as the foundation of strong neighborhoods and cities for every student.
"This organization has strong bones, and 40 years of success informing it," Saldaña said. "For those who think my vision is 'all heart' and too idealistic, I'd point out that I have all of [Communities in School's] expertise to draw from."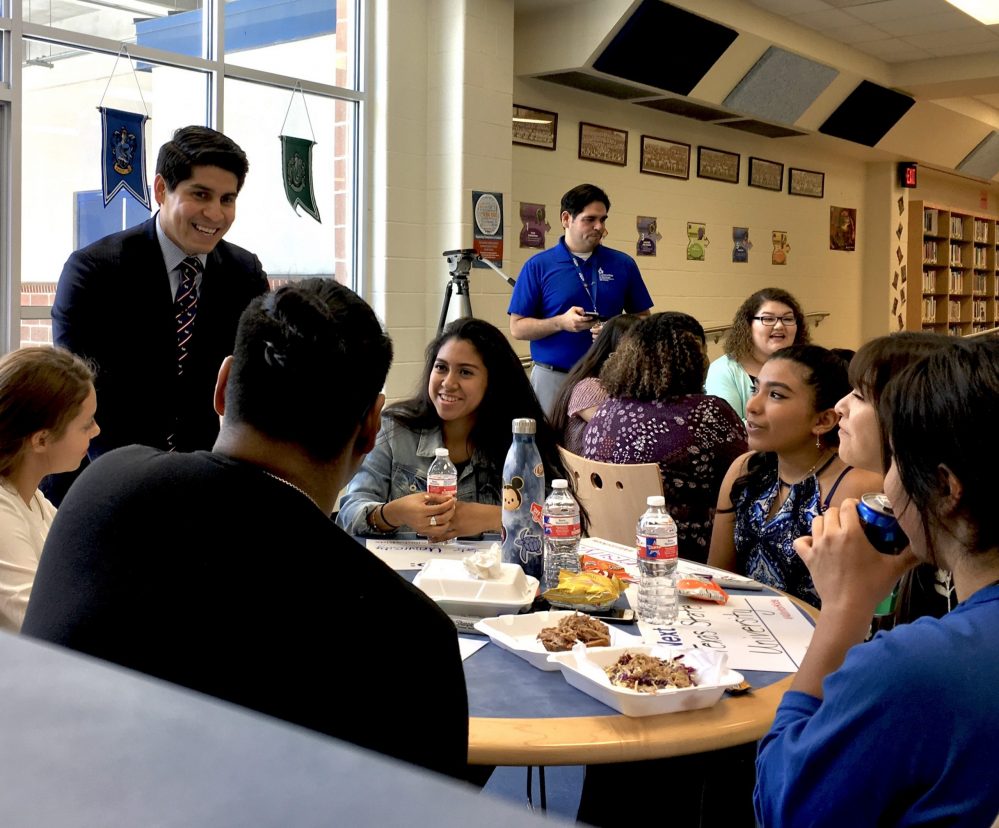 In the decades since education activist Bill Milliken founded Communities in Schools in Harlem, millions of students have connected to site coordinators and clinical counselors stationed in schools across the country. The organization places these adults on elementary, middle and high school campuses around the country to provide support services and mentoring. Some of those services are delivered by the site coordinators themselves, and some are rendered by partnerships with food banks, businesses, federal college-readiness programs and other nonprofits. The organization's case management approach currently reaches 1.5 million students in 2,300 schools in 25 states.
Every single one of those students, staff and schools, Saldaña said, is part of a neighborhood and city. In his eight years on the San Antonio City Council and time spent working with the education policy think tank Raise Your Hand Texas, Saldaña said, he has become convinced that education is not about escaping poverty as much as it is about strengthening communities.
"Rey has el corazón del pueblo," said Gladys Gradilla, meaning that her former student's heart is for the city and its people.
She was the Communities in Schools site coordinator at South San Antonio High School when Saldaña was a senior involved in Upward Bound, a federally funded college readiness program. The program was administered through Communities in Schools, and it was Gradilla's job to help students identify and apply to their best-fit colleges and help them with financial aid. In some ways, she said, Saldaña hasn't changed since then. He was always looking for tough feedback on his work, always wanting to improve his odds and the odds of those around him.
As evidence of his genuine concern for people, Gradilla cited Saldaña's most recent role as San Antonio's metropolitan transit board chair, which began in 2019. He rode the bus to work each week and asked riders what could be done better. "People like my mom," Gradilla said.
On those bus rides, Saldaña said, he learned that riders were resigned to a transit system that didn't meet their needs. He began a campaign to reallocate city funds toward expanding the system. It will go before voters in November.
Communities in Schools staff regularly bump up against demoralizing structures as they try to help kids who are predominantly black, brown and low income, he explained: "If it's a judicial system that looks different than the kids that we serve, if it's a school district's discipline policy, we have to talk about those things."
The coronavirus pandemic is making that abundantly clear, Richards said. Her background is in social work, and she's glad to have a CEO who is comfortable thinking in those terms.
As a CEO, Saldaña knows it may be unconventional, once the pandemic lifts, to pull from his City Council playbook to request ride-alongs with local police, court visits and neighborhood tours, but that's what he plans to do. It's a sort of systems analysis. He wants to know more about how, for instance, the Los Angeles Police Department interacts with the same students as his site coordinators. He wants to meet the municipal judge hearing truancy cases against his students in Kalamazoo, Michigan.
He knows those systems, and their effects, well. His father was undocumented until late 1999. Their family of seven lived on less than $30,000 per year, he said.
"I was a very good tightrope walker," he said. "A lot of things had to go right for me to get across."
Cars couldn't break down. Siblings couldn't get sick or in trouble. Any tip in the delicate balance of family resources, he said, would have been the gust of wind that knocked him off course. To make matters worse, he went on, things were being thrown at him. Students at his high school were regularly advised by teachers to lower their expectations. Luckily, HUD secretary and former presidential candidate Julián Castro and his twin brother, U.S. Rep. Joaquín Castro, were beginning their own post-Stanford political careers on the San Antonio City Council and in the Texas Legislature. It was because of them that Saldaña said he even considered the top-tier school and the Gates Millennium Scholarship — aimed at helping low- income and nonwhite students pay for college — that would get him there.
Knowing that Saldaña lacked the same access to the advanced courses and private tutors of his Stanford classmates, Gradilla, herself a first-generation college student, prepared him for the road ahead.
"He was going to have to start at the bottom," she said.
Though he did have to work hard, Saldaña said he has never been an evangelist for bootstrapping. No amount of big dreaming and hard work will change the reality that many are born into, the barriers they face and the nonacademic responsibilities that keep them from going to college. The difference between success and failure, he said, is more than just their own labor.
"If that's the strategy, our chances of success are very slim," he said. "The system, it just chews kids up."
He wants to change the system, not just teach kids how to survive it. Communities in Schools isn't just interested in the tightrope walkers, he said, speaking in metaphor. He appreciates its mission to, as he puts it, "build a well-protected bridge that everyone can get across."
For many of the kids Communities in Schools works with, simply graduating from high school would be a "tremendous accomplishment," he said, and would change their lives and the lives of their families. These kids deserve support, he explained, even if "you're not going to put them on a pamphlet."
It's great if kids want to follow his path to Stanford or other elite colleges, he said, but he hopes they'll also follow him back to invest in their communities, that they too will carry el corazón del pueblo.
"You're not going to buy everybody a golden ticket out," he said. "And [the ones who get out] are leaving behind a community."
Many of his own classmates are gone from the district where they grew up. Some are in prison, Saldaña said, while others have fled to the city's affluent north side, chasing opportunity, well-funded schools and middle-class neighborhoods.
He wants every kid to "have a fire in their belly" for their own neighborhoods and for Communities in Schools to help raise those expectations — whether they go from Stanford into politics, like he did, or go to a community college and work for the family business. Kids shouldn't have to be exceptional, he said, to be successful.
Support The 74's year-end campaign. Make a tax-exempt donation now.