Free SAT Boot Camp & Tutoring Platform Is Getting Noticed by States, Colleges
Partnering with 12 states, Schoolhouse.world has leveled playing field for 20,000 students — and given tutors a leg up when applying to universities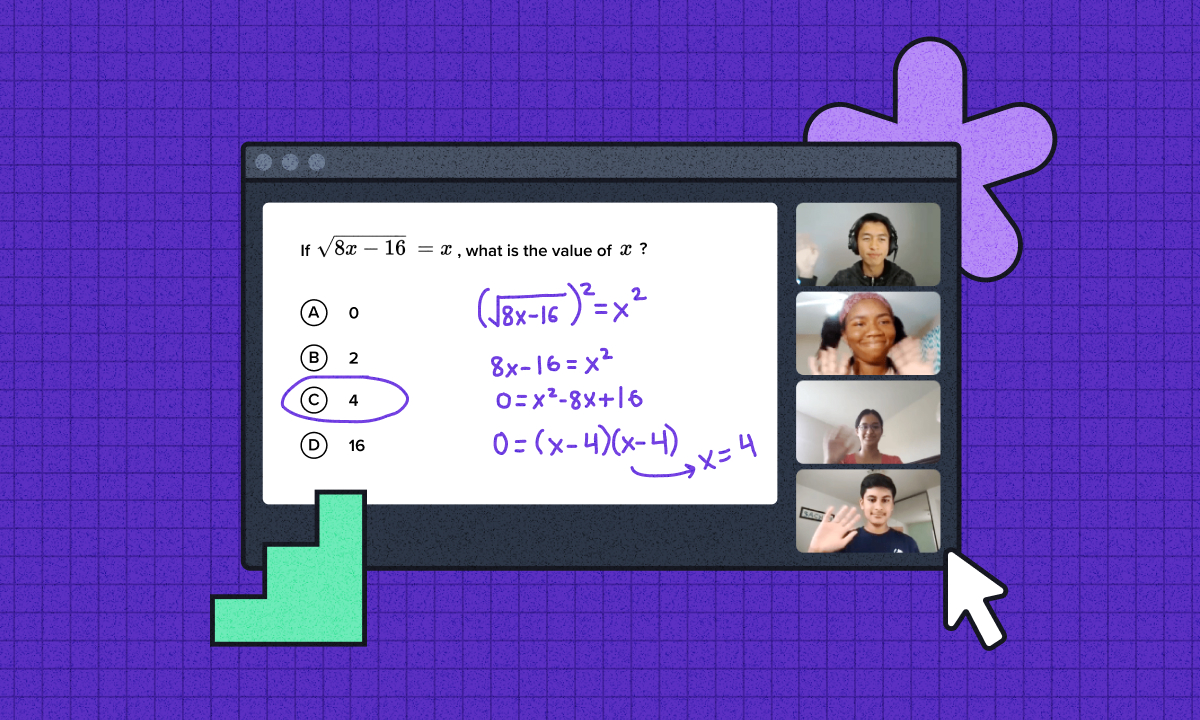 No paywall. No pop-up ads.
The latest effort from Khan Academy founder Sal Khan places a focus on tutoring. Free tutoring.
Twelve states have taken notice, as have high schools and universities that increasingly see volunteering for Schoolhouse.world as a desirable credential in their applicants.
Launched in 2020, the platform offers high schoolers free Zoom-based tutoring in math, as well as SAT and Advanced Placement test prep. Some 20,000 students so far have participated in over 8 million minutes of live learning through Schoolhouse.world's evening homework help sessions, small-group math tutoring or test prep boot camps, says Chief Operating Officer Drew Bent.
"Our goal is really to level the playing field and do it completely for free," he says. "Our tutoring is available to everyone."
Founded by Khan but operated separately from his online, nonprofit Khan Academy for grades K-8, Schoolhouse.world has forged partnerships with a dozen states. No money changes hands, but the states help connect districts and parents with the nonprofit, letting them know free tutoring is available. Certain states, Bent says, are forming deeper partnerships with particular districts that may eventually result in integrating the service into the school day or the classroom curriculum.
New Hampshire was the first state to partner with Schoolhouse.world. "This is a great opportunity for New Hampshire youth to take advantage of free SAT prep courses," says Frank Edelblut, the state's commissioner of education. "These small-group SAT tutoring sessions can help students of all abilities to find the motivation, knowledge and confidence to reach their goals." The most recent state to sign up was Virginia, in October.
The fully volunteer service has over 3,000 tutors, the majority of them high school students. Bent says the platform's primarily peer-to-peer nature — teachers and professionals also volunteer — is the best way for it to grow while empowering high schoolers. Tutors are trained and their hours tracked, in hopes of creating a cycle in which students who were once tutored are able to become tutors themselves.
A handful of universities, among them MIT, Georgia Tech, Florida State University and the University of Chicago, "have places on their applications where they ask if you are a Schoolhouse.world tutor," Bent says. "It is a great way to demonstrate mastery and a very powerful motivator for high schoolers."
The two main areas of content focus are math and test prep. Before each SAT date, Schoolhouse.world hosts four-week boot camps, with one tutor and up to 10 students meeting for eight one-hour-long sessions. Early research shows that students who participated in the tutoring scored as much as 55 points higher on their SATs, compared with their PSATs, than students who did not participate in tutoring.
The next boot camp launches Nov. 5 and is open to all.
Khan's idea of an online tutoring service for high school students had percolated for a while, but it was the pandemic that unlocked the opportunity. "The thought of having people around the world tutor each other over Zoom would have been a foreign concept five years ago," Bent says. "Now, that is accepted and normalized." Tutoring can happen around the clock because of the worldwide virtual nature of the platform.
"As a nonprofit working to offer free tutoring, our whole thing is to level the playing field," Bent says. "Historically, the more money you have, the more educated your parents, the more supports you receive. We want to change that."
Get stories like these delivered straight to your inbox. Sign up for The 74 Newsletter