Former COVID Data Whistleblower, Now Congressional Candidate With Bold K-12 Plan
After police raided her home in 2020, Rebekah Jones became an unlikely pandemic celebrity. Now she's running for Congress against GOP Rep. Matt Gaetz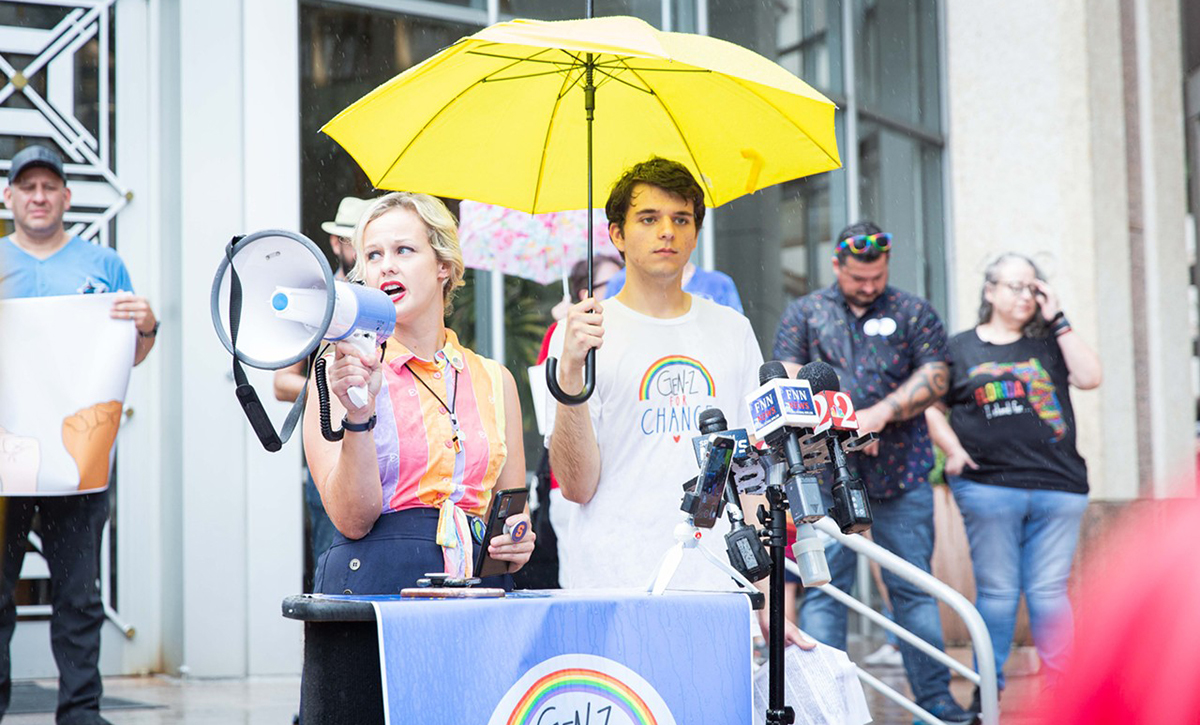 Support The 74's year-end campaign. Make a tax-exempt donation now.
Updated, Sept. 1
Few characters have had a more remarkable pandemic trajectory than geographer Rebekah Jones, who rose to fame after she accused the state of Florida of trying to doctor its COVID cases and then released a video of police raiding her home that went viral in December 2020.
In an exclusive conversation with The 74, the whistleblower data scientist now running for Congress talked about how having a child with autism informed her education platform, revealed a possible plea agreement in her pending criminal case and addressed how she would confront her opponent, Rep. Matt Gaetz, about sex trafficking allegations from a surprisingly personal perspective.
Jones first entered the public eye in May 2020 when she was fired from the Florida Department of Health, where she had helped build the state's dashboard to monitor COVID cases and deaths. State officials said her dismissal was due to insubordination. But Jones claims she was let go because she refused to manipulate data to downplay the spread of the virus.
An outspoken critic of Republican Gov. Ron DeSantis, Jones garnered further attention for launching an independent dashboard counting Florida COVID cases and also a national tracker of infections in schools, in partnership with FinMango.
Her feud with the governor reached a peak in December 2020 when police raided her Tallahassee home, executing a search warrant and seizing her computer hardware. A video of the incident that Jones posted on social media went viral, earning her sympathy from those who saw her as unfairly targeted by the DeSantis administration.
A month later, just after she was named Forbes Technology Person of the Year, Jones was charged with a felony, accusing her of illegally accessing a state computer system and sending an unauthorized mass message urging state employees to speak out on COVID.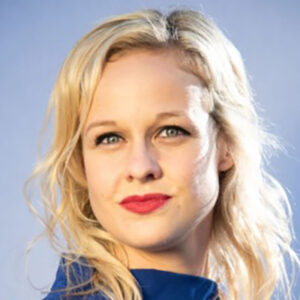 In May 2021, the data scientist was granted whistleblower protections, but a May 2022 investigation by the state inspector general found no evidence supporting her contention that she had been instructed to falsify records. A state audit in June, however, concluded that the state undercounted COVID cases and deaths, hampering Florida's early pandemic response.
All the while, Jones has denied wrongdoing. She shared a copy of a deferred prosecution agreement with The 74 that includes suggested changes by her lawyer and lays out a deal where she would admit to sending an unauthorized email after she was terminated by the state health department. If she meets all the conditions, primarily by not violating any state, federal or local laws and performing 150 hours of community service during the stated period, the charges would be dropped. Jones said she is considering it; the state attorney's office said they could not comment on any updates in the case.
Simultaneously, the Floridian launched a bid for a U.S. House seat in the state's deeply red northwest corner. After a complicated legal back-and-forth that nearly blocked her from the ballot, her name was restored a day before the Democratic primary, which she won handily with more than 60% of the vote.
She will face the hard-right conservative Gaetz, who claimed his own primary victory after a late endorsement by former President Donald Trump and fending off charges from his GOP rival that he was the FBI informant who spurred the Mar-a-Lago raid. Gaetz is being investigated by the Justice Department over allegations he engaged a 17-year-old girl in sexual activity across state lines.
The 74 caught up with Jones to hear about her vision for education policy — and the roller coaster ride she's been on since the pandemic.
This conversation has been lightly edited for clarity and length.
The 74: A lot has happened to you over the last couple years. Can you update those who might not know the whole story?
Jones: Sadly, there's not a whole lot of updates. My whistleblower case is still pending with the state of Florida. It's been over two years. We're still waiting [for it to be resolved] so we can sue.
I just won the Democratic nomination for Congress. There was a month of voting that was active between the time when mail ballots went out and Election Day, and I was only free and clear on the ballot for one day of all voting. And we still crushed it.
But 10 weeks from today is the election, so we're full steam ahead working on that. I'm living in Navarre in Northwest Florida with my family. I know people think my life is so exciting, and I guess it's kind of crazy, but most of the time it's just the day-to-day grind.
There are some folks who would want to take a break from the public eye after all that, but you're running for Congress. Why?
I did take a break. After my home was raided, I moved my family less than three weeks later out of the state to protect them. I didn't do a lot of press. I led a data hero awards program to recognize some of the people like me who weren't getting the kind of viral attention that I got. I stepped back, but nothing got better.
It was actually the day I got whistleblower protection that I decided to move back and fight.
A number of things stood out to me from your education platform, like the national student "Bill of Rights" and the mandatory trainings to prevent race- and gender-based discrimination. Can you tell me more about your education plans and what inspires them?
Like all of my platforms, it's informed by people that are in the profession or who are subject to the policies that we're writing, including students. It seems strange to have regulations on students in schools and not include their input.
Florida has been a leading example for me on how not to manage education policy. Teachers are disrespected, we don't pay them and, within the classrooms, students have exactly zero rights. I want to change that.
School should be a place where kids feel safe, where they're not hungry, where they're encouraged to challenge themselves to think differently than those around them, to think differently from their teachers, differently from their parents, to explore.
That has been all but stripped from public education, especially by people like DeSantis and the moms for tyranny group.
Moms for tyranny, you're referring to Moms for Liberty?
Yes. They don't like me because I tracked COVID in schools.
You used to be an instructor at Florida State University. You're also a mom of a child with autism. How do those roles inform your perspective?
Well, my son has gone to Florida public schools every grade since kindergarten. There hasn't been a year where there haven't been problems. A school counselor told me once she can tell the difference between a bad kid and a disability. This would have been when my son was like 6 or 7 years old and was not a bad kid. He just couldn't sit still and it seemed like he was ignoring people and he wasn't.
Autism, of course, is a spectrum and manifests differently. His is more behavioral. He's considered high functioning, he's extremely brilliant. It's part of what gets him in trouble is he's always the first to finish his coursework and then he's just left to sit there and then gets into trouble. There are a lot of different types of disabilities and that one, unfortunately, is being very slowly recognized within the classroom.
You're up against U.S. Rep. Matt Gaetz. Your district's quite red. But you're not shying away from culture wars issues. Can that message get you elected in Florida's Panhandle?
The thing is, I'm not actually focusing on their cultural terrorism. I'm focusing on the maintenance things that Matt Gaetz has failed to do. Things like the fact that Navarre, Florida has 38,000 people and one tiny post office that floods every time there's a sprinkle. They need a second one. I probably am going to spend the first full year [in office] just catching up on all the stuff he was supposed to do that's noncontroversial before anything big and heated comes up.
But yeah, I don't bend over principles and that can seem like it's cultural war — I like to say terrorism — but that's who I am and who I've always been. I'm not going to vote against women's rights. I speak to people who don't support women's rights with respect and try to understand where they're coming from. Frankly, I do understand where they're coming from. But it doesn't have any bearing on how me or my daughter are able to make health care choices.
You'd be surprised. I've spoken to a lot of people who've walked up to me and have said, "I'm a Christian and I can't support you if you support abortion." And then I talk to them, and they'll sign a petition by the time they're walking away.
How do you navigate those conversations?
I spoke to a guy the other day, he was absolutely against trans rights and gender-affirming care. He came up to our booth at one of our events. I explained to him there is an actual biological condition that leads to being a different gender physiologically than what you are chemically in your brain. And there's an actual mismatch. He apparently didn't even know that. And I said, "Well, if there was a test that could show you the brain chemistry of a person whose gender does not match their physical body, would you support that person having some kind of transition care while they're still a teenager?" And we got this guy to agree to it. He was coming from a place of hearing that children were being mutilated by the doctors and going on to regret it.
People are good. This entire campaign is based on the idea that people fundamentally are good. And given the opportunity to do the right thing, without all the noise, in the quiet of the ballot box or at home, they'll do the right thing.
I've spent my entire life on that concept. Me coming forward and not knowing if anybody would support me, anybody would believe me, anybody would care. I thought people had a right to know and that people would do the right thing. And they have. And I believe that that will carry us a lot further than anybody's giving us credit for.
Maybe this is the right time to ask, how do you estimate your [electoral] chances? What shot do you give yourself?
I don't have any illusions about how difficult it's going to be.
We've done three different polls, so far. Two of them have us ahead between two and six points. Matt Gaetz is very loathed. All the sex trafficking scandal has broken out since the last election. The Republican infrastructure isn't happy with him. So he's pretty isolated.
He's going to try to play at this whole MAGA thing as much as possible and make it seem like I'm the enemy of MAGA, but I'm not. And he didn't anticipate that. We welcome any Trump supporters into our camp to defeat Gaetz. They're more than welcome.
I think it's gonna come down to a very small number of voters.
So many people draw really stark political lines. You're saying you welcome Trump voters. How do you navigate that alongside, if we're talking about education, policies like universal pre-K or anti-bias training, which have taken a lot of heat from the right wing?
The right wing is not a homogenous glob any more than the left is. The left is notorious for being fragmented, for having different views and opinions and positions within its own kind of territory. The right is not any different.
People here support universal pre-K. Most of the people who live here are working-class families. Day care across the country is ridiculously expensive. It can be upwards of $900 on average per person and that's prohibitively expensive for a lot of people. We've had voluntary pre-K in the state for a while, which is a partial day, and then at most facilities, you can pay to extend the day to a full working day. And parents really need that. So they're already on board. I don't even have to do much convincing. It's when we get caught in these ideological debates that things get sticky. And I avoid that, because we have problems right here, right now that need to be dealt with.
We've got to stop with Democrats not allowing an acceptable bridge over to our party from people who supported Trump. Because that is how we stay on either side of the river. Nothing ever changes. And we need to create a pathway for people to say, "Look, I'm not going to ask you who you voted for in 2016 or 2020 and I, frankly, don't care. Are you with us?"
You briefly touched on the investigation into Rep. Gaetz for possible sex trafficking of a minor. How do you see that factoring in for voters?
Most of them don't care, unfortunately, until he's actually charged with something. And even then he'll still claim to be a victim of persecution, which is very ironic considering his privileged lifestyle.
I sent my own grandfather to prison for sex trafficking in the Philippines before I was famous, before COVID. So I take that extremely personally.
It's part of a larger discussion we need to have because this has been dubbed the "trafficking corridor" along I-10 in Pensacola. We have a reputation for that, which is not something you want a reputation for. The fact that our congressperson is implicated in those practices, it's incredibly difficult to get anything to move on that front. I'm much more concerned about the people who are being trafficked than I am whether or not Matt Gaetz — a rich, powerful, white man — ever goes down for it.
That detail about your grandfather, is that something you're able to say any more about?
There was actually a news story about how we helped stop an operation where he and others were using this English-speaking middle school in the Philippines to traffic young girls. My family had reason to suspect that's what he was doing but no one told me. And as soon as I found out, I made sure that I found somebody to hold him accountable.
I contacted the Polaris Project, the FBI, the DOJ, the CIA. I didn't even know who I was supposed to contact, but I contacted all of them. I know how difficult now that process is to actually hold somebody accountable and how long it takes to investigate. He wasn't arrested for another eight months after initially being reported.
They shut down the whole operation that they had going over there and he died earlier this year because of it. He had Type 1 diabetes and I imagine that prison in the Philippines was very hard on him. And I hope that it was and I hope that he suffered.
Wow. So the Gaetz investigation hits close to home.
I guess I've always been a whistleblower.
It's never made sense to me to have knowledge that something horrible is happening and not try and do something about it.
I also wanted to talk about the legal troubles for you, too. The pending felony charges for illegally accessing state computer systems and sending an unauthorized mass text. And also the earlier misdemeanor charges for cyberstalking an ex-boyfriend. How are those allegations playing into the campaign and what do you say in response?
I've always been open about my abuse. I don't think any woman should have to face charges of cyber harassment for naming their abuser on a website for domestic abuse survivors. There's a reason why that case went nowhere. It's six years old and hasn't happened because they're not going to put up an abuse victim on a stand next to that guy. I actually think it's a great talking point to discuss how it is that a man can claim that naming him as an abuser is a crime. But when I reported him for sexually assaulting me, it was a he said, she said. (Several news reports say the ex-boyfriend was also a student of Jones's at the time, though she denies this claim and said his roommate took her class. The relationship led to her 2017 dismissal as a Florida State University instructor. The ex-boyfriend was granted a domestic injunction against her.)
And then the pending allegations about the Florida Department of Health messages?
The state offered to dismiss everything in June. That was two months ago, two and a half. So we're still waiting on all that to be processed.
The terms were that I had to pay a $100 fee, not get arrested in the next year and say that I shared responsibility in having that message sent. While I did not send it, I certainly can't deny that I've told people publicly to speak out. So I was like, "Sure, I'll say I share responsibility." (The proposed agreement includes a stipulation that Jones did send an unauthorized email.)
I'm not intimidated by them. I'm not going to be threatened or bribed or coerced. I'm unafraid to just name every bad person and exactly what they've done, which has gotten me in a lot of trouble. But you know, that's life.
Support The 74's year-end campaign. Make a tax-exempt donation now.