Following DeVos's Surprise Resignation, School Advocates Say She Leaves Behind A Controversial Legacy — and Wonder Why She Didn't Leave Sooner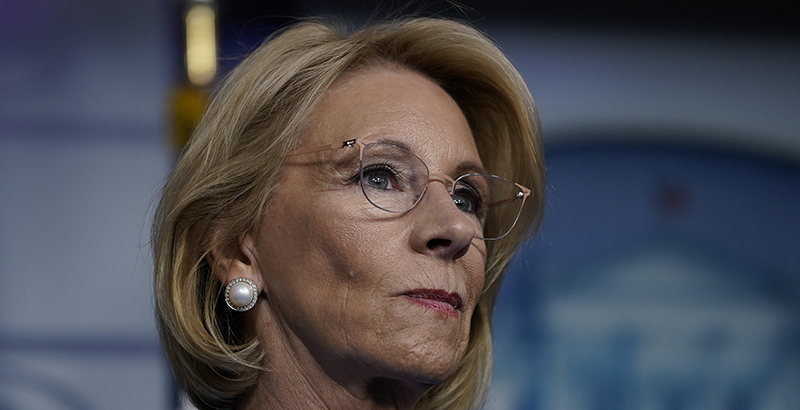 From American Federation of Teachers President Randi Weingarten's concise "Good riddance," to more guarded comments saying she did the right thing, the nation reacted Thursday night to Secretary of Education Betsy DeVos's resignation — prompted, she said, by President Donald Trump's role in inciting the mob that stormed the U.S. Capitol this week.
"There is no mistaking the impact your rhetoric had on the situation, and it is the inflection point for me," the secretary wrote to Trump. "Impressionable children are watching all of this, and they are learning from us." (Read the full letter)
DeVos joined Transportation Secretary Elaine Chao and other top officials in resigning because of the attack on the Capitol, which left five dead, and could lead to the impeachment of a president with two weeks left in office. Rick Hess, the director of education policy studies at the American Enterprise Institute, a conservative think tank, called her decision "an important, appropriate response to President Trump's seditious behavior."
To many of her critics, however, DeVos's disgust at Trump encouraging protesters doesn't make up for four years of disparaging remarks about public schools, her uncompromising efforts to shift more federal funds toward private and religious schools, and her removal of federal protections for student loan borrowers and victims of sexual assault. With others applauding her efforts to weaken the teachers unions and help parents "find the right fit" for their children's education, few cabinet members in recent history have sparked such controversy. A 74 investigation, for example, showed that no education secretary was sued as often as DeVos — over 455 lawsuits, amounting to roughly one every three days.
"It took Secretary DeVos nearly four years to find her moral compass. Is this the standard we should teach our children?" asked University of California, Berkeley sociologist Bruce Fuller. "No doubt she can recognize a banana republic. She ran the education department in dictatorial fashion, rarely consulting educators about how to improve our schools."
Robin Lake, director of the Center on Reinventing Public Education at the University of Washington, agreed with DeVos that children watched the violence at the Capitol. But she added, "The children were watching all four years … as the Trump administration made Black, brown, and immigrant children feel unwelcome and afraid in their own country. I wonder how that will sit with her when she looks back on her tenure."
DeVos — a beacon for Christian conservatives — passionately embraced school voucher programs, like the D.C. Opportunity Scholarship Program, and tax credits for private and homeschool expenses to give low-income students and students of color a better education than they would receive at what she often called "factory model" schools.
"We have sparked a national conversation about putting students and parents in charge of education," DeVos wrote in her resignation letter.
Particularly since the onset of the pandemic, supporters such Ben DeGrow, director of education policy at the Mackinac Center for Public Policy, have praised DeVos's attempts to give parents access to relief funds for private schools so their children could return to in-person learning.
"The abrupt ending to Secretary DeVos' tenure should not obscure what will be the most lasting legacy of her four years leading the Department — amplifying the voices of students and families who aren't being served well by the system, and opening many more eyes to the need to expand educational freedom," he said.
Since Trump gave her the opportunity to turn her privately funded school choice agenda into a publicly funded one, DeVos has been a devoted member of his cabinet. But others who have worked with her were reminded this week that this was not the first time she distanced herself from Trump in connection to an act of violence involving his supporters..
"Secretary DeVos's statement about the terrible events of yesterday reminded me of her statement following the murderous, racist rally in Charlottesville," said Jason Botel, who served as a high-ranking official in Devos's education department. Trump blamed "both sides" for the violence, while DeVos sent an email to her staff saying, "The views of white nationalists, neo-Nazis and other racist bigots are totally abhorrent to the American ideal."
"In both cases, following President Trump's shameful comments, Secretary DeVos released more responsible statements," Botel said.
But Michael Petrilli, president of the conservative Thomas B. Fordham Institute, said there "so many other terrible actions and statements by the president" that should have given her a reason to leave office.
To some education advocates, DeVos's departure signals a chance to look ahead toward a new administration that has promised to make public schools a priority. Connecticut Education Commissioner Miguel Cardona, President-elect Joe Biden's choice to replace DeVos, is expected to champion public schools.
"Secretary DeVos's resignation puts us one step closer to putting an end to an incredibly painful period for American families," said Keri Rodrigues, president of the National Parents Union. "It's time to put the same-old, tired education wars of the past generation aside and begin to reimagine what's possible for our kids."
Support The 74's year-end campaign. Make a tax-exempt donation now.