Betsy DeVos Resigns as Education Secretary Following Violence at Capitol, Tells President Trump 'There Is No Mistaking the Impact Your Rhetoric Had'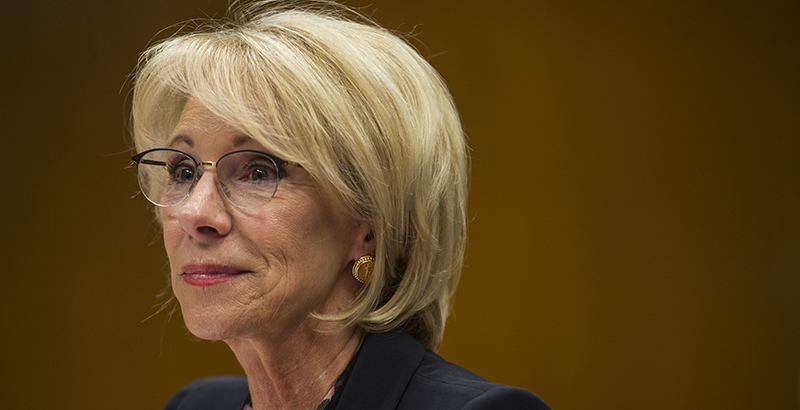 The second member of President Trump's cabinet announced her resignation Thursday night, following the mob violence at the U.S. Capitol this week. Education Secretary Betsy DeVos submitted the letter Thursday, with her resignation set to become effective Friday, as she pointed to the president's role in fueling the deadly chaos that descended on Congress. Her full letter:
Dear Mr. President:
For more than thirty years, I have fought on behalf of America's students to expand the options they have to pursue a world-class education. As you know, too many of them are denied an equal opportunity to a high-quality education simply because of where they grow up or how much money their family makes. You rightly have called this one of the most significant civil rights issues of our time.
Leading the U.S. Department of Education has given me an exceptional opportunity to advocate on behalf of the forgotten students the traditional system leaves behind. We have achieved much.
We have sparked a national conversation about putting students and parents in charge of education, leading to expanded school choice and education freedom in many states. We have restored the proper federal role by returning power to states, communities, educators, and parents. We have returned due process to our nation's schools and defended the First Amendment rights of students and teachers. We have dramatically improved the way students interact with Federal Student Aid. We have lifted up students by restoring year-round Pell, expanding Second Chance Pell, delivering unprecedented opportunities for students at HBCUs, and so much more.
Finally, Mr.President, I know with certainty that history will show we were correct in our repeated urging of and support for schools reopening this year and getting all of America's students back to learning. This remains the greatest challenge our nation's students face, particularly students of color and students with disabilities. Millions are being denied meaningful access to education right now, in no small part because of the union bosses who control so much of the traditional system.
We should be highlighting and celebrating your Administration's many accomplishments on behalf of the American people. Instead, we are left to clean up the mess caused by violent protestors overrunning the U.S. Capitol in an attempt to undermine the people's business. That behavior was unconscionable for our country. There is no mistaking the impact your rhetoric had on the situation, and it is the inflection point for me.
Impressionable children are watching all of this, and they are learning from us. I believe we each have a moral obligation to exercise good judgement and model the behavior we hope they would emulate. They must know from us that America is greater than what transpired yesterday. To that end, today I resign from my position, effective Friday, January 8, in support of the oath I took to our Constitution, our people, and our freedoms.
Holding this position has been the honor of a lifetime, and I will be forever grateful for the opportunity to serve America and her students.
Sincerely, Betsy DeVos
---
From The 74 Archive: DeVos on the Docket — With 455 Lawsuits Against Her Department and Counting, Education Secretary is Left to Defend Much of Her Agenda in Court

Get stories like these delivered straight to your inbox. Sign up for The 74 Newsletter