Federal Government Switches Sides, Joins Argument for Striking Down Mandatory Dues in Janus Case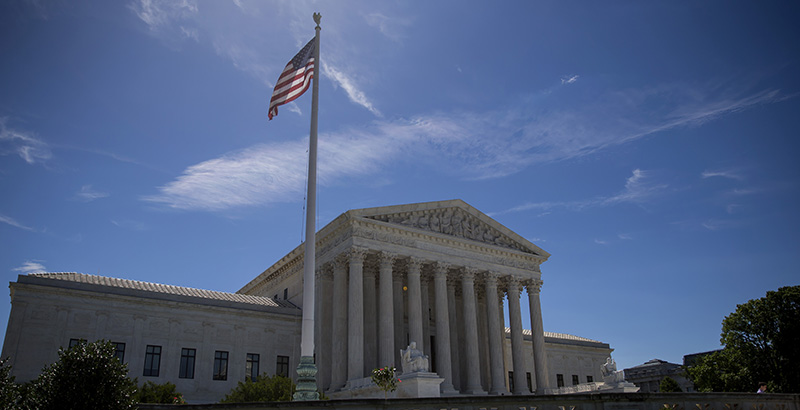 The Trump administration has weighed in against continuing mandatory union dues for public workers, a shift in the federal government's position ahead of upcoming Supreme Court arguments in the much-watched Janus case.
Solicitor General Noel Francisco filed a brief Thursday supporting Mark Janus, an Illinois state worker who argues it's a violation of the First Amendment to force him to pay dues that support a union that advocates positions Janus himself doesn't support.
The First Amendment establishes a "bedrock principle" that except in "the rarest of circumstances," no one should be compelled to subsidize speech by a third party that he or she doesn't wish to support, the government's brief says, quoting an earlier Supreme Court ruling.
"That principle has added force when applied to the compelled subsidization of speech on public issues, which lies at the heart of the First Amendment's protection and triggers demanding scrutiny," the government said, urging the court to overturn a precedent from the 1970s known as Abood that set up the current system.
Public-sector employees, including teachers, are forced to pay most union dues every year in about 20 states. Those who are opposed may opt out of paying for "political" activities. Janus and others argue that funding even basic union duties, like negotiating wages, benefits, and layoff rules, are inherently political in public-sector unions because they affect government policy and funding.
The filing is a departure from the position the Obama administration took in similar cases in recent years in which it supported the continuation of mandatory dues, sometimes called "fair share" fees.
The government's earlier positions "gave insufficient weight to the First Amendment interest of public employees in declining to fund speech on contested matters of public policy," the government wrote.
Lee Saunders, president of AFSCME, said the switch in positions shows the case is a "purely political attack."
"The true motivation behind this case is to satisfy the agenda of wealthy and powerful political donors who have spent tens of millions of dollars to, as they have said in their own words, 'defund and defang' the American labor movement," Saunders said in a press release.
Unions and others have argued that mandatory dues prevent "free riders" from reaping the benefits of union-negotiated contracts without paying dues, and make it easier for employers to negotiate with one representative of all workers.
The government's brief argues that the presence of public-sector unions representing federal government workers, who aren't forced to pay dues, and in states that don't have compulsory dues law, shows that unions can fulfill their role without mandating dues payments.
The case could have a tremendous effect on unions representing teachers and other public-sector employees. Unions are already changing budgets to account for a decline in membership; when Michigan changed its state law, its National Education Association affiliate lost 24,000 members and annual revenues dropped by about $10 million, according to records filed with the Department of Labor.
The National Right to Work Foundation, which brought the case for Janus, praised the government's brief.
"We welcome the support of the Solicitor General," Mark Mix, the group's president, said in a statement released on Twitter. "By backing voluntary union dues, the Trump Administration stands with the eighty percent of Americans who agree that it is wrong to force a worker to pay union dues as a condition of employment."
Leaders of the NEA and the American Federation of Teachers, the country's two largest teachers unions, in a press release criticized Trump and his administration more broadly.
"The Trump administration's decision to side with corporations over working people in Janus is disappointing but not the least bit surprising. Trump may have campaigned as a populist, but he's governing as an elitist, using the levers of government to turn the screws even tighter against families and the middle class," AFT President Randi Weingarten said.
A representative for the Illinois government, also a party in the case, declined to comment.
The Janus case is the third time the question of mandatory public employee union dues has come before the high court in recent years. Two years ago, justices seemed poised to overturn the precedent mandating dues payments in a case brought by California teacher Rebecca Friedrichs, but Justice Antonin Scalia died before a final ruling was issued. The court deadlocked at 4–4, so there was no change.
The court has not yet set a date for oral arguments in Janus; they could come as soon as February.
Get stories like these delivered straight to your inbox. Sign up for The 74 Newsletter