Even as New California Poll Reveals Parents of Color See Schools as Top Election Priority, State's Only Gubernatorial Debate Mostly Ignores Education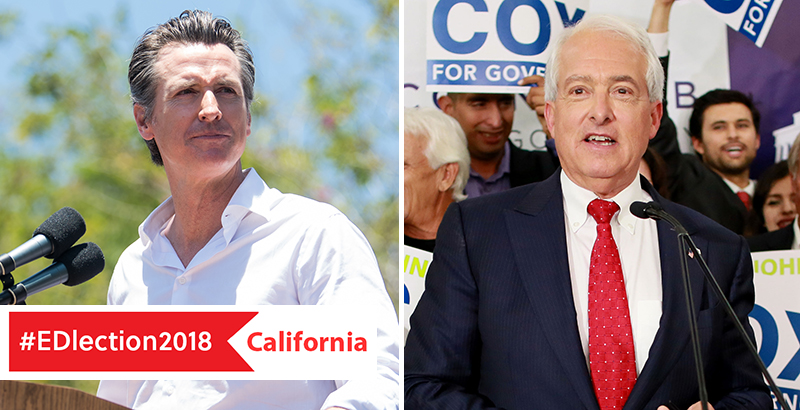 Parents of color want California's next governor to place a higher priority on improving public schools, a new poll finds. But as the two gubernatorial candidates held their first and perhaps only debate Monday, education barely came up.
Republican businessman John Cox three times mentioned that the state's schools are failing children, but there was no follow-up discussion. Gavin Newsom, Democrat and lieutenant governor, brought up schools only as part of his defense of sanctuary cities, which he said offer protections that make parents "more likely to get their child an education and drop them off at school" and to get immunizations such as for the flu.
"We didn't talk about education, but the schools are failing our children. That is a future that we are giving up," Cox said in closing.
"We need to make sure that California leads the way on education, on affordability, on water," Newsom said in his final statement. He included prenatal care, early Head Start, and preschool in his "most important thing for the next governor."
Even the moderator of the hour-long radio forum, KQED's Scott Shafer, acknowledged important topics that weren't addressed, listing first education, along with pension reform and health care.
But a new poll of the state's Latino, black, and Asian Pacific Islander parents revealed that 9 out of 10 say improving K-12 education should be a high priority for the next governor. More than half said it should be an extremely high priority.
The poll, released last week and conducted by Goodwin Simon for The Education Trust—West and UnidosUS, found that improving public schools ranked higher than expanding access to health care and addressing the lack of affordable housing on a list of priorities for the state's next governor.
"Parents of color really want educational justice in California, and they expect the next governor to prioritize that," said Elisha Smith Arrillaga, co-interim executive director of Education Trust—West, which released results from polling 600 parents of color, evenly split among black, Asian, and Latino.
Three out of 4 black parents called improving K-12 education an extremely high priority, as did 2 out of 3 Latino parents. And more than half of black and Asian Pacific Islander parents, and about half of Latino parents, said K-12 schools are on the wrong track or they were unsure if they were on the right track.
"A lot of the research on parents and students doesn't reflect the demographics of our state," Smith Arrillaga said. "We wanted to make sure this poll reflected the parents of students that are in California's K-12 schools, and right now, 7 out of 10 students in our K-12 schools are black, Latino, or Asian American/Native Hawaiian/Pacific Islander."
The poll also addressed parent engagement, for which schools are held accountable in order to receive federal funding. The new Every Student Succeeds Act requires outreach to all parents and meaningful involvement with parents.
Parents of color are giving feedback at schools and feel comfortable calling for changes, but they said they face barriers and are at times doubtful that they can prompt meaningful change.
"The schools only let parents participate so much," said one mother in the poll's news release. Another said, "I'm not sure who I could even offer feedback to. I know that there are school board meetings, but those occur during school nights around dinner time, so it's extremely inconvenient for me to go."
Among all groups, a strong majority — at least 8 in 10 — said they are likely to offer feedback to their children's school. And 9 out of 10 black and Latino parents and 7 out of 10 Asian Pacific Islander parents feel comfortable pushing their child's school to make changes.
But just over half of black and Latino parents, and just 1 out of 3 Asian Pacific Islander parents, think it's very possible for parents to make a difference in improving school performance.
"Clearly parents are offering feedback to their children's schools, but unfortunately they don't always feel their input is making a difference," Carrie Hahnel, EdTrust–West's interim co-executive director, said in the news release. "Schools and districts must authentically engage parents as partners in improvement, and this is especially the case for schools serving primarily black, Latino, and Asian Pacific Islander students whose parents are far too often ignored."
Read more on the California parent poll here.
Get stories like these delivered straight to your inbox. Sign up for The 74 Newsletter