Educator's View: Black History Month Is Over. But It Shouldn't Be — Because Students Live Black History Each and Every Day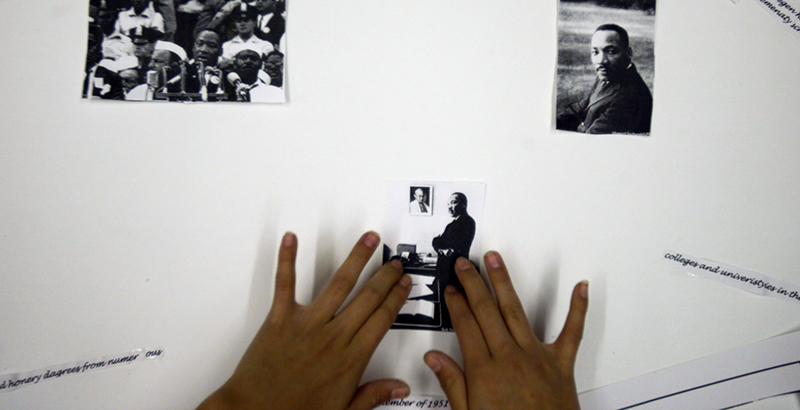 Black History Month is officially in February. So why am I writing this in April?
Too often, young people of color are asked to assimilate or lose their cultural identity in order to succeed in school (and later, as adults, in the workplace). Their history is said to fit in a single month of the year, and their complex pasts are reduced to atrocities and heroes. It should come as no surprise, then, that Black and brown students and educators are not permitted to bring their full selves to school. Unless it involves just that one month, or a single album or a celebrity, Black people live in fear of being considered too big and Black because it is frightening, potentially life-threatening and "too much" for the mainstream culture to handle.
Nationally, 80 percent of teachers and principals are white, and even though students of color now make up the majority of all American public school classrooms, Black and Latino students continue to perform significantly below their white peers. It is clear there should be a deep emphasis on recruiting and
retaining teachers of color, particularly Black males, in order to create a teaching force more representative of today's diverse student population. However, simply recruiting Black teachers is hardly the fix to our longstanding achievement gaps in education for communities of color.
In order for Black students to one day become Black teachers who then inspire a new generation of leaders, we need more awe-inspiring classroom experiences day to day and year over year that celebrate Black culture and value the contributions of Black people for innovating and advancing America. We must think differently about how students are taught Black history and the legacy of positive contributions Black people have made throughout American history that have impacted the present day and will further influence the future. The message that can motivate Black men into becoming educators and the stories of Black people changing the world into a better place for all of us can't come only in February for Black History Month.
Too often, teachers don't understand their students' cultures, and they create classroom environments that devalue students' experiences. Ever since the Coleman Report first documented the achievement gap in 1966, states have focused on teacher quality mandates to close that gap. However, for Black students, it remains. And although concentrated poverty is tightly aligned to the gaps we see in student performance, middle-income and upper-income Black students are also chronically underperforming. In these cases, poverty is not to blame. Research has long supported the need to embed culturally responsive practices into our learning environment, and therefore, it's time to take a closer look at the relationship between students' cultural orientation and academic performance.
I have worked as a teacher, a principal and as the deputy superintendent of Camden City Schools. During my first years as principal, I went to school at night to obtain my doctorate in educational leadership and innovation from Wilmington University in Delaware. My experience as a new leader greatly influenced what I would study and defend through my dissertation. I worked to become an expert in culturally relevant pedagogy and responsive teaching practices. And as I worked to improve my expertise, I was also experiencing, firsthand, what happened in schools that were not culturally responsible or socially inclusive. I was living my learning in real time.
I was seeing students disengage and actively seek a way out of learning because the lessons or classroom environment didn't reflect who they were — their hopes and dreams or who they wanted to be. I heard students complain of their voices not being heard and of adults unwilling to speak up for them. I also found myself making the same mistakes, as so many leaders do, by enforcing what I thought were safety measures — straight lines, silent hallways and highly structured cafeterias, which I later learned that my students referred to as a culture of intimidation.
By day, I was sharing my discoveries and experimenting with new strategies because it became hard to ignore the need to transform my own school's culture and climate. I knew I had to include my students and teachers in the transformation process. So once I uncovered what was essential to implementing culturally relevant pedagogy, it was then tested in my own building with novice and veteran teacher-leaders I trusted.
Part of what I found is that history — and how we tell it — is key. It's a key factor in increasing student engagement, establishing a sense of belonging and building a strong culture for learning. It's time teachers become bicultural and recognize the contributions of Black and brown people every day of the week. Our future generations need to see themselves in all lanes of greatness. And not just during Black History Month.
The key to student achievement is teachers understanding students' cultural differences, bringing those cultures into the classroom and dissolving the cultural disconnect to empower high levels of achievement for all students. The achievement gaps for African-American and Latino students persist as a result of a learning environment that does not reflect the primary value systems of Black and Latino students, as it is characterized predominantly by white, middle-class norms and culture.
Educator and researcher Gloria Ladson-Billings, who coined the term "culturally relevant pedagogy" to describe the type of education that is more likely to lead to success for those who have been traditionally underserved, and Tyrone Howard, founder and director of the Black Male Institute at UCLA, posit that teachers must be diligent at learning how to construct pedagogical practices that have relevance and meaning to students' social and cultural realities in order to help them learn at any level, let alone at high levels of achievement.
Few educators would question the basic notion that effective teachers should know and understand their students. However, the notion that educators should know and understand themselves and how they fit into white, mainstream, dominant culture gets very little attention. White teachers can't just be aware of their privilege, they must also share their privilege with students. To go beyond awareness, teachers need ongoing professional learning to understand how they fit into mainstream culture, and then teach their students how to navigate it, while empowering them to value who they are.
Bicultural competence and fluency addresses the fact that how you fit into mainstream culture matters to your success in this country. As my teachers began to do the thought work needed to deepen the content, connect new skills to students' everyday life and integrate social issues into their lessons, we saw students take more risks, become interested in leadership opportunities and begin owning our school's culture as a home away from home. We watched students want to spend more time at school to join clubs, participate in tutoring sessions and start new afterschool programs. We also saw a 100 percent increase in academic growth in both reading and math. Students were trending to meet grade level expectations over time, and achievement began to climb.
Teaching Black students how to maneuver through racial, cultural and identity bias, while valuing themselves and the groups they belong to, is critical to designing culturally and socially responsive schools, organizations and programs that effectively serve communities of color. Ultimately, the way to motivate Black students to become strong teachers is by valuing their Blackness as young people and showing them the power of their contributions each and every day.
Taryn Fletcher, Ed.D., is former deputy superintendent of Camden City School District in New Jersey and a former classroom teacher, instructional coach, curriculum designer and principal evaluator. She is a mother of two and author of "In All Lanes, Action Steps for New Leaders to Empower Black and Brown Students, Rethink School and Transform Behavior."
Get stories like these delivered straight to your inbox. Sign up for The 74 Newsletter