Education Through a Pandemic: From Oklahoma's $35 Million to Boost Schools for Mental Health Professionals to California's Revised 'Independent Study' Rules to Aid Remote Learning, 9 Ways States Are Confronting COVID Slide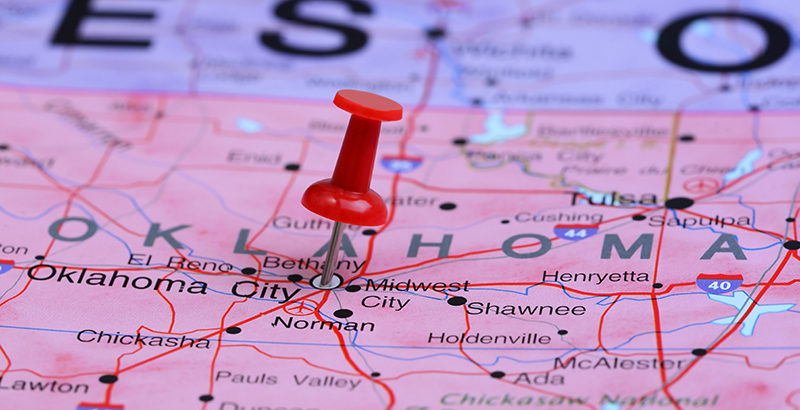 Get essential education news and commentary delivered straight to your inbox. Sign up here for The 74's daily newsletter.
New data shows that a majority of the nation's largest 200 school districts are moving forward with full-time virtual options for students, even as the vast majority of schools prepare to reopen fully for in-person learning in the fall.
Some of the biggest districts – including New York City, Newark, and Chicago — have scrapped plans for their virtual academies, while Texas has barred full-time virtual options from being offered. But many parents, says CRPE's Robin Lake, would like their children to remain in a remote environment — because of health concerns or a belief that some students thrived while outside of traditional schooling. In places where one is not available, parents are pursuing charter or private school options instead.
As the new school year approaches, the analysis suggests remote and hybrid learning models will likely "stick" beyond the pandemic as schools brace to reintegrate many of the nearly 2 million students who became disengaged from school systems in the last year. Despite their efforts, school officials say they expect a sizable portion of families to continue on with private, charter, or even homeschooling options.
Beyond issues of distance learning and virtual coursework, here are eight other updates from across the country about how states and school systems are confronting the challenges posed by the coronavirus emergency — and working to preserve student learning amid the pandemic:
1 OKLAHOMA – State Directs Relief Funding to Schools for Mental Health Professionals
Like many places across the country, Oklahoma is experiencing a growing need for school counselors, a trend exacerbated by the pandemic. To attempt to meet the need, the State Board of Education has announced more than $35 million in aid to 181 districts across the state aimed at hiring mental health professionals and increasing access to trauma services for schools.
2 ILLINOIS – Chicago Announces Student Vaccination Programs, Mobile Clinics
Following a call for "student vaccination targets" from Chicago's teachers union, Chicago Public Schools planned to open three COVID-19 vaccination sites for students starting July 12. Three schools will host the vaccination sites throughout the summer. Chicago school districts cannot require students to be vaccinated. But students will be required to submit their vaccinations status at the start of the school year.
3 NEVADA – Rising Real Estate Costs, Pandemic Effects Hinder New School Openings
Three Las Vegas charter schools will delay reopening until fall 2022, citing difficulty finding affordable land and buildings in the current "competitive real estate market." Sandra Kinne of Sage Collegiate said her school will focus on finding an appropriate facility "instead of trying to scramble to hit even the minimal enrollment targets," concluding that making the decision to postpone the opening of the school was not an easy decision to make.
4 TEXAS — Learning Setbacks Coming into Focus with New Testing Results
Texas is the first state to release results from statewide annual testing this school year, providing one of the first insights into how pandemic disruptions impacted student progress after typical data collection halted in 2020. According to the Texas STAAR results, the percentage of students reading at grade level dipped to 2017 levels, while the percentage of students at grade level in math fell to lows last recorded in 2013. Still, some districts saw mixed findings, with surprising numbers of students maintaining or growing their scores in places like Waco, where officials say they saw performance trend upward as schools reopened for in-person learning later in the school year. While the scores represent decreased achievement for nearly 800,000 Texas students, many believe results from other states' tests will depict similar trends.
5 PENNSYLVANIA – Students Allowed "Do-Over" Year, With Strict Limitation
A new law signed by Pennsylvania Gov. Tom Wolf allows parents to have their children repeat a grade to make up for potential learning loss experienced during the pandemic. However, educators and parents are pushing back, as the law required parents to notify schools of their decision to repeat a grade by July 15 to take advantage of the program. Advocates say the tight turnaround has created confusion and concern in some communities.
6 WEST VIRGINIA – Imagination Library to Provide Free Books Over Summer
The state of West Virginia is partnering with the Dollywood Foundation, country star Dolly Parton's nonprofit philanthropic organization, to provide around 258,000 books to primary school kids across the state. The books will be shipped in the coming weeks and will arrive early enough for teachers to incorporate them into lesson plans as schools reopen in a matter of weeks. Building on the effort, West Virginia education officials have also expanded free summer school programming for middle and high school students, which will prioritize addressing learning loss, preparing kids for the new year, and offering programming in the arts and sciences.
7 CALIFORNIA – State Adapts "Independent Study" Rules to Allow for Continued Remote Learning
California officials have made a number of decisions for schools pertaining to reopening this fall, with districts now expected to offer students the option to participate in school remotely through "independent study" programs established prior to the pandemic and recently clarified to account for those families who do not want their children to return to school buildings. The decision comes as state officials also announced that enforcement of mask mandates would be left to individual districts, and as Gov. Gavin Newsom seeks to implement a record investment in the state's K-12 system. Among the investments laid out in the funding package is an expansion of the state's two-year kindergarten program, which is expected to grow to serve nearly 250,000 students – up from about 91,000 students.
8 DELAWARE – Lawmakers Expand School Mental Health Services
Delaware lawmakers have passed legislation aimed at improving mental health services in schools across the state. The law alters the counselor to student ratio to 250 full-time students for every counselor and 700 students for every psychologist. The hiring of counselors and school psychologists will occur over a span of three years.
This update on pandemic recovery in education collects and shares news updates from the district, state, and national levels as all stakeholders continue to work on developing safe, innovative plans to resume schooling and address learning loss. It's an offshoot of the Collaborative for Student Success' QuickSheet newsletter, which you can sign up for here.
Support The 74's year-end campaign. Make a tax-exempt donation now.