Eden: Teachers Nationwide Say Obama's Discipline 'Reform' Put Them in Danger. So Why Are the Unions Fighting DeVos on Repeal?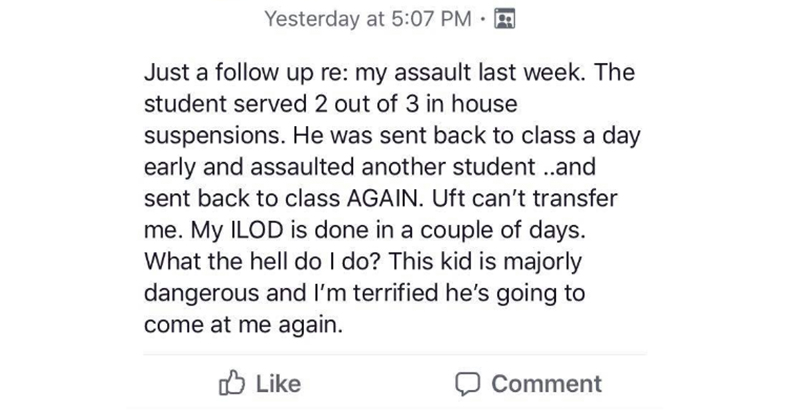 Secretary of Education Betsy DeVos is considering repealing the Obama administration's "Dear Colleague" letter on school discipline, so-called guidance that was in truth a top-down threat to force schools to phase out traditional discipline. American Federation of Teachers President Randi Weingarten has declared that "top-down mandates from superintendents or threats to teachers that if they report or take action they will be disciplined" don't work. Yet she supports the "Dear Colleague" letter.
The leaders of the National Education Association also support the letter, decrying traditional discipline as a manifestation of "institutional racism." That's a rather odd stance, given that the union is the institution. It is their own teachers they're calling racists.
On school discipline, there is a profound divide between national and local teachers union leaders. Local leaders are less interested in leftist ideology and more interested in protecting their members. They can't do much to affect policy so long as the "Dear Colleague" letter exists. But in a dozen districts, unions have polled their members about discipline "reform." To anyone who values the perspective of teachers, the results are profoundly troubling.
Teachers say schools are deteriorating and that they don't feel safe. In Oklahoma City, 60 percent of teachers say offending behavior increased since the letter came out (11 percent say it decreased). In Baton Rouge, Louisiana, 60 percent say they've experienced an increase in violence or threats and 41 percent say they don't feel safe at work. In Portland, Oregon, 34 percent of teachers say their school is unsafe. In Jackson, Mississippi, 65 percent say their school "feels out of control" on a daily or weekly basis. In Denver, 32 percent of teachers say discipline issues have hurt their personal safety and 60 percent say it has hurt their mental health. In Syracuse, New York, 36 percent of teachers say they have been physically assaulted, 57 percent say they've been threatened, and 66 percent say they fear for their safety at school.
There should be little wonder why things are getting worse: Teachers tell us that the "progressive" (or "positive" or "restorative") approach just doesn't work. In Santa Ana, California, 65 percent of teachers say it's not working. In Hillsborough, Florida, 65 percent of teachers say it doesn't improve school climate. In Jackson, 62 percent of teachers say they don't have adequate alternatives to detentions and suspensions.
When asked directly about progressive discipline, approval ratings plummet. In liberal Madison, Wisconsin, 78 percent of teachers say they understand the new approach, but only 48 percent say it aligns with their values and only 13 percent say it has a positive effect on student behavior. In Denver, only 23 percent of teachers say the new system improves behavior. In Charleston, South Carolina, about 13 percent of teachers think the new discipline system works, that the consequences are appropriate, and that it represents an improved approach. In Buffalo, New York, only 9 percent of teachers say they're supported by their administrators on discipline. In Oklahoma City, only 11 percent of teachers say that more progressive discipline would help.
By contrast, 65 percent of teachers in Oklahoma City want to see a greater enforcement of traditional discipline. In Philadelphia, more than 80 percent of teachers believe that suspensions are valuable for maintaining safety, removing disruptions so other students can learn, sending a signal to parents about their child's behavior, and helping to ensure that other students follow the rules.
These are all the local union surveys I have found after a systematic search of school districts that are under direct pressure from a Department of Education investigation to change their discipline policies. Nationwide, teachers oppose the school discipline "Dear Colleague" letter about 3-to-1.
I've found three districts where unions provided a forum for open and anonymous comment on discipline: Fresno, California; Buffalo, and Oklahoma City. The same horrible themes run throughout: principals refusing to manage misbehavior, turning a blind eye to violence, sweeping evidence under the rug, even rationalizing and excusing clear death threats. Teachers are telling us that administrators are behaving abominably. It's almost impossible to believe that adults, charged with the care of our nation's children, could act like this. But given the top-down mandates to reduce disciplinary statistics, this crass negligence is only a rational response to perverted incentives.
In theory, teachers unions should listen to teachers and act in their interests. But today's national unions are more interested in signaling leftist virtue than in physically protecting teachers.
I follow various Facebook teacher groups to keep a finger on the pulse of teacher opinion. Last week, one New York City teacher posted, "On Thursday, I was assaulted by a student. This is my third assault since December 2016. I warned my assistant principal via email that this student had been threatening me, and last week he attempted to assault me and was stopped by one of my paras. I had a meeting with my AP and I was thrown under the bus and basically told I was wrong for sending the student out of the room for his behavior. The student was successful a few days ago. … I'm now bruised all over and in horrible pain … I pressed charges. It's the last thing I wanted to do, but I'm not putting myself in that position again. My [question]: Now that I've pressed charges, do I have a right to request that the student be removed from my classroom?"
It seems like an insane question to have to ask. Unions exist to protect teachers from administrators who would prioritize their own career interests over teachers' physical safety. But by supporting a "Dear Colleague" letter that pressures principals to act with near-criminal negligence, national union leaders have given her and educators like her across the country a clear answer: "No, you should not have that right."
Max Eden is a senior fellow at the Manhattan Institute, specializing in education policy.
Support The 74's year-end campaign. Make a tax-exempt donation now.