Los Angeles Dreamers March on D.C., Joining Hundreds of Undocumented Youth in Demanding Congress Pass Dream Act by Friday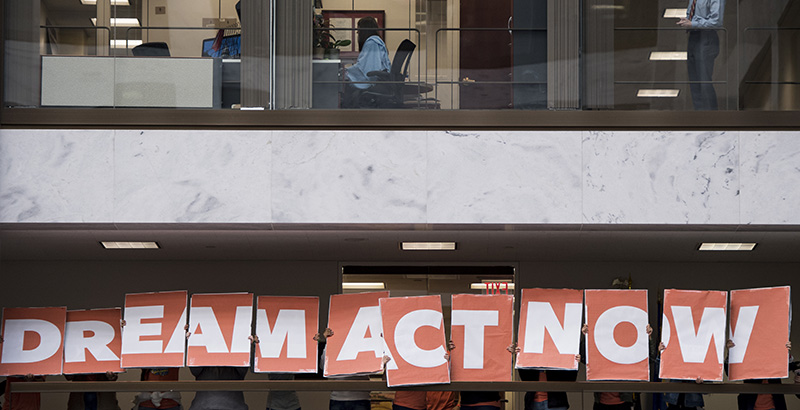 This article was produced in partnership with LA School Report
Los Angeles's Luis Tadeo sent his DACA renewal application Tuesday from Washington, D.C., where he and 30 other California undocumented youth have gathered with an urgent goal: to get Congress to pass a "clean" Dream Act by Friday.
Tadeo traveled with a group of Californians, mostly college students, organized by the Coalition for Humane Immigrant Rights of Los Angeles. They have joined about 300 other Dreamers from across the country who are working this week to pressure Republican members of Congress to pass the Dream Act by Friday. It's "our last chance to have the Dream Act passed because of the deadline to approve the federal budget," he said. "The immigration issue would play as a priority during those negotiations. After that, we could have missed Congress's attention."
These Dreamers — who are fighting for the 800,000 undocumented children and young adults protected from deportation under the Deferred Action for Childhood Arrivals program — will be visiting and calling members of Congress to press for a path to citizenship through a clean Dream Act, meaning free from ties to other immigration decisions including the building of a border wall with Mexico.
"DACA provided protections we needed but was always uncertain. DACA is not enough now. We want a permanent solution with no attachment to a border wall, no hurting our families, no separation of families anymore," Tadeo said.
He became a DACA recipient just before he started his studies at Cal State Los Angeles. Five years later, he has a degree in recreational therapy, but the Trump administration's September announcement of DACA's end threw his future into uncertainty.
"It was devastating, but I was well aware of how to fight back. It's been months of going out the street to get support for the Dream Act," said Tadeo, who has been working with CHIRLA.
His DACA work permit is set to expire in June, but he was able to apply for renewal Tuesday because of a court decision last week. A U.S. District Court judge in San Francisco issued a preliminary injunction effectively blocking the decision to end the program. That ruling followed five lawsuits filed by Dreamers, including a DACA-covered teacher at Los Angeles's Crown Preparatory Academy and the University of California system.
Over the weekend, the U.S. Citizenship and Immigration Services office announced it has resumed accepting renewal requests. But on Tuesday the Trump administration said it will appeal the judge's ruling to the Supreme Court.
The LA Unified school district reacted to the critical moment for undocumented immigrant families with a statement Tuesday from Hilda Maldonado, executive director of the multilingual and multicultural education department, and Erika F. Torres, executive director of student health and human services.
"All students have a right to voice their concerns and advocate for their future. We commend our young Dreamers for displaying courage and pride in advocating for their future, which will ultimately benefit the future of our country. We remain committed to providing a safe and welcoming environment for all LA Unified students and families. We will continue to be a school district that embraces inclusion and diversity."
Pedro Trujillo is also in D.C. with the California delegation. He said DACA is not what they're fighting for now. "We are tired of the uncertainty, of not knowing what's going to happen with the information of all those DACA recipients. We need a permanent solution because we don't want to live wondering if DACA will continue in federal courts or even be taken to the Supreme Court. We're just not hopeful about DACA anymore. We want a permanent solution."
The California Charter Schools Association (CCSA) joined others in the education community, including the Los Angeles Unified School District and the University of California system, in urging members of the U.S. Congress to recognize the importance and significance of permanently protecting students across the nation under DACA.
"We believe it is unconscionable to punish DACA recipients who were brought here as children, many of whom have only known the United States as their home. Many DACA recipients are attending, have graduated from, or are employed in California's charter public schools," said Jed Wallace, president and CEO of CCSA, in a statement.
"Dreamers have diligently earned their education and built professional and personal lives allowing them to contribute to their communities across California and the nation. Without the protections of DACA, a lifetime of learning will be jeopardized."
Erica Ortega, a Cal State LA student with the group in D.C., echoed the frustration. She is not undocumented, but her older sister is.
"We have been living one scary moment after another, and we are tired of that. I want to see my sister drive, work, travel just like me, without fear, feeling comfortable with her life," she said. "I want the Dream Act to be passed and ready to go by Friday."
Michele Siqueiros, president of the Campaign for College Opportunity, also issued a statement in support of the Dream Act on Tuesday.
"We urge Congress to pass the DREAM Act to protect Dreamers who make enormous contributions to our communities and economy, and more importantly because it is the morally right and smart thing to do. Our country cannot afford to lose the talent young immigrants and DACA beneficiaries provide our nation.  Despite their status, there is only one country they know and love, and that's the United States of America."
Tadeo said he is hopeful that Congress will do what is right. "Like never before, all Democrats support the Dream Act, and 78 percent of Americans support a permanent solution for DACA youth. We have bipartisan support. The Dream Act has to pass now."
Congress members who don't support that will face the consequences in November when they run for office, Tadeo said.
"We will be here until Friday night, but on Thursday we will intensify the mobilizations. We'll have caravans, including faith leaders who will join us … to ensure the Dream Act passes by the end of this week."
For more information on DACA renewals, The United We Dream network has published 5 things to know.
Support The 74's year-end campaign. Make a tax-exempt donation now.