DeVos Takes Tough Stance as Congressional Democrats Hammer Her on Budget Cuts, School Choice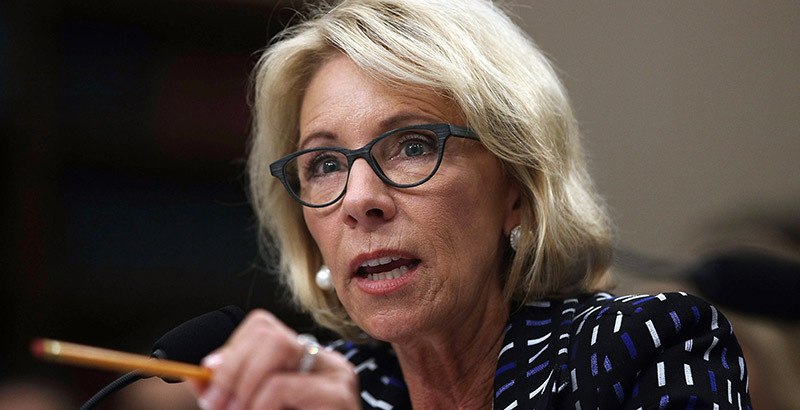 Washington, D.C.
The new Democratic majority on a House Appropriations subcommittee hammered Education Secretary Betsy DeVos on school choice, budget cuts and department actions throughout a 2½-hour hearing Tuesday.
Rep. Rosa DeLauro, the chair of the subcommittee, which has jurisdiction over the Education Department, started the hearing off with a bang, calling the budget "cruel" and "reckless."
"How can you support this budget? I mean that genuinely. You're the secretary of the Department of Education," she asked DeVos.
The department earlier this month proposed, for the third consecutive year, major cuts to long-standing programs, like afterschool centers, while requesting new school choice initiatives.
The secretary, who stumbled in early hearings before congressional committees, took a tough stance in her responses to Democrats' questions Tuesday, often speaking over members to finish her answers.
"This reduction is similar to last year's request, and the year before that, as well. I acknowledge that you rejected those recommendations," DeVos said in her opening statement. But the government will soon "run out of other people's money," and the administration's budget makes necessary cuts while promoting educational freedom, she added.
Democrats in particular focused on the administration's actions to overturn guidance on racial disparities in discipline and rewrite Title IX rules governing how schools respond to allegations of sexual assault, as well as several higher education topics.
Others emphasized the administration's proposed cuts to teacher training, afterschool centers and programs for people with disabilities, like the Special Olympics.
"It is very poignant to me that those programs that are particularly hurt address the minority populations, the poor populations, the teachers in the schools that are struggling more," said Rep. Bonnie Watson Coleman, Democrat of New Jersey.
Republicans defended DeVos, to an extent, noting that the department was working under congressionally mandated spending caps when writing the budget and that some of the proposed cuts are needed.
They also complimented some of the department's new proposals, like a $5 billion federal tax credit scholarship and a teacher mentorship program.
Rep. Jaime Herrera Beutler, Republican of Washington, called attention to Democrats' treatment of DeVos.
"There's a difference between asking a question and being tough, and being somewhat, ugh," she said, trailing off. "I appreciate your willingness to do the job even though you're being undermined as you sit there," she told the secretary.
Charter schools a focus
Though Democrats in the past have zeroed in on private school choice programs among DeVos's initiatives, this year they focused on charter schools.
Their questions targeted two reports.
A September report from the department's inspector general found that the department did not adequately oversee, or provide enough guidance on, states' closures of charter schools.
The second was produced by the Network for Public Education, an advocacy group started by education reform opponent Diane Ravitch; it said the department has spent $1 billion on charters that have never opened, or opened and then closed because of mismanagement.
Democrats questioned why DeVos sought a $60 million increase for the federal charter school program in light of those reports.
"You are taking public dollars to open charter schools and taking money away from the public schools, which is where 90 percent of our children are. … [Charter schools] open, they close, some of them don't even open. We are spending good money after bad," DeLauro said.
DeVos clarified that charter schools are public schools and said the department is aware of the issues raised in the report, many of which predate the Trump administration. Charters that aren't working should be closed, and more charters are needed to provide options for students, she said.
"We are very keen to ensure that the concerns raised are addressed, and we are also looking to this body for more flexibility for charters to be able to authorize the schools that are working," she said.
Rep. Mark Pocan, Democrat of Wisconsin, pressed DeVos on what the department was doing to get back taxpayer money that he said had been misspent, and Rep. Lucille Roybal-Allard, Democrat of California, quipped that the department wouldn't have to make cuts to programs like the Special Olympics if DeVos could get back those charter school funds.
Support The 74's year-end campaign. Make a tax-exempt donation now.