Designing a School Around Project-Based Learning: How NYC's Portfolio School Reconceived Its Campus With PBL — and Intentionally Slow Growth — in Mind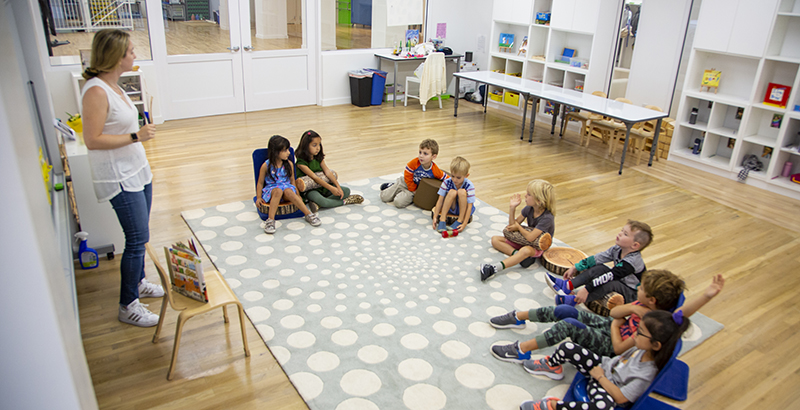 Clarification, Dec. 10
New York City
Architect Guillermo Gomez's clients often choose the ugliest spaces for him to work with.
Gomez said this as he walked through the spare interior of Manhattan's Portfolio School in early August, an 8,500-square-foot space that was still being painted and remodeled in anticipation of the students' September arrival. The space combines three different brick storefronts and snakes from wide-open areas to small nooks. You'd be hard-pressed to find one wall that is parallel to another, Gomez says.
But Gomez is turning the quirks into benefits. The Portfolio School is a for-profit, private, project-based-learning microschool that sidesteps traditional concepts like letter grades and homework in exchange for hands-on projects. Designing the space required thinking outside of the typical school architectural model of corridors lined with classrooms.
"[The space] has so many turns and nooks and coves that it's going to lend itself to create little corners of gathering for the human beings," Gomez said. "The flexibility of the space and the accidents of the space is actually the richness of the space."
The Portfolio School leaders have learned a lot since their school opened three years ago just a few blocks north of this new site at 90 Hudson Street that once partly housed a liquor store in hip, wealthy Tribeca. As they've expanded in grades — they now serve 29 students in K-6 but plan on growing to 12th grade — they've also come to understand how the structure of a school can help or hinder learning.
Their old school was one large open space, but they found that noise from makerspace machines and different class lessons could be disruptive. They also received feedback from students and parents that it was hard to find quiet time during the day.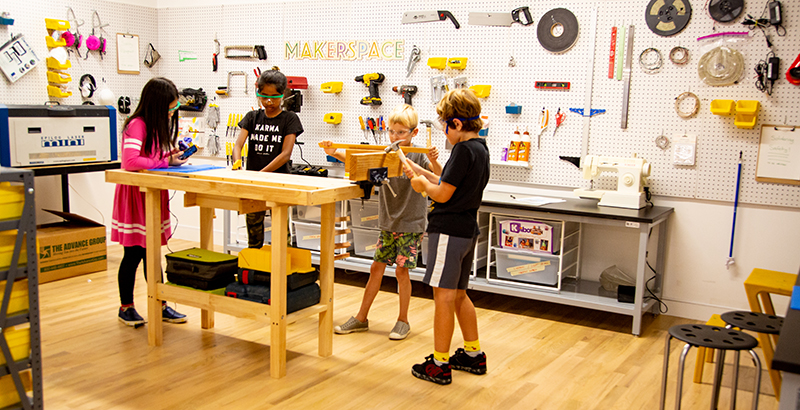 The new space tries to accommodate these needs in a few ways. First, the school comprises three main classrooms that are partitioned off by large doors. This way, sound won't be able to travel easily from room to room and the school can still abide by fire codes, Gomez said. The makerspace area remains in the main communal section of the building, but the loud laser cutter has been tucked away in an alcove in the back of the school to reduce noise.
While the classrooms serve as a home base for students of specific age groups, school leaders don't want their pupils to remain there all day. The large doors can swing open and connect the classrooms with open gathering spaces. Window seats, cushions, and tables and chairs are scattered around these communal areas for students to sit together and work. The leaders hope these types of seating opportunities encourage collaboration across age groups. Large gathering spaces also serve as exhibition areas for students to share their projects with families and the community.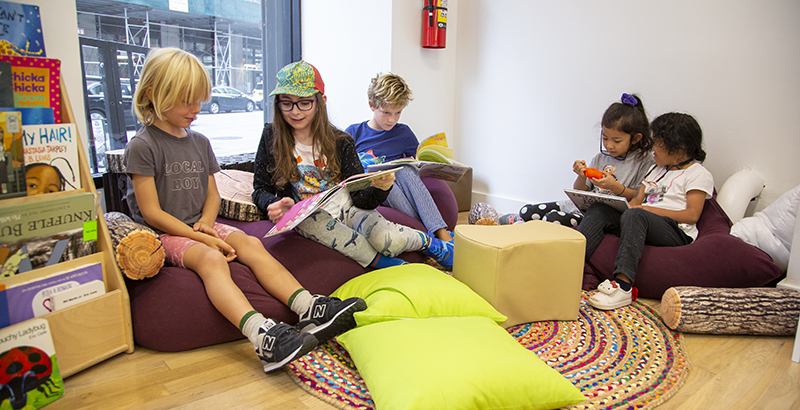 At the Portfolio School, students work on big group projects assigned by their teacher as well as personal passion projects. The projects range from learning how to make ice cream to creating papier-mâché characters to understand identity. While the projects align with a theme the school leaders select, they vary in complexity by the age group that is working on them.
The idea behind project-based learning is that students can apply academic concepts to real-world problems. But more traditional styles of instruction — like math and literacy — still happen at the Portfolio School.
The school was co-founded by Babur Habib, who had founded a digital textbook startup, and Doug Schachtel, who worked in marketing, to try to create a new approach to education. Tuition is $37,500 for the 2019-20 school year, and although it's less expensive than some of the city's most elite private schools, where the yearly bill can top $50,000, the school also offers fewer amenities.
There is no gymnasium, students mostly play outside unless it gets below 29 degrees then they are bused to either a nearby gym, yoga or dance studio where the school rents space. The students play tennis and swim once a week. Organized sports are just beginning, with a girls basketball team possibly starting in January and competition against other schools in soccer and other sports kicking off next September.
The flexible seating of the space also allows students time for individual work. Teachers will have desks and chairs that they can adjust for sitting, standing or rolling around the classroom to be closer to students.
Designing a space where students have multiple ways of learning and interacting with their peers emphasizes the idea that education isn't a one-size-fits-all system, said the head of school, Lorenzo Krakowsky. It also prepares students for the working world, where soft skills like collaboration, communication and leadership are valued, Krakowsky added.
"It's about individualizing education so students are seen and valued and listened to," Krakowsky said.
Gomez also designed the space with the idea of projects in mind. Many of the walls will be white with the expectation that student work will soon be displayed on them. Gomez also plans to hang banners from the ceiling that the students will be able to dye different colors as a study in color gradients.
The first phase of construction was completed by the time students started school on Sept. 4, and a second phase is expected for next school year. Another 2,500 square feet in the basement of the school will be used for storage and a very traditional element of any school: a teachers' lounge. Back on the first floor, a large gathering space will be sunk several feet to allow for bleacher-style seating and a performance area.
The new site can hold up to 80 students and will add sixth-, seventh- and eighth-graders over the next three years until it can find another site to house its upper grades.
While the Portfolio School is expanding slowly, it is doing so intentionally, said co-founder Schachtel. The leaders want to avoid the mistakes of other microschools that shut down after growing too quickly.
"Let's get one working well and see if we can scale that," Schachtel said.
The school is working on extending its reach in a different way. The Portfolio School recently announced that it received a grant from the J.W. Couch Foundation to develop an online platform, "Project ScaleUp," where teachers can design and share the projects their students have worked on.
Clarification: Information has been added to the story to clarify Portfolio School students' access to a gym and organized sports and the location of the school's makerspace.
Get stories like these delivered straight to your inbox. Sign up for The 74 Newsletter