DeSantis-Backed Candidates Rack Up School Board Wins Across Florida
Nineteen of the 30 candidates endorsed by the governor for school board won their races, including those in more left-leaning counties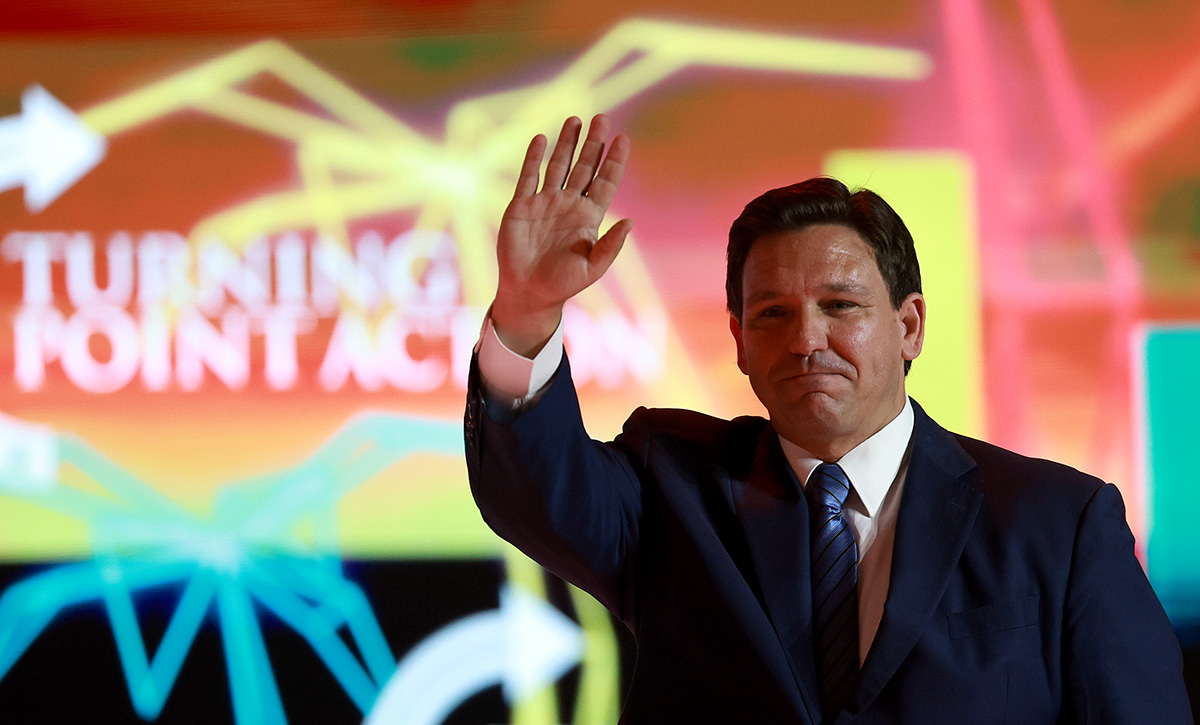 Support The 74's year-end campaign. Make a tax-exempt donation now.
Florida Gov. Ron DeSantis's effort to fill local school board seats with candidates who embrace his conservative education agenda was mostly a success Tuesday night — even in some counties that lean to the left.
Unofficial results show 19 of the 30 candidates he endorsed won their races. Six others are headed to runoffs in the general election on Nov. 8 and five were defeated.
"Women with kids are the swing vote in Florida," said Susan MacManus, a political science professor at the University of South Florida. DeSantis, she added, was "brilliant" in waiting until early voting was over Sunday to hold rallies on behalf of his candidates. "He knows that the majority of Republicans are going to vote on Election Day."
The majority of the governor's favored candidates won in counties that voted for former President Trump in 2020, but some also picked up seats in Democratic strongholds.
"We're excited about the boards we flipped that now have a majority of parents' rights members," said Tina Descovich, a co-founder of Moms for Liberty, a growing conservative organization that, like DeSantis, is opposed to schools' attention to LGBTQ rights and social justice issues. "Parents know their children the best."
In Miami-Dade, the state's largest district, DeSantis-backed Monica Colucci, an educator who worked in the governor's administration, defeated longtime incumbent Marta Perez. And Roberto Alonso, who founded an ed tech company and owns an adult day care, beat two other candidates, including Maribel Balbin, who was endorsed by the teachers union.
Balbin said she didn't want Alonso to "walk into a seat without at least having a challenge of some sort."
In Duval County, which includes Jacksonville, April Carney — who Democrats charge was part of the Jan. 6, 2021 insurrection at the U.S. Capitol — beat incumbent Elizabeth Andersen, a licensed mental health therapist. Carney, one of DeSantis's candidates, has not confirmed whether she was at the Capitol that day.
"I'm concerned for our teachers and students," Andersen told The 74. She rejected political endorsements because she didn't want the race to be partisan. "This level of political involvement by the governor in a local race is unprecedented and un-American."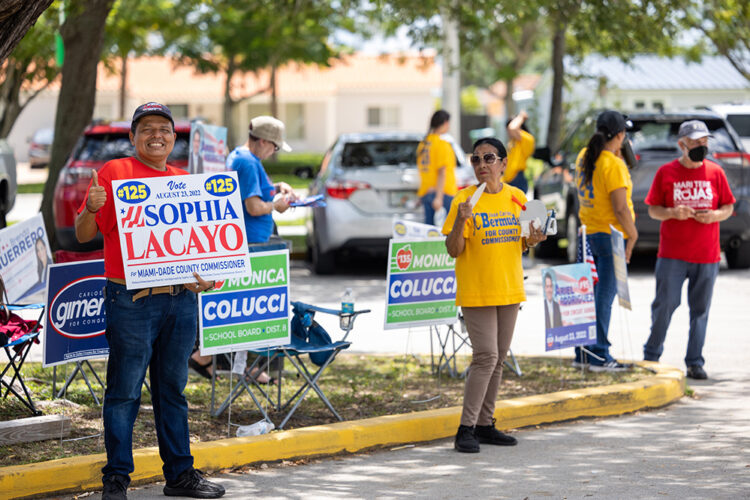 The primary was a chance to gauge how voters would respond to DeSantis's anti-"woke" education agenda.
DeSantis has made parental rights a cornerstone of his re-election campaign. In November, he'll face U.S. Rep. Charlie Crist, a Democrat and former governor who released his own list of school board preferences. But some education advocates viewed the endorsements from both candidates as unwelcome intrusion into nonpartisan races.
"Parents don't like it," said Melissa Erickson, executive director of the Alliance for Public Schools — an advocacy organization focusing on districts along the I-4 corridor, from Tampa (Hillsborough County) to Daytona Beach (Volusia County). "They want school board meetings to be boring again."
In Hillsborough County, where Crist's and DeSantis's candidates went head-to-head, Erickson saw less of an impact. Incumbent Stacy Hahn, endorsed by DeSantis, was reelected, as was incumbent Karen Perez, who picked up Crist's endorsement. Another DeSantis candidate, Patricia Rendon won an open seat.
"Two incumbents are going back to the school board. People are voting for who they know," Erickson said. "Nobody massively outperformed their demographic."
'A one-size-fits-all' agenda
DeSantis unveiled his initial 10 endorsements in June. After Crist announced his preferred candidates in July, DeSantis expanded his list to cover 18 districts.
To earn the governor's support, candidates had to complete a survey and commit to furthering his 10-point education agenda, which includes keeping "woke gender ideology out of schools" and rejecting critical race theory in the curriculum.
Andersen, in Duval, said the pledge runs counter to the principle of local control in education.
"To me that's a one-size-fit-all education agenda," she said. "We are not the same as Hillsborough or Miami. We want to make decisions that work for our schools and our kids."
But she represents a more conservative, mostly white part of the county. Carney won 53% of the vote.
With the Florida governor expected to seek the Republican nomination for president in 2024, the question is whether his education platform translates outside of Florida as well. He recently took his message to Arizona, Pennsylvania and Ohio, stumping for Republican candidates. Republican Doug Mastriano, running for Pennsylvania governor, said he wanted to make his state the "Florida of the North."
"Many people have moved to Florida because of what we've done," said Alysha Legge, who lost to incumbent Perez in Hillsborough. She pointed to above-average reading proficiency scores and keeping schools open during the pandemic as reasons contributing to the state's growth. "I honestly would love for him to stay in Florida. We need him a little longer."
Population growth and changing demographics have shifted the state in a conservative direction. Part of that growth includes an influx of Cubans. While they tend to lean more Republican, research shows, some experts on Florida politics said that doesn't mean they are as far to the right as DeSantis and former President Donald Trump.
​​"Hispanics are more in the center. They're trying to figure out what U.S. politics are all about," said Marcos Vilar, executive director of Alianza, a nonprofit that has worked to get Hispanic candidates elected to school boards.
Vilar was more focused on races in Orange County, which has a large Hispanic population. DeSantis didn't endorse anyone in those races, but there were still contests between conservative and more liberal candidates.
In Orange, incumbents Teresa Jacobs and Angie Gallo fended off conservative challengers, but Alicia Farrant, part of Moms for Liberty, will face Michael Daniels in a runoff. Many of DeSantis's picks also received backing from the 1776 Project PAC, a conservative group focused on removing any influence of critical race theory over K-12 curriculum.
In Manatee County, just south of the Tampa area, Sean Conley challenged DeSantis-backed incumbent Chad Choate. Although he's a Republican — supporting for-profit charter schools, tighter security and fiscal responsibility — Conley said he knew it would be difficult to win. Even the chairman of the local Republican party got involved in the race. urging members in an Aug.18 email to be "laser-focused" on winning the seats for DeSantis's candidates.
Rev. James Golden, another Manatee County board member who ran for re-election is a local leader in the Democratic party. But he said he has "scrupulously" avoided partisanship in his role as a board member.
With voters last fall renewing a higher tax rate for the school district, Golden thought that was a good sign they would vote him in for another term. But challenger Richard Tatem earned just enough votes to avoid a runoff.
The governor, Golden said, is "tearing down the fundamental premise behind public education." Teachers, he added, shouldn't have to worry about "whose mama is a Democrat and whose daddy is a Republican."
Support The 74's year-end campaign. Make a tax-exempt donation now.