Democrats Hammer DeVos for "Shameful" Proposal to Cut Special Olympics Funding, Eliminate Money for Student Mental Health Services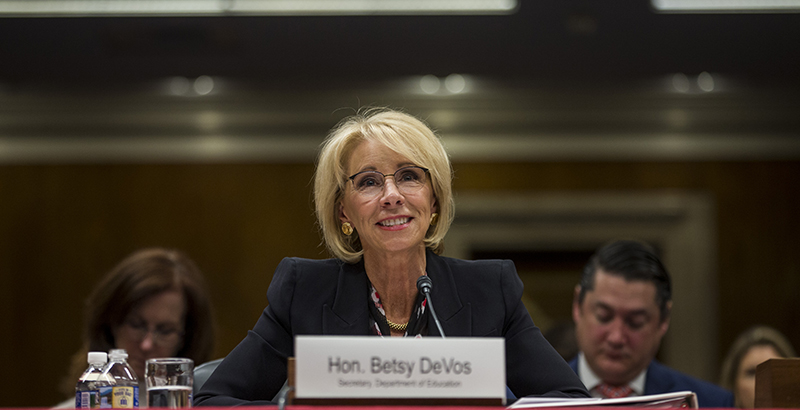 Updated, 5:30 p.m. – President Donald Trump announced late Thursday afternoon that the administration would no longer push to eliminate federal funding for the Special Olympics.
"I've been to the Special Olympics. I think it's incredible and I just authorized a funding. I heard about it this morning. I have overridden my people. We're funding the Special Olympics," he said.
Education Secretary Betsy DeVos, in a statement, said she was grateful she and the president see eye to eye. "This is funding I have fought for behind the scenes over the last several years," she said.
It wasn't immediately clear who was responsible for the proposed cut, given that both Trump and DeVos denied involvement.
Senate Democrats criticized Education Secretary Betsy DeVos Thursday over the Trump administration's much-maligned proposal to eliminate funding for the Special Olympics.
"Whoever came up with that idea … gets a Special Olympic medal for insensitivity," Sen. Richard J. Durbin of Illinois said.
In a hearing that focused largely on higher education amid an ongoing effort to reauthorize the Higher Education Act, Democrats zeroed in on the department's requests to cut federal funding for the Special Olympics, which received roughly $18 million this year. This is the third consecutive year DeVos has proposed eliminating federal funding for the program, a request Congress has never honored.
The issue garnered wide press attention earlier in the week, when Rep. Mark Pocan, Democrat of Wisconsin, asked DeVos at a House Appropriations hearing about the proposed cut and how many participants would be affected.
Such was the uproar that DeVos was forced to release a statement Wednesday, noting her personal support for the Special Olympics and its mission, but reiterating that budget cuts had to be made and that many worthy nonprofits don't get federal funding.
She emphasized many of those points Thursday when questioned by Democrats.
"I love Special Olympics myself. I have given a portion of my salary to Special Olympics. I hope all of this debate encourages private contributions to Special Olympics. Let's not use disabled children in a twisted way for your political narrative. That's just disgusting and it's shameful," she said.
Eliminating the funding is also "shameful," Durbin replied.
When asked by Durbin, DeVos said she wasn't personally involved with the decision to propose eliminating the funding, to which he responded, "Someone has to accept responsibility for a bad decision."
Sen. Patty Murray, the subcommittee's ranking Democrat, disputed DeVos's explanation that the cut was about budget constraints. The Education Department's budget is about $71 billion; DeVos proposed cutting that funding by about 10 percent.
DeVos sought to end spending for the Special Olympics but requested additional funding for the charter school program, even as the department is having trouble spending the $40 million increase the program got last year, Murray said. (The program has been a big winner in recent education budgets, seeing its funding increased by more than 70 percent over the past five years.)
"This is not about tough choices, this is about you prioritizing your agenda over students with special needs," she said.
Republicans, as they did in the House Appropriations Committee, pointed out that the Trump administration was following congressionally mandated spending caps in writing its budget and had to make cuts.
The final spending deal for the new fiscal year, which begins Oct. 1, is unlikely to follow those caps, said Republican Sen. Roy Blunt of Missouri, chairman of the subcommittee that oversees the Education Department.
"There are programs here that are unlikely to be eliminated in any final budget," he said.
The subcommittee, which also authorizes funding for the Labor and Health and Human Services departments, has passed bipartisan funding agreements, a contrast to years prior when partisan disputes held up final deals.
One reason the subcommittee has been able to pass those deals, Blunt said at the top of the hearing in a seeming warning about the Special Olympics funding debacle, "is that we have worked hard not to make things we agree on more partisan than they need to be."
Student mental health and safety
Democrats also asked DeVos about school safety and mental health services, particularly in the wake of recent suicides by those connected to the Parkland, Florida, and Sandy Hook, Connecticut, school shootings.
DeVos's proposed budget would eliminate the broad-purpose grant program known as Title IV, which this year is about $1.2 billion. The funds can be used for a variety of purposes, including technology, mental health and school safety.
"What rationale could [there] be for cutting the federal funding that helps schools build these suicide prevention programs," Sen. Chris Murphy of Connecticut asked. "They're just not going to be replaced magically by private dollars, when we have a national [suicide] epidemic that we have to get our head and hands wrapped around."
DeVos said, as she has before, that the Title IV money is "too thinly spread," with two-thirds of districts getting less than $30,000, and the other third getting less than $10,000.
Instead, she pointed to a proposed $700 million that would be spent across several departments on school safety, including $100 million from the Education Department for mental health and social-emotional learning.
Sen. Tammy Baldwin of Wisconsin asked what evidentiary basis DeVos had for her assertion that funding was too thinly spread, questioning how a smaller grant would address the lack-of-resources issue.
"I fail to see how a much smaller amount could possibly replace [Title IV] and provide meaningful support to school districts for the broad range of student health and safety needs," she said.
Get stories like these delivered straight to your inbox. Sign up for The 74 Newsletter