Amid Latest Suicides With School Shooting Ties, Columbine Families Share Lessons on Addressing Lasting Trauma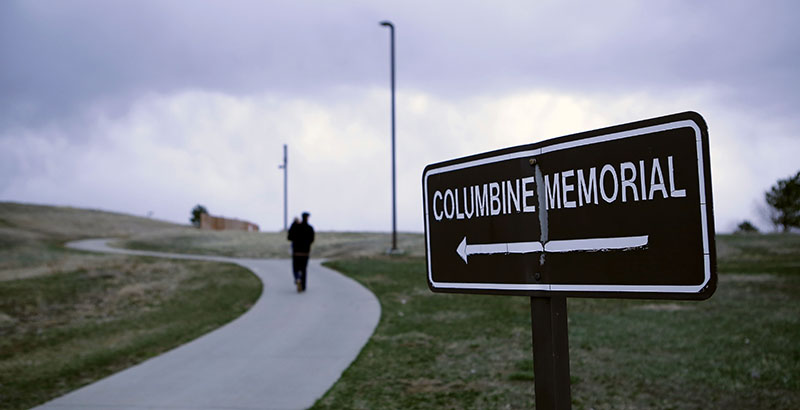 Jefferson County, Colorado
Over the course of about a week, three people with ties to mass school shootings died by apparent suicide, bringing to the forefront conversations about the long-term trauma of people who suffer losses from violence.
The Columbine High School tragedy, perhaps the most well-known mass shooting in American history, transpired nearly 20 years ago. With the two-decade anniversary approaching, The 74 met with survivors and the families who lost loved ones during the 1999 tragedy in suburban Denver. The Columbine community outside of Littleton endured several suicides following the school shooting, including a star high school athlete and the mother of a student who was paralyzed in the tragedy.
During an event at the Columbine High School library on Saturday, the families shared details of their own mental health challenges after the shooting — and the strategies they've used to cope with significant, ongoing grief.
"The primary thing you really have to keep in the forefront is 'What would your child want of you?'" said Tom Mauser, whose 15-year-old son Daniel was killed at Columbine. "Would they want you to be stuck in the same place with agonizing grief and unable to move on? Of course not. That's not what they would want for you, so you have to respond to that."
Among those who reportedly died by suicide in the past week is a graduate of Marjory Stoneman Douglas High School in Parkland, Florida, who survived a mass school shooting on the campus in February 2018. After the shooting, in which 17 people were killed, the 19-year-old woman reportedly suffered from survivor's guilt and was diagnosed with post-traumatic stress disorder. She took her life on March 17.
On Saturday, multiple Florida news outlets reported that a male sophomore at Marjory Stoneman Douglas High School died in what police called an "apparent suicide." Two days later, on Monday, a 49-year-old man died of apparent suicide in Newtown, Connecticut. He is the father of a 6-year-old girl who was killed in the 2012 mass shooting at Sandy Hook Elementary School. In that shooting, 26 people were killed.
Although all of the victims have ties to mass school shootings, it's important to note that people generally do not take their own lives due to one single event and suicide is typically the result of a combination of several factors, according to the American Foundation for Suicide Prevention. However, recent research has pointed to significant mental health challenges among those who survive or experience mass violence, according to the American Psychological Association.
About a quarter of the people who witness a mass shooting develop post-traumatic stress disorder and a third develop acute stress disorder, according to estimates by the National Center for PTSD, a division of the U.S. Department of Veterans Affairs.
While most survivors show resilience, they're at risk of mental health problems including post-traumatic stress, depression, anxiety and substance abuse. In fact, mass shooting survivors may be at greater risk for mental health difficulties than those with other traumatic experiences, including those who survive natural disasters.
For Columbine High School graduate Heather Martin, who was a senior at the time of the shooting, it took her a decade before she could begin to heal. Now, she's a high school teacher in nearby Aurora, Colorado. Martin went to college the year after the shooting, but she struggled and ultimately failed out. It wasn't until the 10th anniversary of the shooting that she fully recognized that her struggles stemmed from trauma. Visiting the high school in 2009 and meeting with former classmates, she said, "really changed the trajectory for me." That same year, she went back to school and pursued a career in teaching.
"People who have been traumatized are our own worst enemy because you're going to try to minimize it as much as you can," Martin said. "That is so dangerous for people who have been traumatized because you're not facing it, you're not confronting it, you're minimizing it and you're invalidating the feelings. And that can lead to some really dangerous outcomes."
Suicide is the second-leading cause of death among school-age children. About 18 percent of high school students considered suicide and 9 percent attempted to take their own lives at least once in 2015, according to the National Association of School Psychologists. However, such tragedies are preventable since those who are considering suicide typically display warning signs. Those signs include suicidal threats, preoccupation with death, changes in behavior, and making final arrangements like giving away prized possessions. Other risk factors include previous suicide attempts; self-injury, such as cutting; mental illness, including depression and substance abuse; and a family history of suicide.
But there is hope. Research suggests survivors benefit from community connections and ongoing support. Parents who lost children in the Columbine shooting said strong community ties were instrumental as they grieved.
Mauser, who still wears the sneakers his son wore on the day of the Columbine shooting, found several ways to occupy his time. While everybody grieves differently, he said, he decided to adopt a baby girl from China a year after the tragedy. Advocating for gun control also became part of the healing process.
The Columbine shooting affected Coni Sanders differently than others who lost loved ones in the tragedy. Coni's father, Dave, a computer and business teacher at Columbine, was the only adult killed in the shooting. It was difficult because society doesn't put as much weight on an adult's murder, she said. But to cope with the loss, she chooses to focus on her father's heroism. Dave Sanders, who also coached girls' softball and basketball, sprinted into the school's cafeteria as shots rang out and ushered students out of a side door before being shot.
"He saved hundreds of kids," said Sanders, who is now a mental health professional working with people who were convicted of violent crimes. "There's a reason there were only 12 children that died and it's because he ran into the cafeteria and saved hundreds."
Rick Townsend, whose 18-year-old daughter Lauren was killed in the Columbine shooting, used several strategies to grieve. He sought counseling and made close connections with other families affected by the shooting. During holidays, his family made sure to try something new. On the first Christmas after Lauren's death, for example, his family chose to volunteer by feeding the homeless. He also spent time tricking out a Chrysler PT Cruiser, which he bought around the time of the shooting.
"How you get through it," he said, "is you try to have a strong support system: It's family, friends, counseling, and maybe a car."
The intense news coverage that followed the Colorado shooting — and was echoed in Florida and Connecticut — also made the grieving process difficult, Martin said.
"Grieving in the spotlight is a whole different animal," Martin said. "Grief is grief and trauma is trauma, but it has a little different spin to it when everybody is watching."
Click here to learn more about preventing youth suicide.
If you are in crisis, please call the National Suicide Prevention Lifeline at 1-800-273-TALK (8255), or contact the Crisis Text Line by texting TALK to 741741.
Support The 74's year-end campaign. Make a tax-exempt donation now.