Delisle & Stanton: Students Say Supportive College and Career Pathways Kept Them Engaged Through COVID Shutdowns. How Schools Can Use Federal Funds to Help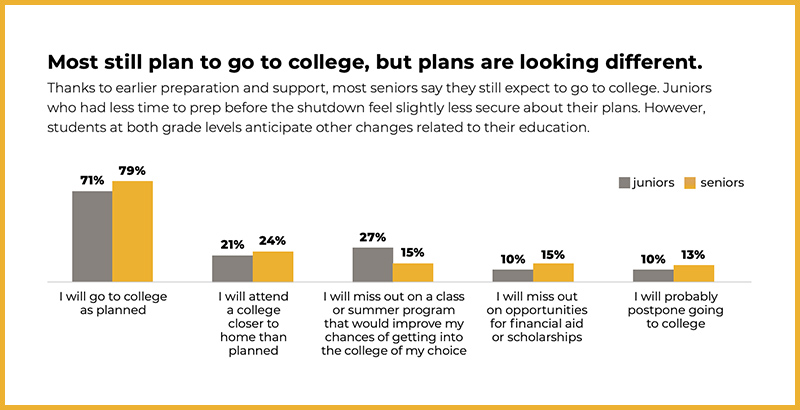 After a year of interrupted learning and adapting to virtual classes, families and educators are intensely worried about how to make up for lost instruction. The scope is staggering. Millions of students, many at critical junctures in their development, have lost meaningful in-person connections to their peers, teachers and schools. The effects are deeply inequitable and are impacting students' postsecondary prospects. Sadly, freshman enrollment in college is down 13 percent overall and nearly 30 percent for students of color in public two-year colleges.
With new leadership, it's heartening to see the federal government finally stepping up to address the steep challenges students and families are facing by investing billions of dollars in K-12 schools. This funding can be used to provide young people with meaningful educational experiences, including work- and project-based learning, and college and career exploration opportunities that are proven to help more students stay in school, graduate on time, and develop the knowledge and skills employers seek for the future.
Students have been missing out on many things. But how to catch them up? Conventional methods, like summer enrichment programs, afterschool tutoring and homework help, have been proposed to address learning loss. However, these add-ons easily are generally available only to a privileged few. Even in communities that invest in these ways, afterschool options simply don't fit for students who have to juggle work and family responsibilities — some of the very students whose learning has been most disrupted by the pandemic.
Luckily, the public funding is highly flexible and provides schools with a unique opportunity to think creatively about how to recover the learning loss. This means more than added academic help. Students need learning opportunities that connect to the real world and tap into the resilience they've shown during the last year to engage their minds and passions. They need social and emotional support, because this past year has caused trauma that is real and still raw.
When education leaders think of our greatest aspiration for students — preparing them all for college and careers — we find answers in the "and." As highlighted in a series of analyses produced by the Alliance for Excellent Education (All4Ed), 29 states have multiple pathways to graduation, like Nevada's Advanced College and Career Ready Diploma options or the OhioMeansJobs Readiness diploma seal, which can encourage students to go beyond minimum expectations and districts to offer experience that better prepare their students for life after high school. However, 13 states require students to choose between college and career pathways instead of blending the two, denying them a variety of options once they graduate. Instead, students need comprehensive college and career pathways that blend rigorous academics, work-based learning experiences, including internship, and opportunities for high school students to earn college credit. Research from the Brookings Institution shows that work-based learning keeps students motivated, engaged and connected to their sense of purpose. Other studies show that students earning college credit in high school are more likely to secure a postsecondary degree.
In a recent survey, the Linked Learning Alliance reached out to 1,300 high school juniors and seniors to ask how they were doing and what they wanted and needed most during the pandemic. They reported that one of the things they want most is someone to whom they can talk — peers, teachers, counselors, academic advisers and other trusted adults. Specifically, more than 7 in 10 students said that being a part of a supportive college and career pathway has kept them motivated and engaged through school closures. More than 60 percent of respondents highlighted virtual work-based learning experiences in particular, as something they value and prioritize. And 80 percent of seniors said they are still going to college as planned.
We know that work-based learning and integrated support systems create real benefits, particularly for students who start high school academically behind or or are from historically underserved communities of color. Research shows that students who experience the type of education that integrates career learning with rigorous academics in a nurturing, supportive environment during school hours earn more high school credits, graduate at increased rates and enroll in college at higher rates than their peers in traditional high schools.
In the Los Angeles Unified School District, thousands of students are experiencing this type of Linked Learning engagement in 60 virtual work-based opportunities, with support from area businesses and mentorships with local professionals. These young people are building their knowledge, social capital and connections for college and career prospects.
As district and school leaders seek ways to invest the government's significant influx of education stimulus funds, we need to look ahead at what we want for our students: skills that will help them thrive in both college and careers and, in turn, to lead our communities and industries in the future. As states and districts contemplate how to best use their COVID-19 relief funding, we should think differently and thoughtfully about how to address learning that had been lost and build better systems for the future. College and career pathways fit the bill on all counts, for students and the future they richly deserve.
Deborah S. Delisle is president and CEO of the Alliance for Excellent Education and served as assistant secretary of elementary and secondary education at the U.S. Department of Education from 2012 to 2015.
Anne Stanton is president of the Linked Learning Alliance and is principal architect of the Linked Learning movement.
Get stories like these delivered straight to your inbox. Sign up for The 74 Newsletter