Dear Adult Leaders: Black Students' Disadvantage Isn't Just in the Achievement Gap. Give Them an Equal Chance to Take Advanced Courses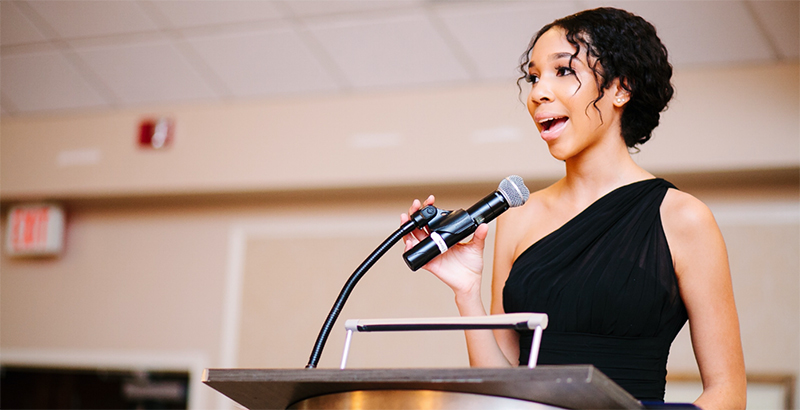 This piece is part of "Dear Adult Leaders: #ListenToYouth," a four-week series produced in collaboration with America's Promise Alliance to elevate student voices in the national conversation as schools and districts navigate how to educate our country's youth in a global pandemic. In this series, students write open letters to adult leaders and policymakers about their experiences and how, from their perspectives, the American education system should adapt. Read all the pieces in this series as they are published here. Read our other coverage of issues affecting young people here. This letter focuses on the issue of race and racism in schools.
To the Cheltenham School District Board and school boards across the country:
Black students in America are facing an invisible threat that extends beyond the pandemic. This threat is widespread and prevalent, yet not as overt as the threats they face of police brutality and hate crimes. This threat is rooted in racism, yet continues to plague Black students, unseen and unacknowledged.
It has been labeled the achievement gap. A "gap" is a seemingly mundane name for what I believe is a gaping, dark mass enveloping young minority students, particularly African Americans, into a never-ending, spiraling fall of underachievement.
This issue has resonated with me for quite some time. The lack of diversity I have witnessed in high-level classes is astounding, and through no fault of our student body, the achievement gap within our school district is wide and disproportionately affecting Black students. And it's only worsening now as we attend school remotely. I see and admire the brilliance of many of my Black peers and feel strongly that the demographics of these classes do not reflect the talent and academic prowess of our students of color.
According to data and statistics from the U.S Department of Education's Office of Civil Rights, 52 percent of my high school is composed of Black students, yet white students are 3.1 times more likely to be enrolled in an Advanced Placement course. Although Black students make up more than half of my school, AP course enrollment is dominated by white students at 55 percent enrollment. At our middle school, white students are 10.2 times more likely to be enrolled in the Gifted and Talented program and make up 75 percent of it, while Black students only make up 13 percent. There can be absolutely no defensible excuse as to why a high school with a majority population of Black students has such dismal rates of high-level class enrollment and achievement.
High schools must take greater initiative to promote the enrollment of African American students in honors and AP classes by implementing programs aimed to help them excel and by eliminating disproportionate class placement systems in early education. Schools implement tracking systems for elementary and middle school children that are supposed to place them in certain classes based on ability and promise. Instead, they disproportionately place African American students in basic, rudimentary classes. This new-age form of segregation sets Black students back from the get-go, keeping them on a path of underachievement throughout their educational careers.
Correcting this flawed system can begin with simple steps, such as providing Black students with positive role models of color — like more Black teachers within schools. In order for disenfranchised students to perceive higher education as an attainable goal, the diversity of the teaching staff must reflect the diversity of the student body. Discipline referral rates of Black students must be critically analyzed and reviewed in all high schools for racial bias — students cannot excel in environments where they are being overpoliced and harshly adjudicated for minor offenses disproportionately. High schools should also implement AP tutoring services and introductory programs to high-level classes for students who may be intimidated by them and unsure of how to succeed in more difficult learning environments.
Finally, the work does not begin and end in high school. Tracking systems and tests that divide minority students into rudimentary classes in elementary and middle school must be eliminated. First-generation minority students should be provided resources to be guided through the college application process, and continually supported throughout their university experience. High schools everywhere, including mine, must endorse these initiatives and re-examine their educational practices to ensure they are equitable and inclusive for all students.
An institution cannot tout "diversity" as its selling point, as many do, and then continue to allow the chance for true educational equity to silently dissipate as Black students are unwittingly being set up for disenfranchisement in their future pursuits of higher education. In order to enact change, it is up to high schools like mine to reverse these numbers and bridge this educational gap for African American students who seek accelerated courses of study, but who are hindered from doing so by the effects of systemic inequity.
African Americans simply face more barriers when it comes to education — a history that can be traced back hundreds of years. Beginning in early education with effects lasting a lifetime, the impact of segregated schools and the consequences of continual cycles of systemic racism have plagued America's Black children. These students need as much support as possible to push past these barriers and reach higher levels of education and myriad untapped future potential — all of which lies beyond the "gap."
Sincerely,
Ava President, 18
Cheltenham High School
Wyncote, Pennsylvania
This series highlighting the perspectives of American youth is in part sponsored by Pure Edge, Inc., a foundation that equips educators and learners with strategies for combating stress and developing social, emotional and academic competencies.

Get stories like these delivered straight to your inbox. Sign up for The 74 Newsletter