D.C. Public Schools Won't Lose Money This Year Despite Enrollment Loss; Experts Ask: Is That Enough For Post-COVID Recovery?
By Taylor Swaak | May 5, 2021
Get essential education news and commentary delivered straight to your inbox. Sign up here for The 74's daily newsletter.
Despite enrollment loss during the pandemic, D.C. Public Schools will receive at least the same level of funding as last year.
At least 35 percent of DCPS schools were poised to lose anywhere from a few thousand dollars to more than half a million as the district projects about 1,500 fewer students in FY22. In line with nationwide trends, families shifted to homeschooling, or may have transferred to charters or private schools, advocates told The 74 last fall. Immigrant families, especially, left the city to live with others amid job loss and financial strains.
But after public outcry not to penalize schools for the enrollment drop, D.C. Mayor Muriel Bowser announced district schools will receive $14 million of DCPS' latest federal funding to close the gap.
"DCPS is committed to securing a strong foundation for our road to recovery, even as student enrollment — a primary driver of school's funding — decreased this school year," DCPS Chancellor Lewis Ferebee wrote in a letter to families announcing the $14 million.
Experts and advocates welcomed the news, but told The 74 they believe even more will be required to address students' burgeoning academic and emotional needs after the pandemic and going into next school year, as well as inflation. Some are also questioning whether the funds will be distributed equitably, considering schools that stood to lose the most money serve above-average percentages of at-risk youth and students of color.
"Some progress was made," Ward 7 Education Council chair Marla Dean told The 74. But it "definitely does not mean that [schools are] going to be able to do more. And this is a more year, not a less year."
Experts said schools could still lose staff, or not be able to hire additional personnel like mental health professionals, because of inflation, which is projected at 2 percent for 2022, according to the Congressional Budget Office.
Longtime D.C. budget expert Mary Levy calculated that accounting for inflation, it would cost about $17.7 million to truly eliminate funding losses between FY21 and FY22.
DCPS isn't particularly strapped for cash, experts noted — it's anticipating nearly $300 million in federal aid, a historic investment — but district officials have restricted schools' ability to use those funds for budgeting staff. The mayor's announcement, which directed $14 million of DCPS' latest round of federal funding to erase schools' budget shortfalls, marked a departure from those guidelines.
Prior to Bowser's announcement, Dean had shared anecdotes from Ward 7 parents and schools: Full-time staff being reduced to part-time. Librarian, music, art and PE jobs on the chopping block. Eliminated funding for college tours, experiential learning off campus, and teacher and student "celebration and recognition."
While many positions may now be reinstated, the reality that DCPS has this federal windfall to support recovery efforts like academic acceleration and technology access but could simultaneously still see staff cuts is confounding parents, D.C. Auditor Kathy Patterson said. DCPS instructed schools early on not to use supplemental federal funds to keep or hire full-time, permanent staff, citing concerns of a "fiscal cliff" once funding runs out.
(D.C.'s two largest charter networks reportedly plan to hire more than 100 full-time teachers. Charters are receiving and deciding what to do with their federal funding separately).
"My biggest concern is just the process DCPS will use to communicate to schools that they now have access to this [$14 million] funding and can indeed use it to stabilize staff," Qubilah Huddleston, an education policy analyst at the D.C. Fiscal Policy Institute, told The 74. "Hopefully DCPS is supporting principals in re-engaging their [school communities] to make collective decisions."
On top of asking whether the $14 million will sufficiently cover staffing, experts have reservations, too, about whether the funds will be distributed equitably.
Along with leveling out DCPS schools' budgets, the allotment is being used to "fulfill all outstanding budget assistance requests from school communities," Ferebee noted in his letter to families. That statement left some experts wary of whether schools that were more aggressive in demanding additional funding earlier in the budget process will reap outsized benefits.
There's "a level of privilege" involved here, Levy said. "There are some people who are more aggressive about petitioning; these are usually middle-class parents at middle-class schools. … [some lower-income] parents are just not in that mode. They may be working two jobs. Or they've been evicted and they don't know where to go. … They have bigger fish to fry."
"The fact that somebody petitions," she continued, "doesn't mean they're the most deserving."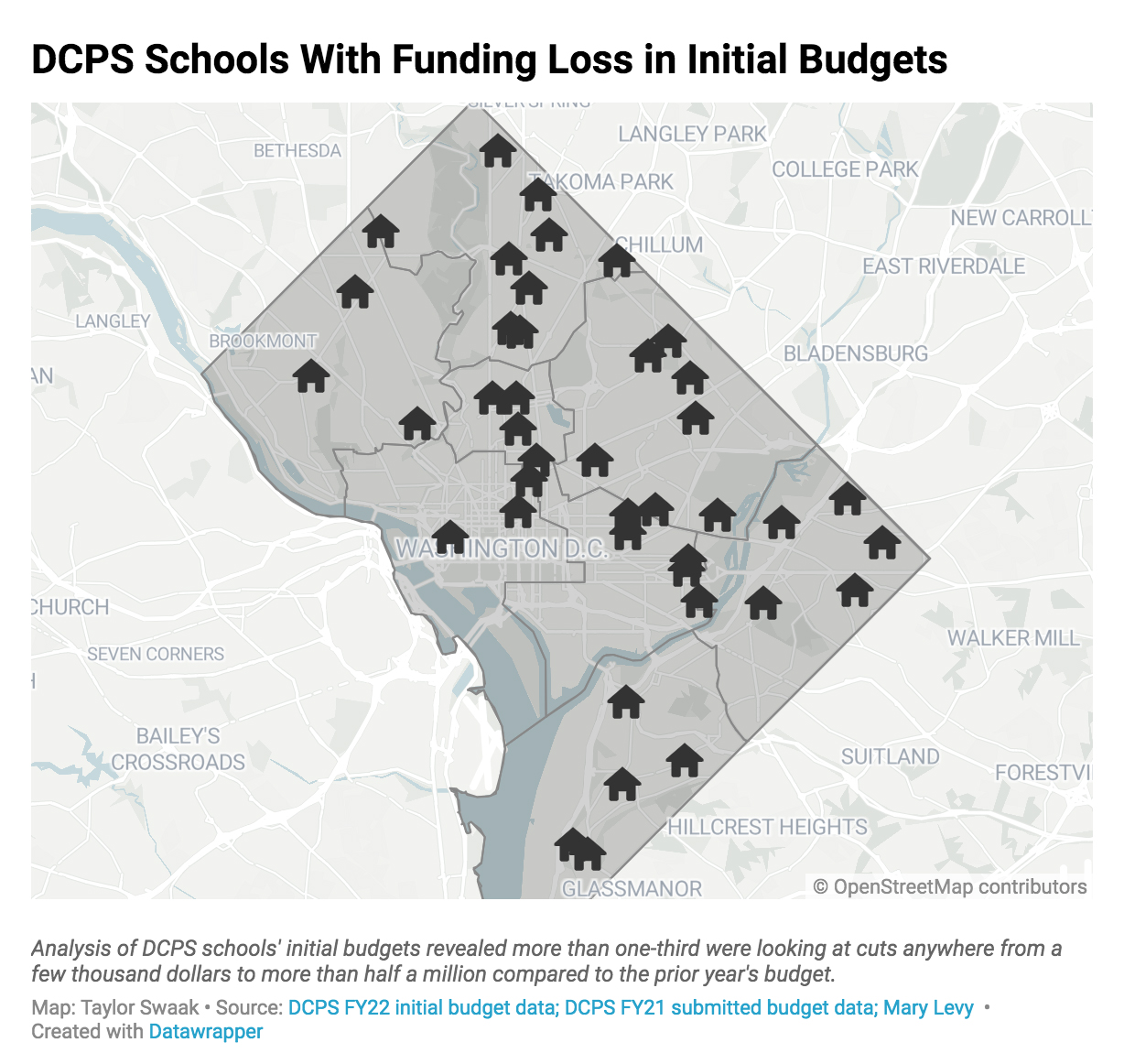 Prior to Thursday's announcement, the schools struggling the most financially were by and large those educating some of the district's highest needs students. An analysis by The 74 determined nearly 80 percent anticipating losses served a higher percentage of students of color than the district average, while about 60 percent served an above-average percentage of at-risk students, which include low-income, foster and homeless youth.
All are populations that have shouldered much of the social-emotional and academic consequences of the pandemic.
Data on this latest school budget assistance is so far only available in snippets. A teacher on Twitter reported one school, MacFarland Middle School, is getting $370,000; it was initially expecting to lose about $360,000, according to Levy's analyses. A Ludlow-Taylor Elementary School parent told The 74 the school gained an additional $299,354 after facing about $61,000 in cuts.
A DCPS spokeswoman noted that if any schools experience an uptick in enrollment come fall — something experts say is possible — the district has an "enrollment reserve" handy to allow for additional staff hires and resources, if necessary. The amount of money in that pot wasn't provided.
With the mayor expected to submit her proposed FY22 budget to the D.C. Council on May 27, those like Patterson, the D.C. Auditor, hope there will be rigorous oversight to ensure both DCPS and charter networks are spending their federal and local money in adherence with guidelines.
Patterson is already wary, she said, of how the $14 million is being used — though U.S. Department of Education guidance does say districts can use part of the latest round of federal funding "to stabilize the workforce and avoid layoffs."
These funds are geared toward fulfilling schools'"additional needs" from the pandemic and getting students back in class, Patterson said. "Not, 'Oh good we can plug our budget holes and spend our [local dollars] elsewhere.'"
View this post on Instagram
Local legislators like D.C. Council member Christina Henderson plan to keep a close eye.
Henderson last Thursday had announced she would introduce emergency legislation to hold DCPS school budgets harmless — just hours before the mayor implemented that same policy. She kept the legislation on Tuesday's Council agenda, though, to stress her and other members' ongoing attention to school funding.
The legislation passed unanimously that evening.
"We know there needs to be more done," Henderson's communications director Amanda Farnan said. A vote "holds accountable what the mayor has said publicly in law."
---
Lead Image:  
Get stories like these delivered straight to your inbox. Sign up for The 74 Newsletter