Cortez: Parent Power Is Key to Changing Education Systems, and Measurement Is Key to Scaling Parent Power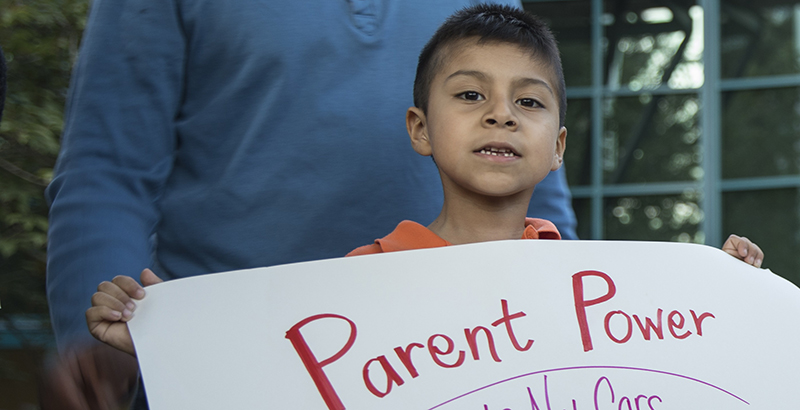 This is the first in a series of pieces on parent empowerment in partnership with New Profit. Read the rest of the series here.
Over the past three decades, education entrepreneurs, parents* and students have demonstrated that with the right innovations, all children can learn and succeed.
But we have also discovered that the "supply" of these educational innovations cannot reach its full potential without creating "actionable demand" to remove the political and policy barriers that prevent education systems from embracing these innovations broadly.
I deliberately use the term "actionable demand" because widespread "latent demand" exists for great schools in all communities.
All communities care equally about the education and future of their children.
But caring is not the same as power.
Most parents in underperforming school systems do not possess the economic power to move to better school systems, and too few know how to activate their personal power to influence change in their current school systems.
Many communities with failing schools lack even basic information to know that their schools are failing and to understand what policies and politics are causing this failure.
Turning "latent demand" into "actionable demand" is about power: informing and organizing parents so they can exercise their innate power — individually and collectively — to create and sustain change.
Four parent empowerment strategies
There are four strategies that informed and organized parents can use to exercise their power:
Strategy 1 – Parents as Partners: Parents exercising their power as co-educators of their children, either in collaboration with schools or through other resources.
Strategy 2 – Voting With Their Choice: Parents exercising their power (a) to choose the school they believe is the best fit for their children's needs (within whatever constraints around choice exist in their community), and (b) to make decisions about the many choices within a school that reflect the needs of their children.
Strategy 3 – Voting With Their Collective Voice: Parents exercising their power through collective action on an issue campaign to influence those in authority to change policies.
Strategy 4 – Voting With Their Vote: Parents exercising their power through electoral action to influence who holds a position of authority or to directly decide policy through a ballot initiative.
The interactive graphic below features examples and lessons from organizations informing and organizing parents to take action across these four strategies.
These four strategies are distinct but are also mutually reinforcing.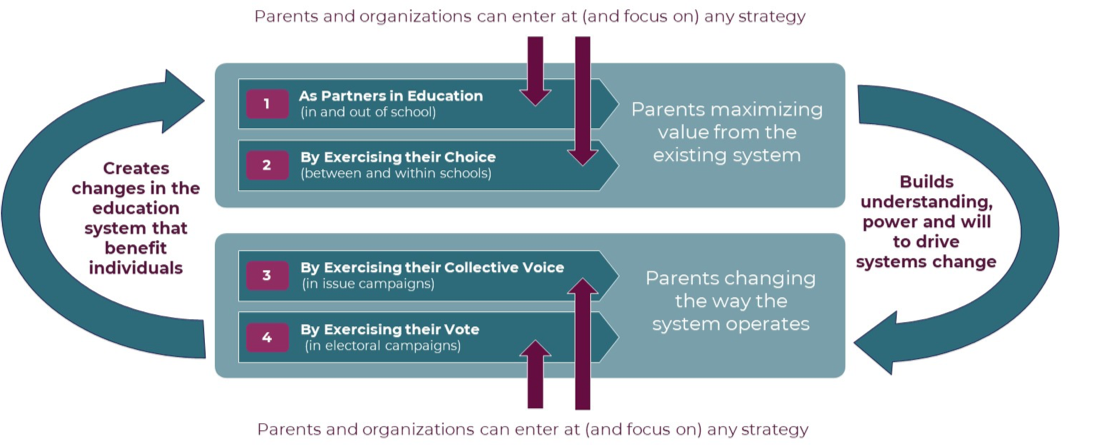 The first two strategies — parents exercising their power as partners in education and parents exercising the power of their choice — enable parents to focus on maximizing value from the existing system, which has intrinsic benefit for their children.
Additionally, for some parents, these first two strategies allow them to realize that there are educational opportunities they wish for their children that the existing system simply cannot provide without change. This realization builds understanding, power and will for a set of parents — some of whom will become leaders in their community — to exercise the power of their collective voice and/or exercise the power of their vote to fight for changes in the way their education system operates.
When these types of systems-change campaigns are successful, they also often require parents to again exercise their power as partners or exercise the power of their choice to ensure they and their children can fully access and adopt the benefits a changed system offers.
However, these strategies need not be employed linearly. Parents and organizations can begin with any of these strategies and pursue them in any sequence or combination over time.
Some organizations may exercise all of these strategies directly, while others collaborate with their local education ecosystem to divide and execute — while mutually reinforcing the success of one another's efforts.
Lastly, parent empowerment efforts are dynamic and cyclical. Organizations and communities can employ an ever-changing mix and sequence of strategies to fit their specific local political, policy and educational performance context.
The journey from a results-driven to a measurement-driven organization in parent empowerment
Over the past two years, I have had the good fortune to learn from and collaborate with 17 organizations across the field of parent empowerment to better understand the promise and potential of their work, as well as the challenges they face.
One challenge — and also opportunity — facing the parent empowerment field is measurement. Like many other evolving areas of social entrepreneurship, parent empowerment organizations are incredibly committed and passionately results-driven. But being results-driven is not the same as being measurement-driven. Caring deeply about impact is not the same as developing clarity as a field on how to measure impact.
Many organizations providing direct education services (school models, out-of-school programming, etc.) have taken the formidable journey from being results-driven to measurement-driven in order to more fully unlock their potential at scale. This journey is an equally important need and opportunity for those working in parent empowerment.
For practitioners of this work, developing greater clarity on when and how to use measurement unlocks value in:
1. Planning parent empowerment campaigns,
2. Effectively executing these campaigns,
3. Learning and sharing — both in the midst of a campaign cycle and between cycles, and
4. Engaging and rallying allies (including funders).
And all of these activities help organizations successfully grow in size and complexity.
Mina Kumar, chief program officer for Families Empowered, counsels, "Measurement isn't about bean counting, but about honest, genuine attempts to understand if programming is really having the intended impact we want for students, parents and communities."
Many funders are also seeking to deepen their understanding of measurement in parent empowerment. Funders are as results-driven as practitioners. They are also accountable to their boards and stakeholders for results. A lack of clarity on measurement can be an obstacle for funders in building more support for this work within their organization.
Developing a more sophisticated approached to measurement would help funders in:
1. Understanding the impact of the work they are funding in parent empowerment,
2. Learning alongside their grantees about what works and why (and also what does not work and why) — and which investments and programming lead to success,
3. Unlocking more funding, and
4. Better structuring that funding (timeframe of funding, funding for building infrastructure, etc.).
Knowing how to measure what matters ultimately creates stronger social contracts between practitioners and funders in service of impact.
"Most funding is designed to be short-term and project-based, which makes long-term planning a challenge. But by introducing measures we believe are important, including about building an organization's long-term capacity, practitioners not only challenge themselves but also bring funders on board to think strategically and as long-term partners," shares David Park, senior vice president of strategy and communications at Learning Heroes.
The journey for any education organization to evolve from being results-driven to measurement-driven can be long.  It is an even more complicated journey for the parent empowerment field because it requires thinking about how to measure concepts like relationships, leadership and, of course, power. In addition to measuring inputs, outputs and outcomes, this field also has to quantify a fourth category of measures — infrastructure.
But like any journey, ideally organizations won't take it alone.
To that end, with funding from the Carnegie Corporation of New York and the Walton Family Foundation, New Profit is launching a web-based resource on parent empowerment in education and emerging strong practices in measurement.
The website includes: more detail on the four parent empowerment strategies; the fundamentals of how measurement works in parent empowerment; the role measurement plays in each strategy; and how measurement works for a set of specific parent empowerment actions, such as house meetings and canvassing.
I hope you will visit "Parent Empowerment in Education: Measuring What Matters" and share your thoughts, questions and feedback.
*We are using "parent" as shorthand for any family or community member taking responsibility for the education and future of a child.
Alex Cortez is a managing partner with New Profit.
Disclosure: The Carnegie Corporation of New York and the Walton Family Foundation also provide financial support to The 74.
Support The 74's year-end campaign. Make a tax-exempt donation now.